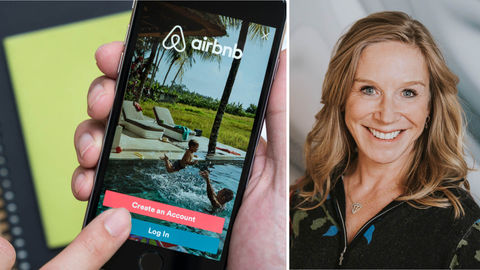 Catherine Powell, Head of Airbnb Experiences, talks about the brand-new summer line-up of Online Experiences–from indulging in a rendezvous with an Olympian to spending an hour of fun, frolic and learning with TikTok stars—this summer, Airbnb is all geared up to transport you to newer places with their never-seen-before virtual experiences. By Priyanka Chakrabarti How are you tapping the philosophy of armchair travel to curate the online experiences?
People were travelling, you know. And, we had amazing in-person experiences to offer, and then we had to stop. The world stopped. People could not travel anymore, and that's when we launched Airbnb Online Experiences. But, our host partners wanted to continue to host and earn money.
After many rounds of brainstorming sessions, we launched 65 online experiences initially, and then two months later, we have over 400 online experiences across 30 countries. We can bring the world to people in their armchair. So, if you want to go to Japan and learn about sake or visit Morocco and cook a family meal, or if you want to learn how to set your goals from a gold-medal Olympian – we can bring that to you now.
What are the key strategic points to promote experiential travel through virtual capabilities?
If we think about where we are now with COVID-19, I think there are two incredibly important considerations – one is that people are isolated and they are desperate for human connection. And the other one is — people have been severely impacted economically as industries have shut down –- so our focus is to provide that human connection, and also to provide an opportunity to revive the industry.
On our platform, we have Olympians who can't act right now because Olympics has been cancelled this year; we have performers who are unable to perform in theatres; chefs who cannot cook at restaurants; it is a critical focal point for human connection and economic opportunity. Travelling is often related to enhancing one's knowledge and skill-sets. How instrumental will Airbnb Online Experiences be in uplifting one's skills?
We know how important it is for our guests to learn new things; many guests leave reviews and say that they've learned something and how excited they were. I have learned new things too. For instance, I've learned yoga, how to make ricotta, the nitty-gritty of coffee and wine; I have learned to dance; and all of these with hosts who are experts in their fields, and who live in Mexico, Ireland, Japan, etc. We're so lucky with the expert hosts we have on-board. Also, I have to say that I love Indian food and I am dying to take one of the Indian cooking lessons, and learn more about Indian food or learn something from a tea sommelier.
Tell us about your most favourite Airbnb Online Experience.
My favourite one is Meet the Dogs of Chernobyl, which is like a living documentary. The host, Lucas, is not only an environmental scientist studying the nuclear contamination in Chernobyl since the disaster, but he also looks after the dogs who are the descendants of all the dogs that were abandoned in Chernobyl when the catastrophe happened. So, he takes you to Chernobyl, shows you around, shows you where the catastrophe had happened, and then he makes you meet the dogs that he's looking after. He feeds them, and you feed them with him. It is like stepping into a documentary; you can stop and ask him — are the dogs still contaminated? Are they safe? It is an amazing experience, and I highly recommend it.
What kind of virtual experiences is getting maximum purchase points?
We have a range of prices from free to over $50 (INR 3,800 approx). 'Meet the Dogs of Chernobyl' is over $50. But, it is what we call a social impact experience. It means he gives the money to charity, and that is one of our most popular experiences. The other popular ones are Sangria and Secrets with Drag Queens, which is based in Portugal. We have a coffee masterclass, which is based in Mexico. We have a magician in the UK. We have a monk who's in Japan. So, our most popular ones are all globally diverse experiences. How will consumer behaviour among travellers change in the post-Corona world?
I think when people start travelling again, they are going to want to travel locally. It has to be affordable and they're going to need to feel safe. We are working closely with our hosts to ensure that when we bring our experiences back online, they are adapted for local and domestic guests, and not necessarily for international guests. But I think even when international travel resumes, people are going to be jumping on planes, and even if they cannot travel to every country, they will seek virtual experiences, and we will offer it. For instance, I can't wait to return to India. Initially, I know there will be cautious travelling, but until I can return, I can always take a virtual experience.
How is Airbnb planning to lend support to active hosts?
One of the ways in which we are supporting is by floating the idea that they should adapt to the new ways in which people are going to want to travel. One of these is 'local'. So, the host should think about whether his/her experience is designed for international tourists, how can he/she adapt it for domestic or local travellers. Also, both our host and guest need to feel safe. We are providing cleaning protocols and guidelines. We are also providing guidelines for social distancing. They may have to reduce the number of guests in particular experiences to keep them safe.
Will Airbnb incorporate AR and AI to make online experiences larger-than-life?
Airbnb is all about innovation. Online experiences are a great example of innovation. I'm sure we will explore augmented reality or artificial intelligence at some point. But the primary focus will always revolve around delivering human connection. What is next in the pipeline?
We are very excited this summer to be celebrating the Olympics with the Olympians. When the Olympics got cancelled, we started on-boarding Olympians immediately on the platform. You can learn so much from incredible Olympians from all over the world. You can learn about their profession, can see their medals, learn about their diet and more. We are very excited about launching this celebration. We have another exciting partnership coming up with TikTok. There are many fans who usually get to see a minute of their favourite TikTok star, and we will be able to make our guests meet them from the comfort of their homes, for an hour. You can learn from them about dancing, cooking, art, or learn to make a TikTok video from an expert. We are very excited about this one too.
What is Airbnb doing to support the local community?
One of the aspects is just supporting our host as they come back online. Some of our top hosts are earning around $20,000 (INR 15 lakh approx.) a month. So, if you think about the importance of economic opportunity at the moment, this is one way that we are encouraging them to come back on the platform. We are also working closely with local government and tourist organisations to motivate people to travel or to learn about their city or country when they are unable to travel to international destinations. We are using our hosts to create new experiences. For example, you can indulge in a virtual tour of Paris or Singapore before you can travel there.
Any messages for Indian travellers?
If you are still at home, then travel from your armchair and decide where you want to go. You can travel to Japan, Mexico, Thailand, Italy, France – all from your home. Learn something new; we have so much to offer on our platform. You may be thinking about where would you want to travel to in the future; maybe you want to go to Switzerland. Try an experience now to see what it is like so that you can decide later if you wish to travel there. Virtual travel is like a gateway for future travel. And the last thing that I would say is that now is the opportunity to connect with family and friends.
Related: Airbnb India's Country Manager Has A Message For You
Written By