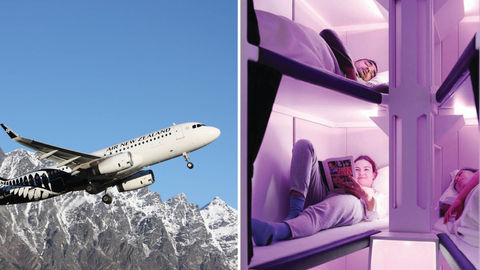 Gone are the days when we would have to fish out a bomb for comfortable flatbeds for long-haul flights. Thanks to Air New Zealand, sleeping pods will now be available for economy-class passengers as well. By Bayar Jain
Face it, no matter how much cushioning is packed into economy class seats, they are rarely cosy enough for a relaxing slumber – even with a neck pillow! Reclining a few inches doesn't make matters better, and often results in lesser leg space for fellow passengers. Combating these troubles is Air New Zealand's latest addition: flat beds in economy class.
Although it would take a full year for passengers to see these talks come to fruition, the airline has already patented and trademarked applications for what it is calling the Economy Skynest. The Skynest is expected to contain six full-length sleeping pods six-and-a-half-feet long, and 22-inches wide. There will be three levels of beds, and two beds on each level. Adding to the comfort, each bed will be accompanied by a full-size pillow, sheets and blankets, earplugs, and a privacy curtain. Chances are features like USB plug outlets and a reading light could also be added, however, the airline is still contemplating the same.
As for the pricing, the airline is yet to determine the costs, and is still contemplating the commercial proposition and economic viability. In order to understand this better and gain better clarity of all these factors, a trial flight between Auckland-New York – with a duration of 17 hours and 40 minutes one-way travel – is expected to hit the skies by October this year. Once done, the final decision of the flat-beds' viability is expected to be made in 2021.
This, however, is not the airlines' first attempting at bringing in comfort to skies. In 2018, the airline marketed the Economy Skycouch to customers — a way to turn a row of three seats into one unit for passengers to lie down across.
Related: Eat That Cup: Air New Zealand Introduces Edible Coffee Cups
Written By