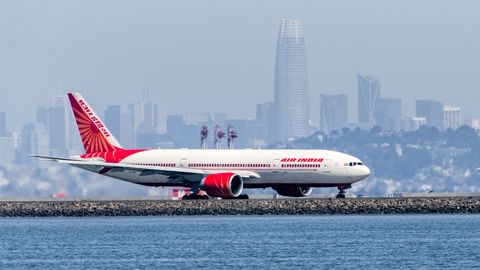 Air India crew might just enter the world of couture soon as the airline is collaborating with Manish Malhotra, one of the most renowned Indian designers, to create new uniforms for their employees.
India's flag carrier announced the news on September 28 and revealed that by the end of this year, over 10,000 members of the Air India staff, including those on the frontline, onboard crew and ground and security staff will be wearing outfits created for them by the couturier.
Here's what we know about the Air India x Manish Malhotra collab
Fashion takes flight ✈️

Delighted to announce our partnership with celebrated couturier, @ManishMalhotra, to design new uniforms for our cabin crew, pilots and other colleagues on the frontline. Exciting times ahead, as we collaborate with Manish Malhotra to create a stunning… pic.twitter.com/AtarvtzckF

— Air India (@airindia) September 28, 2023
This move is a part of the company's ongoing modernisation programme, a press release by the airline informed. Talking about this collaboration, Air India CEO and MD Campbell Wilson said, "Air India is delighted to be collaborating with Manish Malhotra to realise our shared ambition of representing the very best of a vibrant, bold, and progressive India on the world stage. We are working closely with Manish and his team to combine elements of our brand, our heritage and our culture, together with the unique requirements of the airline environment, for what we hope will be a fresh and exciting new look that supports and represents the new Air India."
View this post on Instagram
Manish Malhotra added that he aims to "intertwine tradition with the future, crafting uniforms where comfort meets authenticity" when creating this new look for the staff. "It's an absolute honour to collaborate with Air India, our national flying ambassadors. Reimagining their uniforms is the onset of a journey of joy and collaboration, and I am excited to embark on it. Our shared ideology is simple yet profound: to evolve without erasing, to modernise without forgetting. Together, we aim to intertwine tradition with the future, crafting uniforms where comfort meets authenticity, wrapped in timeless elegance," he said.
According to reports, the designer and his team are already meeting with the airline's staff to discuss their specialised needs and begin fittings. According to the Hindustan Times, traditional sarees worn by the female staff may be replaced with easier-to-carry pre-draped nine yards, or the iconic costume may be replaced with churidars. However, one thing's for sure: the new uniforms will reflect Air India's colours of red, purple and gold, which were recently featured in the company's new logo.
Hero and Featured Image credit: Sundry Photography/Shutterstock
Related: Air India Unveils New Logo And Livery — Here's Our Take!
Written By