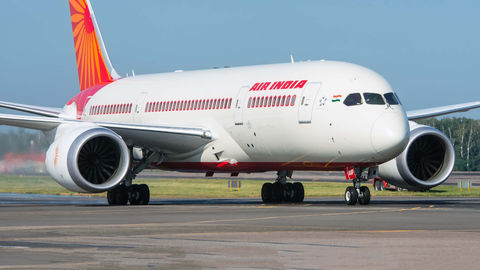 Editor's note: The global COVID-19 crisis has left each one of us deeply affected and we want to help. Burda Media India has organised a fundraising campaign to #FightBackWithTesting and donating RT-PCR test kits to the worst-affected areas in India, which will be secured from our testing partner Mylab Discovery Solutions. You can help these kits reach many more by donating for the cause or by adopting a kit. Click here to join the fight.
Air India's Vande Bharat Mission goes domestic. After rescuing Indians stuck abroad, the national carrier will now help Indians reach their home states within the country as well. By Tanvi Jain
View this post on Instagram
As India slowly relaxes restrictions amid the ongoing lockdown, national carrier Air India has decided to operate special domestic flights from May 19 to June 2 under its ongoing Vande Bharat Mission, with an aim to fly stranded passengers back to their home states. Most of the flights will reportedly take off from Delhi, Mumbai, Bengaluru and Hyderabad, and the passengers will have to pay for the tickets themselves. The move, however, is solely for the evacuation purpose, and not the start of domestic operations.
The ones from Delhi will reportedly fly to Jaipur, Bengaluru, Hyderabad, Amritsar, Ahmedabad, Kochi, Gaya, Vijayawada, Lucknow and few other cities, and the ones from Mumbai will be operated to Visakhapatnam, Kochi, Ahmedabad, Bengaluru, Hyderabad and Vijayawada. Moreover, those operating from Hyderabad will be return flights to Mumbai and Delhi. Furthermore, from Bengaluru, they will fly to Mumbai, Delhi and Hyderabad.
View this post on Instagram
However, all the resuming commercial flights will have to follow Standard Operating Protocols (SOPs) issued by the Ministry of Civil Aviation, which would include mandatory disclosure of last one month's history related to COVID-19 and quarantine by every passenger if any. Moreover, passengers won't be allowed to carry any cabin baggage and will have to download the Aarogya Setu App. They will also need to reach the airport two hours prior to the departure.
The initiative has been taken to further help Indians rescued from abroad, reach safely to their hometowns. Air India has been continuously operating more and more flights under the Vande Bharat Mission to bring Indians stranded across different parts of the world, back to their homelands.
View this post on Instagram
"Stranded & distressed Indian citizens continue to return home on special flights under Mission Vande Bharat every day. Today 8 more @airindiain flights have landed from Washington, Jeddah, Dhaka, Manila, Kuala Lumpur & Dubai with 1390 people," Civil Aviation Minister Hardeep Singh Puri tweeted.
Related: #SomeGoodNews: Air India To Fly Back US, UK & Singapore Citizens Stranded In India
Written By