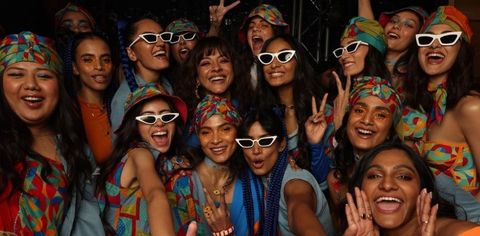 Glam up your travel photos and vacation with these accessories from the recently-concluded FDCI x Lakmé Fashion Week. By Bayar Jain
It's hard to resist the allure of FDCI x Lakmé Fashion Week—whether you love fashion or not. And our travel-loving souls couldn't escape its magnetism either. We marvelled at its dazzling runway shows and spotted 7 accessories from the five-day-long extravaganza to carry along on our next holiday.
Bagging Rights
View this post on Instagram
Any vacation is incomplete without a bag. While a suitcase may house all your clothes and travel essentials, a handy carry-on is ideal for in-city travels or day-long adventures. And both Rara Avis by Sonal Verma and Shruti Sancheti's collections understood this brief pretty well! From bejewelled clutches to tasseled handbags, their collection celebrated bags in all their glory—and gave us some major inspiration along the way!
Throw some shade
View this post on Instagram
Shades found a spot on multiple shows this fashion week (such as John Jacobs Eyewear at Shivan and Narresh, cat-eye frames at Eshaa Amiin show or stringed eyewear at Pawan Sachdeva, to name a few) and justifiably so. A worthy companion and a useful accessory, both, sunglasses are an easily-adaptable add-on for all kinds of dressing sensibilities. Plus, they can easily blend in with Indian and western outfits, both!
Dainty Danglers
View this post on Instagram
These accessories don't jostle for space in your vanity kit, but transform your travel wear within seconds! At this year's fashion week in particular, we spotted some lovely danglers. While showstopper Sanjana Sanghi sported an exquisitely delicate dangler that plunged below her shoulder during her debut runway walk for Pankaj and Nidhi's collection, Mossi opted for circular earrings that brought colour blocking to life.
Heady headphones
View this post on Instagram
With the rise of short-format videos on social media, imagining every vacation with background music comes naturally. Why not, then, carry your music with you! Looking to create a reflection of the choices an individual makes, boAt X HUEMN's collection reminded us how headphones, earphones, or mini stereos make for great travel companions and accessories. After all, if the early 20s street fashion in India was heavy on portable cassette players, why must the 21st century stray away?
Right Headspace
View this post on Instagram
When travelling, bid adieu to bad hair days with the right accessories that amp every look. This year's fashion week saw the rise of gemstone and sequinned hairnets (think Siddhartha Tytler's Sometsuke collection or ethnic maang tikkas (as seen on showstopper Mrunal Thakur for JJ Valaya), and we love it! If you're more comfortable with subtle accessories, take inspiration from bandanas by Shivan and Narresh or floral hand bands as seen on showstopper Pooja Hegde for Keerthi Kadire.
What's that? A hat!
View this post on Instagram
No longer an accessory reserved for protection from blinding sunlight, this year's fashion show shed the spotlight on hats and hoodies. A fashion add-on that adds a chic yet street vibe to every look, these head accessories are great for all kinds of vacations. Shantnu and Nikhil put out some interesting tasseled bucket hats and hoodies on display.
Mask up
View this post on Instagram
While travelling may have seen the green signal, not letting the guard down continues to remain important. And with masks being key for COVID-19 safety, R | Elan™, Satya Paul by Rajesh Pratap Singh showcased what pandemic protection can look like when it joins hands with fashion. If you're travelling, consider packing along these complete head-to-neck masks—particularly in places with extreme weather conditions where the masks serve a twin purpose of protecting against the heat or cold too.
Related: 9 Trends From FDCI X Lakmé Fashion Week That You Can Bring To Your Travel Closet
Written By