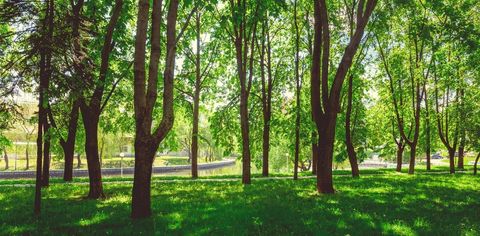 The Uttar Pradesh government is working towards setting up an urban forest in Sunrakh village, near Vrindavan, which will have 77,000 saplings planted there. By Meenakshi Maidas
The Uttar Pradesh government is set to begin work on a 134-acre urban forest in September. The forest is said to come up in Sunrakh village in the outskirts of Vrindavan, reports The Economic Times. The landscape of the forest will be inspired by the ancient Braj Bhoomi, known for its majestic forest cover, says Mathura District Magistrate Navneet Singh Chahal. The forest will reportedly also blend the other heritage of Vrindavan.
View this post on Instagram
The project will reportedly be a joint venture between UP Braj Teerth Vikas Parishad, the forest department, the district administration, and the Mathura Vrindavan Development Authority (MVDA). Officials say that almost 77,000 saplings, with a total cost of INR 2.5 crore, will be planted in this urban forest. The area will be marked off with barbed wire by the MVDA after levelling work is completed, and a pond and park will be created inside later.
Along with being a tourist attraction with its scenic location near a river, the urban forest will be home to a variety of animals, especially monkeys, says Chahal. The forest will act as an oxygen factory too, he adds. The last stage of forest creation includes making a pathway for tourists, says Nagendra Pratap, Vice Chairman, MVDA.
View this post on Instagram
Shailjakant Mishra, Vice President of UP Braj Teerth Vikas Parishad, says the chosen land for the forest is the abode of sage Saubhari Rishi, who had gone there to seek penance by meditating inside the Yamuna River, according to the Rigveda.
Related: Varanasi To Become The First City With Zero Discharge Of Pollutants In Ganga
Written By