These Top 10 Boutique Hotels In India Are Perfect For Hosting Luxurious Intimate Weddings
Much like your nuptials, the post-pandemic era is all about new beginnings. Smaller wedding parties, cosy themes, personalised hospitality, and amped up health check-ups define the 'new wedding order'. And leading from the front are India's gorgeous boutique hotels. By Ananya Bahl
1. Samode Palace, Jaipur

The Gorgeous Samode Palace, Jaipur, set in a 475-year-old castle flaunting Indo-Saracenic architecture is all set to welcome wedding guests with watertight measures. Until August 2020, they allowed parties comprising up to 50 guests post which, new government regulations would apply. One server will be assigned per table at each function, avoiding buffets altogether. Daily temperature scanning, over and above that done at arrival, will be kept up with. Contactless hand sanitisers and UV shoe sanitisers are installed at the main gate, courtyards and all venues at the hotel. Each guest will be presented with an amenity bag containing masks, sanitisers, alcohol wipes, stationery and gloves. On the hospitality front, rooms are being made every day on request only and regular fogging is being organised. All these regulations will ensure that you not only have a safe wedding but also do so in style—after all, you will be checking into a hotel that has hosted royalty, celebrities, artists, and discerning travellers through the years!
2. Suryagarh, Jaisalmer

Unravelling the secrets of the Thar is Suryagarh Jaisalmer, a palace hotel that beautifully blends tradition and modernity. Offering set decoration formats and in-house event know-how, the hotel handholds guests from check-in until check-out in its own classical style. In the post-COVID-19 era, a declaration form for each wedding guest along with no compulsory quarantine requirements in Rajasthan and staff that stays on campus are some of the safety measures in place for wedding parties. Its spacious Sunset Patio, Central Courtyard, Lake Side Garden and Celebration Garden are perfect spacious venues for smaller wedding parties that want to focus on social distancing. For the bridal couple, the in-house Rait–The Desert Spa offers the Jaisalmer Rait Thermal Therapy and Spice Wrap Therapy to rejuvenate the senses during festivities. Experiences like the Gypsy Gala Evening with folk singers and Jazz Brunch replete with champagne and live grills are the perfect themes for intimate wedding parties.
3. Narendra Bhawan, Bikaner

In its own inimitable style, the avant-garde Narendra Bhawan Bikaner presents the perfect backdrop for an intimate wedding. Glamorous and inspired by Art Deco style of architecture, this private palace of Narendra Singh ji, the last reigning Maharaja of Bikaner, boasts two large banquets in its basement for parties. Light platters, fixed menus, a rooftop with an infinity pool, a Gaushala perfect for a small cocktail party, and the central courtyard (or Diwali Chowk), make some of the best locations for weddings. Along with this, it also offers access to the Lakshmi Niwas Palace, commissioned for construction in 1902 by Maharaja Ganja Singh ji. This palatial structure can be closed out and reserved exclusively for wedding parties of up to 150 guests. Both properties exude the best of both worlds—classic and contemporary. And the aspect that ties them both is extraordinary regalia. Narendra Bhawan Bikaner doesn't require compulsory quarantine but it would be wise to get wedding guests to fill health declaration forms.
4. RAAS Devigarh, Udaipur

Set in a secluded spot spot amidst the Aravallis, the RAAS Devigarh is the perfect spot for a cosy wedding. Its 42 suites can accommodate about 90 guests while 25 royal tents can be put up for any more additions to the wedding party. This 18th-century fort palace redesigned as a modern oasis flaunts plush venues that can hold anywhere between 84 to 300 guests. These include the Silver Room around the Janani Courtyard, mirrored Sheesh Mahal, airy Hawa Gokhra, and the terrace with splendid views of the mountains. While the menus can range from hyper local (think sangri ki galouti and Dhungar lal maas) to cuisines from around the world, the ingredients are all locally-sourced from the hotel's organic farm or those in the vicinity, boosting safety measures. An in-house events team ensures that there aren't too many unchecked vendors visiting the property. For a socially- distanced and romantic unwinding session, the couple can check into the RAAS Chhatrasagar, the hotel's tented camp that's set on a 1,500-acre private reserve. The fact that the hotel recycles water, uses solar power and invests in local communities is the cherry on the icing of your wedding cake!
5. Shiv Vilas, Jaipur

Providing wedding guests with an experience to remember is what Shiv Vilas, Jaipur specialises in. 'One wedding at a time' is the hotel's motto. They offer in-house wedding specialists who take care of end-to-end nuptial solutions, bringing to the fore their adeptness at organising exclusive functions. Sprawling lawns and banquets ensure small wedding groups are adequately socially- distanced. The fortified complex has safety measures in place and limits entry access to outsiders. Elevated precautionary operational protocols have been implemented, including deep-cleaning measures in all the resort's outlets, kitchen areas, staff lockers, public areas and meeting spaces. Daily thermal screening for everyone who walks through the resort's gates is compulsory—this includes even vendors and wedding contractors who may visit regularly. While you enjoy your wedding, the resort will ensure your safety at every step of the way.
6. Noor Mahal, Karnal

This purpose-built palace hotel in the sleepy town of Karnal, Noor Mahal, flaunts the awe-inspiring heritage of Punjabi royalty coupled with Mughal and Rajasthani craftsmanship and is a mesmerising ode to northern India. Rethinking the wedding experience and safety of the couple and guests is what is at the crux of this hotel's offerings given the fact that they have always specialised in opulent functions. Not only the staff but also the wedding contractors and vendors continuously undergo training in order to follow protocols set by the state government. Some of the precautions include hotel staff donning adequate PPEs, wedding parties being limited up to 100 guests, contactless bars, special wedding coordinators that mark two-metres distance, separate entry and exit gates at venues, smaller buffet sections and the option of plated meals. Thematic areas are created at the banquets to ensure that the wedding guests can move around freely. The hotel has also been receiving requests from guests who don't want to cut down on traditional functions. And for that purpose, they ask the couple to send across guest lists for each function, often reusing the same venues after thorough sanitisation drives.
7. Bujera Fort, Udaipur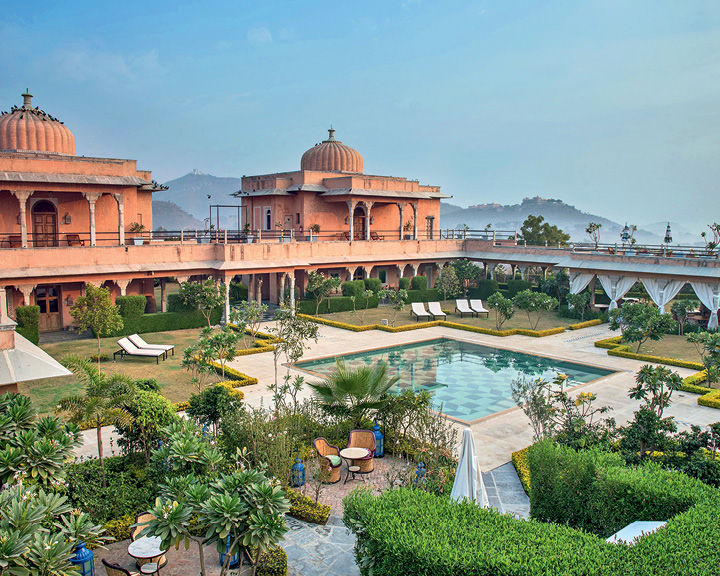 In these post-pandemic times, Bujera Fort is blessed with one of the most sought-after luxuries—space. Nestled in an almost-three-acre complex and housing only 14 rooms, this hotel is the perfect venue for a couple that not only wants to have an intimate ceremony but also a private one. The hotel's dining room is open-air and spacious for sit-down meals. Temperature checks, masks and cotton gloves (especially for handling the tomes and books at their library) are mandated at the hotel. It rarely houses more than 20 guests at any given time so you can be assured that your wedding functions will be unperturbed. It truly offers the perfect location in Udaipur for a wedding with just immediate family as guests. The Bujera Cottage, a part of the building, is separate and has three suites, a sitting room, sit out and private garden, plunge pool, and dining Chatri. The focal point of a wedding experience here is that as Bujera Fort is owned and run by a family, the management is personally able to look after guests.
8. BrijRama Palace, Varanasi

There could be no place more sacred to recite your vows than at the BrijRama Palace in Varanasi. Located on the Darbhanga Ghat by the bank of River Ganges, this boutique property dates back to 1812 and was built by Shridhara Narayana Munshi, the then Minister of the estate for Nagpur. This explains its truly Maratha style of architecture, replete with sandstone walls and pillars. A wedding held here will be not only intimate but also truly regal. Enjoy a traditional wedding party at the rooftop terrace, Udayan, which can accommodate up to 150 guests and the Kamalya Terrace that overlooks the River Ganges and can hold up to 50 guests. This palace hotel houses 32 rooms, which bask in historic decor and Banarasi touches infused with modern amenities. The hotel is following all safety guidelines prescribed by the Government of India. In-house wedding specialists help you plan your nuptials in a way that is memorable and evocative of this great Indian city's ethos.
9. Tree of Life, Jaipur

Intimate moments by the Tree of Life is an intimate wedding guide that seems perfect in the new era. At the Tree of Life Jaipur, this philosophy comes to the fore beautifully. With all safety checks in place as per WHO and Government of India guidelines, wedding party guests can savour familial bonds over intimate ceremonies. Thirteen luxury villas set in seven acres of lush land ensure that only cosy wedding parties can be accommodated here. Venues to explore at this hotel include the Indian Village Theme Party at the lawns, round table seating at the Ashtam Lawns, the infinity pool, and the mandap setup at the Ganesh Abode, which is made up of over 80 statues of Lord Ganesh. This serene property remains largely protected because it is located away from Jaipur's city centre and is limited to small inventories.
10. Mihir Garh, Jodhpur

Numerous courtyards at Mihir Garh ensure wedding parties comprising 20 to 150 guests can enjoy socially-distanced, private moments. Located in Jodhpur, this boutique property houses nine exclusive suites. Venues include those within the fort walls and out and beyond in the wilderness. Safety-wise, the property's team is accommodated on premises and tested on a regular basis. All staff members are always equipped with adequate PPEs including masks, gloves and face shields. The PPE kits are provided to all guests on property as well. Seating arrangements are organised in a manner that ensures seamless socially-distanced wedding parties. For guest lists exceeding 10 people, only outdoor venues are utilised. Food and beverage at events are served in a pre-plated style. The hotel ensures social distancing during revelry by making sure that beverages are brought to the guests individually as opposed to being poured at a crowded bar. All the bridal party has to do is give in to the charms of this scenic Relais & Châteaux property and let the Thar take over.
Related: Designer JJ Valaya Gives An Insight Into Royal Wedding Trends