The United States embassy in India has started a special series of interviews to facilitate the visa process. The aim of this new initiative is to reduce the waiting period for first-time visa applicants.
From January 21, 2023, onwards, the embassy started conducting the first special Saturday interviews. The United States embassy in New Delhi and Consulates in Hyderabad, Kolkata, Chennai, and Mumbai opened consular operations on Saturday to accommodate in-person interviews. The embassy will keep adding new time slots for appointments to happen on particular Saturdays in the upcoming months. The focus of these interviews is to process the applications of Indians applying for an American visa for the first time.
A multi-pronged initiative has been launched to accommodate the backlog in processing that happened due to COVID-19. The additional interview days are just one of the components of this initiative, according to a press release by the United States embassy in India.
Additional measures implemented to facilitate visa processing:
Furthermore, the State Department of the USA has carried out the remote processing of interview waiver cases for applicants with previous American visas. Temporary consular officers will be coming from Washington to increase the processing of backlogged visas. Consular officers will also be permanently assigned to the embassy in India. They have even released more than 2,50,000 additional B1/B2 appointments, which the American embassy stated in the release.
The application process for Indians planning to visit the United States of America has met with extreme delays. First-time applicants have to wait for a long time just to get an appointment with the embassy or one of the consulates. Indians applying for tourist visas (B-2) and business visas (B-1) to the US still have to wait extremely long for appointments. In November 2022, the waiting time for an interview for B-1 and B-2 visa was three years.
You can find the waiting time for Indians applying for different visas to enter the United States of America below. This waiting time is just for getting an appointment after applying.
Appointment waiting time for Indians applying for American Visa for the first time:
Students (F,M,J) – 84 calendar days
Visitors (B1/B2) – 575 calendar days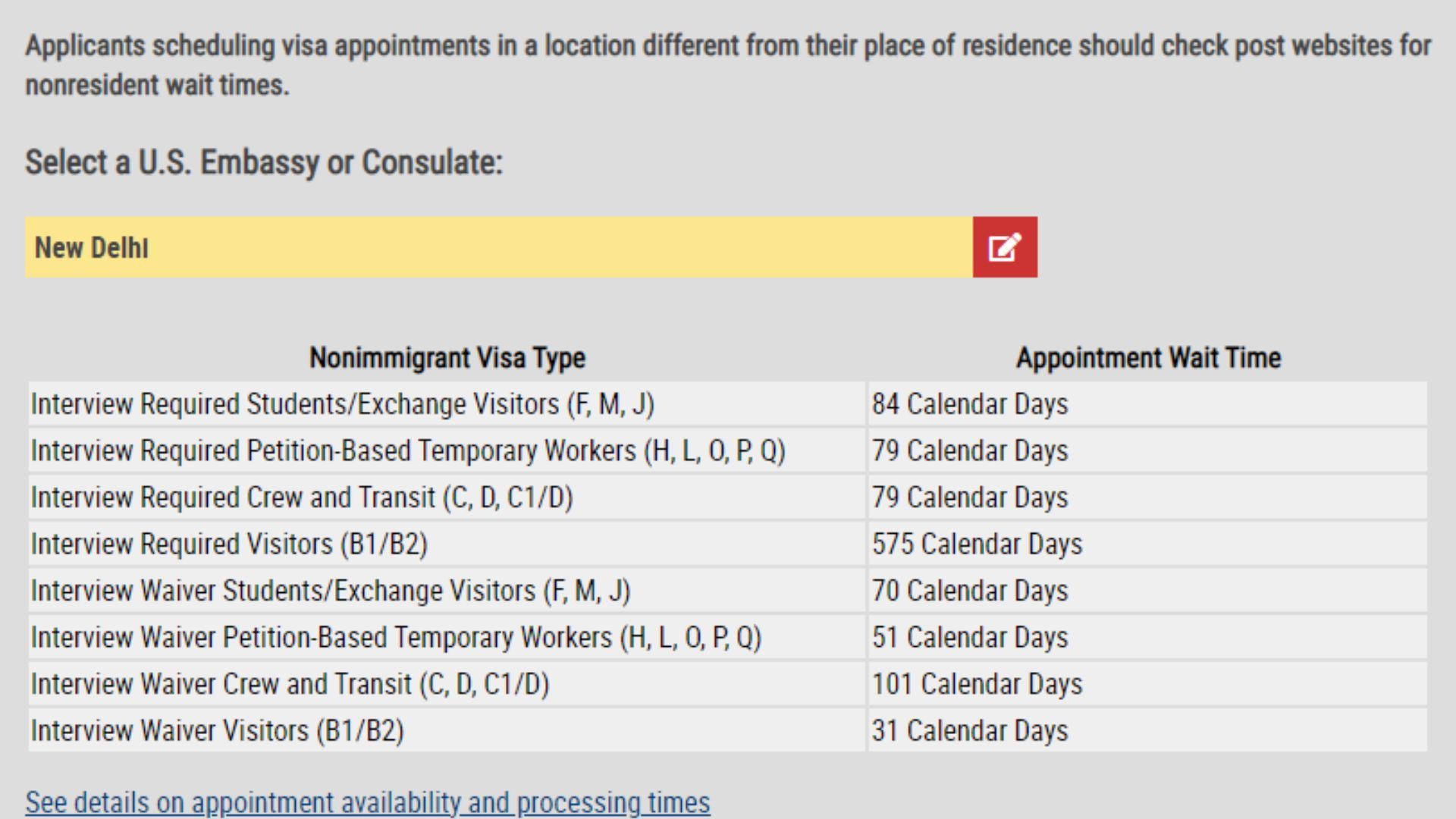 This information was obtained by Travel + Leisure by checking the US State Department's website at 1:17 pm IST on 24th January 2023 (Tuesday).
Hero image credit: Agus Dietrich/Unsplash; feature image credit: Global Residence Index/Unsplash
Related: This Saudi Arabian Airline Will Soon Grant A Free Four-Day Visa With The Ticket