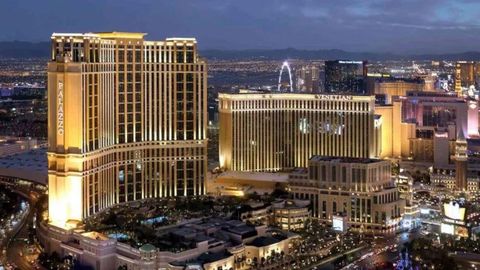 When Apollo Funds acquired The Venetian Resort Las Vegas earlier this year, they made a promise to continue to invest in the iconic all-suite property. In an exclusive interview with Travel + Leisure, the resort's newly installed CEO Patrick Nichols shared he will be making good on that commitment by "investing worth of USD 1 billion (INR 7,500 cr) touching every area of the guest experience." By David Morris.
"We are looking to elevate our experiences resort wide," Nichols tells T+L. "Arrival experiences will be different. For both The Venetian and The Palazzo, we plan to renovate, remodel, and redesign all of our suites. We will be offering a number of new [food-and-beverage] concepts, we are taking a deep look at entertainment, nightlife, and bar offerings, and the casino floor will feel significantly different as well."
The Venetian Resort Las Vegas imagines a deluxe redevelopment This is all in addition to debuting a reimagined Venetian pool deck, a 47,000-square-foot, USD 50 million (INR 412 cr) TAO Beach Dayclub in partnership with TAO Group, and the first US outpost from acclaimed chef Tetsuya Wakuda this year.
To realise Nichols' goals, the property has engaged Los Angeles-based design collective RIOS to master plan the redevelopment. And to answer your first question, no, the iconic Italian theme The Venetian is synonymous with is not going away. "We are a themed hotel and we will always be a themed hotel," Nichols notes. "That sets us apart, but the Italy of the '90s that The Venetian was modelled after has evolved. If we are able to lean into that through the spirit of Italy and discovery, we are not going to look like just another hotel that has refreshed their rooms."
The first Israeli dining concept for Las Vegas As for timing, Nichols shares, "there are construction walls already up in The Palazzo where we have started on spaces." Two such spaces will be the city's first Israeli dining concepts from chef Eyal Shani. First up will be Miznon opening later this year, a fast-casual concept that has garnered a cult-like following around the world, particularly in metropolitan destinations like Tel Aviv, Paris, New York City, and Singapore.
Come spring 2023, Shani will launch HaSalon. Those familiar with HaSalon's Tel Aviv, New York, and Ibiza outposts know to expect a convivial affair. In those markets, the weekend-only eatery places food at the centre of the celebration. Think: signature tomato carpaccio, clean Mediterranean proteins, and show-like presentations complete with pyrotechnics and the like. As the evening progresses, metal grates will come down to block those passing by from seeing the room devolve into an all-out bacchanal.
The entertainment offerings at the Venetian will be scaled up In no small part, the idea to bring Miznon and HaSalon to Las Vegas came from the property's chief content officer Michael Gruber. A large part of Gruber's expansion strategy is to scale up the entertainment offerings at The Venetian. Historically, "the property has produced 70-110 shows per year for the last five years," Gruber says. That will increase to 700 to 1,000 shows a year, per Gruber. And The Venetian will rev up its offerings immediately, starting with Lin-Manuel Miranda's "Freestyle Love Supreme," which debuts on November 10 in one of the hotel's four showrooms.
Before "Hamilton" and "In the Heights," Miranda created this improvisational hip-hop production. Miranda tells T+L, "Freestyle Love Supreme is the show that reminds audiences why live theatre is so incredible. With no two performances alike, the energy inside the room is electric." He exclusively shared that he will, in fact, join the November 16 and 17 performances at The Venetian.
The Venetian will have the world's largest spherical structures Beyond the new entertainment across the hotel's four theatres, The Venetian has partnered with Madison Square Garden Entertainment to construct a USD 1.85 billion (INR 1,52,23 cr) MSG Sphere, which is expected to open in time for the November 2024 FIA Formula One world championship in Las Vegas. It's on track to become one of the world's largest spherical structures, accommodating up to 20,000 guests with a 1,60,000-square-foot immersive display inside. Nichols believes this will be "a category killer, game-changing entertainment venue, and a huge asset for The Venetian. Our guests will be able to walk directly from the resort indoors to catch a residency show or check out some attractions during the day."
Finally, expect The Palazzo pool to be renovated in the near future, TAO Beach Dayclub to launch a weekly nocturnal poolside soirée called Tides next summer, and an ultra-exclusive USD 750 (INR 61,690)-per-person omakase room to debut inside Wakuda this fall.
This story first appeared on www.travelandleisure.com
Hero and Feature Image Credit: The Venetian Las Vegas
Related: Book A Private Dinner Inside This Popular Las Vegas Attraction For The First Time Ever
Written By