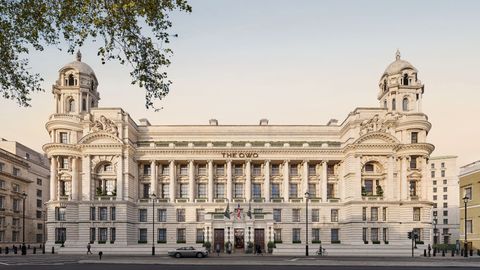 Remaking a landmark so that it becomes an icon again takes a certain genius while creating a legendary building requires a bold vision. Below are four revamped hotels that you should consider paying a visit to on your next holiday.
The newly revamped hotels around the world you should visit in 2023
Raffles London at The OWO One of the new and revamped hotels set to make an impact is Raffles London at The OWO, which is opening this September. The OWO stands for Old War Office – the former incarnation of the heritage building now housing the hotel. The most storied rooms have been converted into suites, with the top one named after Sir Winston Churchill, as it was his office when he was the prime minister during World War II.
The OWO also inspired the 007 series: Ian Fleming apparently dreamed up James Bond while working as a naval intelligence officer there. Respecting the legacy of the OWO while restoring it requires an ingenuous orchestra of hundreds of craftsmen, who were commissioned to restore the historic interior elements, including hand-laid mosaic floors and oak panelling. One of the lead designers is the renowned Thierry Despont, well-known for transforming landmarks like Maison Cartier, The Carlyle and The Getty Center.
Book your stay at Raffles London at The OWO via Booking.com
Regent Hong Kong

When Intercontinental looked for an architect to lead the revamp of one of Hong Kong's most legendary hotels, its ultimate choice was Lo Chi Wing, who had never designed a hotel. After graduating in architecture from Harvard, the Hong Kong-born Lo based himself in Italy, where he worked for the design brand Giorgetti and wore various hats in a few European cities and the US, before establishing his own furniture label. Updating a property that opened in 1980 was not easy.
Throw in a design brief to reference Beijing's Forbidden City albeit in a low-key manner, and he's got a challenge on his hands. Involving himself in the selection of materials for the hotel's reimagined interiors, he introduced stone gardens and semi-reflective ceilings on the water-facing sides of the entrance that subtly evoked Orientalism. The result is quite a stunner that has resulted in many locals and past tourists returning since its June reopening.
Book your stay at Regent Hong Kong via Booking.com
Book your stay at Regent Hong Kong via Agoda.com
Janu Tokyo For building the first hotel of its sister brand, Janu, the venerated Aman Resorts group has chosen to work with a long-term collaborator: Jean Michel Gathy of Denniston Architects. How does one drive home the USP of a budding brand with a holistic wellness focus in a high-octane city like Tokyo? The answer: Keep things simple and make use of the city's assets. As a start, he has given all 122 guest rooms floor-to-ceiling windows. Besides having light-filled rooms, most guests will also have private balconies with views of the iconic Suite or verdant vistas of the gardens of the nearby Tokyo Imperial Palace.
Shop the best travel experiences here
Six Senses Rome Set on Via del Corso, one of Rome's main arteries, the former Palazzo Salviati Cesi Mellini was previously the location of a bank. Since March, it has been turned into Six Senses Rome. The revamped hotel's lobby refashioned into an oval-shaped bar and piazza-like restaurant, has become a popular hangout with the Marni-decked set – just as one would expect of a fashionable city hotel.
Staying true to its DNA of providing a luxurious sanctuary for the most discerning, Spanish interior designer Patricia Uriquola has framed the rooms to impart a cocooning and soothing effect so that guests feel cloistered from the bustle of Rome. Building materials are natural, traditional and Roman with earthy tones, while soft furnishings come in a neutral colour palette.
Book your stay at Six Senses Rome via Booking.com
Book your stay at Six Senses Rome via Agoda.com
This story appeared here first
Related: 15 Most-Anticipated Luxury Hotels Opening Around The World In 2023
Written By