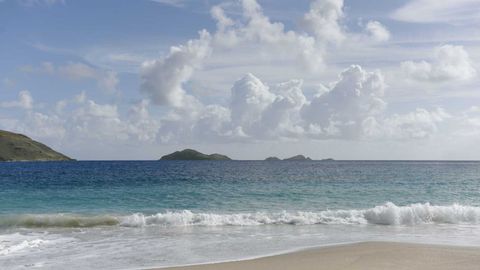 When you enter Cheval Blanc St-Barth, there is an immediate sense of peace and tranquillity. Soft whites, tropical greens, and the hotel's signature blush pink colour surround guests as they enter the Maison. Wooden pathways reminiscent of beach boardwalks weave from room to room and building to building, shielded by palm trees and other island foliage. It's the kind of destination where every moment is clothed in that unmistakable vacation glow — and an Instagram-worthy shot is around every corner. By Lydia Mansel
LVMH's Cheval Blanc hotel brand opened the St. Barts property in 2014, but after Hurricane Irma caused severe damage in 2017, the hotel underwent extensive renovations. Since then, the team has kept up a steady stream of updates and programming to ensure the 61-room getaway feels fresh, innovative, and over-the-top luxurious.
Here's a look inside the luxurious St. Barts Hotel Part of the continued magic and draw of Cheval Blanc St-Barth is its location, perched directly on the edge of Flamands Beach, one of the largest beaches on the island. Guests can access the sparkling turquoise waters and white sand with ease, as it sits steps away from both of the pools as well as the hotel's popular beach restaurant, La Cabane, and La Case, an "ode to the Caribbean" by renowned chef Jean Imbert. Those who want to move their legs before or after the sun reaches its peak can find Colombier, an isolated beach known for its majestic blues and unparalleled serenity, with the help of the concierge. It's a must-see for anyone journeying to this part of the Caribbean. A 25-minute walk down Flamands Beach leads to the Colombier Beach Trail, where explorers can begin the gradual descent to the sandy beach. Sturdy shoes, SPF, and plenty of water are recommended. Post-hike, or when you simply need a respite from the powerful Caribbean sun — which frequently sits at a UV index of 11 during the day — the spa in this St. Barts hotel is the ideal place to relax and rejuvenate. Tucked into the property's expansive tropical garden (keep a look out for the turtles), the four-treatment-room spa partners with luxury beauty brand Guerlain to offer immersive, holistic, and effective massages and facials. If you prefer a spa treatment outside among the flora and fauna, request your treatment in the outdoor relaxation pavilion. Cheval Blanc St-Barth prides itself on privacy, and all of the hotel's rooms, suites, and villas were expertly designed to ensure a relaxing stay, no matter how busy the hotel gets (particularly during the island's high season from late November through February). Many come with their own private pool, allowing guests to enjoy a more secluded day of sunbathing and swimming if they so desire. While Cheval Blanc, and St. Barts as a whole, have plenty of activities to offer, it may be hard to leave the comfort (and air conditioning) of the room. Designed by the famed Jacques Grange, each room in the Maison is the epitome of vacation bliss. Crisp, white cottons, warm woods, bright colours, and touches of rattan here and there create an elegant yet welcoming abode — whether you're staying directly on the beach or in one of the garden bungalows. One of the most notable aspects of Cheval Blanc St-Barth (which is mirrored across each of the brand's hotels) is its signature scent: Tropical Chic, a mix of sandalwood, pineapple, and ylang-ylang, a flower with heady aromas. It can be found in each of the bathrooms — shampoo, conditioner, body lotion, hand cream, and more — as well as in candle form, the perfect souvenir to bring home to remind you of your visit. On a 9.26-square-mile (24 sq km) island with plenty of 5-star hotels for visitors to choose from, it's these seemingly small touches that result in something larger, something exquisite, and something completely unforgettable.
This story first appeared on www.travelandleisure.com
Related: This Cabo Resort Has Local Mexican Art, Incredible Beachfront Infinity Pools And The Region's First Speakeasy
Written By