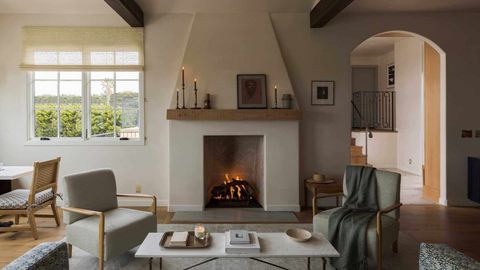 A stone staircase surrounded by rosebushes, lavender plants, and pops of hydrangea fronts a traditional white-washed California home on 2408 Bay View Ave in the upscale beachfront enclave of Carmel-by-the-Sea. Flanked by Cypress trees, the sprawling property seems like just another private residence on this quiet street lined with stylish homes and their perfectly manicured gardens. And that was exactly the intention behind the new Villa Mara, an idyllic 16-room luxury boutique hotel that opened its doors this summer. By Dobrina Zhekova
"Every time I was walking into our designer's office, the first thing I would say is: if it feels like a hotel, then we fail," says Dev Patel, the owner of Villa Mara. "We're in this beautiful neighbourhood, and we just wanted it [Villa Mara] to feel like a home, like you are going to a really wealthy friend's home."
The story behind the new Mediterranean-inspired California Hotel
Patel looked for inspiration from the exquisite villas of Italy and the Mediterranean, but he made sure the property was an ode to Carmel-by-the-Sea and its beautiful natural surroundings. As a result, Villa Mara epitomises a sophisticated California coastal lifestyle with a dash of historical elegance. The hotel was originally built in 1929 by a Filipina immigrant who was the head housekeeper at Carmel's first hotel, The Pine Inn. She opened an 11-room property here called The Holiday Inn, which was later changed to the Sandpiper Inn. After a complete renovation, Patel transformed it into Villa Mara. To honour the long history of the property, he named some of the 16 rooms after local historical figures, such as the famed poet Robinson Jeffers. But that doesn't mean Villa Mara feels dated or is rooted in nostalgia. Quite the contrary. Patel hired a local residential contractor instead of a commercial one to rebuild the property as a home and tasked renowned Los Angeles designer Lisa Koch with making sure the place feels like a modern residence, where guests could settle in and spend time and not just drop off their bags and leave.
"We were inspired by Villa Mara's sweeping views of Carmel Beach and memories of perfect weekends spent at rambling family compounds on the coast," Koch told T+L. "Taking inspiration from estates in the Hamptons, our favourite European boutique hotels, and getaways in the Greek islands, we sought to imbue the property with a sophisticated and timeless elegance, layering bespoke and vintage furniture to create an oasis of calm." Koch settled on four colour palettes in dusty pink, sage green, and a mélange of blue tones to invoke Carmel's natural surroundings for his Mediterranean-inspired California hotel. The rooms were designed with oversized windows letting plenty of natural light in, while balconies allow guests to take in the beautiful ocean views (Carmel Beach is only a hundred yards away).
Spread across two floors, the rooms, which range in size from 250 to 425 square feet, feature king beds, heated bathroom floors, rain showers, Le Labo toiletries, a complimentary mini-bar stocked with locally sourced snacks and beverages, and a mix of custom designed furniture by Koch who incorporated varied patterns, wicker, leather, and natural wood elements. The Jeffers Cottage, the hotel's suite, is located in a standalone structure and has a small seating area, a soaking bathtub, and a private outdoor fire pit. Staying true to his residential-inspired concept "with all the accoutrements of a luxury hotel," Patel opted out of classic features such as a front desk, a lobby, or even a hotel sign ("We'll never have a sign outside," he says). Instead, check-in is in a living room-like space anchored by a beautiful fireplace with an elegant seating area and exposed wood beams. The room also houses the hotel's coffee and cocktail bar and features a dining banquette. White Venetian-plastered walls and ceilings, large picture windows facing the coast, a curated collection of artworks, and bespoke lighting create a tranquil and sophisticated ambience.
The outdoor spaces are also reminiscent of a friend's backyard or garden and were designed with privacy and gatherings in mind. Five distinct seating areas, water features, three fire pits, and intimate vignettes cater to a variety of occasions—from romantic weekend escapes to group celebrations. While Villa Mara doesn't have a restaurant on-site (after all, your friend's house probably doesn't have its own eatery), a menu of light fare — caviar included — is available to choose from.
And if guests do end up wanting to leave the property, Carmel's downtown area, known for its art galleries, restaurants, and independent shops, is just a mile away, while Pebble Beach Golf Link is a short 10-minute drive. The hotel's concierge can also suggest a list of local activities and hidden gems to visit. Patel has handpicked his team—or as he refers to them, the "hosts" of Villa Mara—to be as knowledgeable as possible about the neighbourhood and Carmel-by-the-sea area.
"We know all the hikes, all the restaurants […] We make sure that you're seeing the sunset at the right spot and at the right time," he explains.
Villa Mara is open to guests 21 and over. You can book your stay here.
This story first appeared on www.travelandleisure.com
Main and Feature Image Credit: Stephanie Russo
Related: The Londoner Is A Super Boutique Hotel That's Putting Leicester Square Back On The Map
Written By