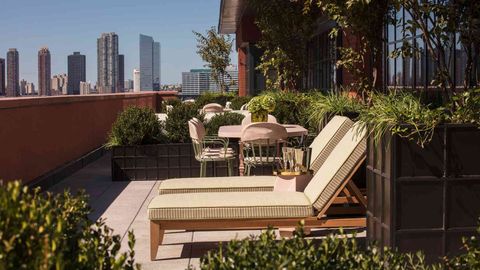 A quintessentially iconic Parisian hotel now has a New York address. Travellers interested in experiencing authentic Parisian charm on this side of the Atlantic can book a stay at Hotel Barrière Fouquet's New York, which officially opened on September 29. By Dobrina Zhekova
Housed in an eight-storey red-brick building on 456 Greenwich Street in Tribeca, the hotel blends elegant French classicism with downtown cool. Boasting 97 guest rooms, including 29 with terraces, Hotel Barrière Fouquet's New York will treat travellers to impeccable design courtesy of Martin Brudnizki Design Studio, a spa, three food-and-beverage concepts, a gym with an indoor pool, and a Cannes Film Festival–inspired screening room and event spaces.
"The opening of Hotel Barrière Fouquet's New York is a massive achievement for Groupe Barriere and our teams," Dominique Desseigne, chairman and CEO of Groupe Barrière, said in a statement released to Travel + Leisure. The French hospitality group collaborated with Caspi Development on this project. "I am proud to see our iconic and symbolic brand Fouquet's cross the Atlantic and look forward to continuing to share our French art de vivre."
Here's a look inside the iconic Parisian hotel that has a New York address Guests will be transported to Paris with art deco-inspired furniture, elegant European-style chandeliers, and elegant fabrics and custom wallpaper in the guest rooms. Marble bathrooms with brass accents boast oversized windows with downtown views. An expansive two-storey penthouse clad in antique mirrors, plush fabrics, and floor-to-ceiling murals occupies the top two floors of the building. With two bedrooms, two-and-a-half bathrooms, entertaining and dining areas, an executive office, and three private balconies, it is dubbed "the crown jewel" of the property by the brand. Pierre Gagnaire, who oversees Groupe Barrière's other Fouquet's restaurants (and whose eponymous Paris restaurant has three Michelin stars), is in charge of the dining offerings in its Big Apple outpost. For the most part, Fouquet's New York menu will mirror its original Champs-Élysées counterpart but will also include a few New York classics with ingredients sourced from local farms and fisheries. A vegetarian café, Par Ici Café, and Titsou Bar, inspired by another Fouquet's classic — the cocktail bar, La Marta Paris — round out the food-and-beverage options. Travellers can indulge in well-being and beauty treatments in the hotel's Spa Diane Barrière, with five treatment rooms, Biologique Recherche products, an indoor swimming pool, and a salon. Lastly, invoking another glamorous destination in France (and perhaps its iconic hotel Le Majestic in Cannes), Hotel Barrière Fouquet's New York has its own theatre that will host movie screenings and other glitzy events. Nightly rates at Hotel Barrière Fouquet's New York start at USD 1,100 (INR 89,802), and you can book a room here.
This story first appeared on www.travelandleisure.com
Main and Feature Image Credit: Matthieu Salvaing, styled by Grace Harris/Courtesy of Hotel Barrière Fouquet
Related: This Hotel On St. Barts Just Got A Makeover — And It's The Most Instagrammable Spot We've Ever Seen
Written By