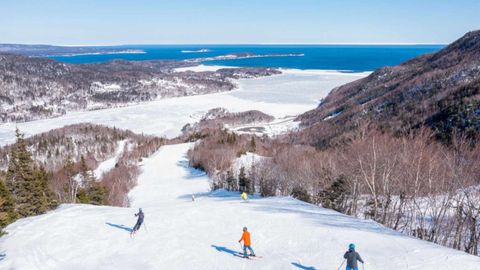 There are only a few places on Earth where you can experience the mountains and the ocean in a single day. Cape Breton Island in Canada's Nova Scotia province is one of them.
Since the 1970s, visitors have been able to ski from the mountains to the ocean at Ski Cape Smokey, a ski area perched on the edge of Cape Breton Island. And now, the beloved ski spot — which was volunteer-operated for more than 10 years — is bigger and better than ever after undergoing a USD 100 million (INR 8,17,45,05,000) revamp, which transformed it into a year-round adventure destination.
Here's why you should visit this Canadian ski resort
The transformation, facilitated by the resort's new owners, Cape Smokey Holding Ltd., kicked off with the addition of Atlantic Canada's first and only gondola. The gondola, which provides access to the ski area and scenic lookout platforms, opened in 2021. In addition to a handful of other resort upgrades, including a brewery and North America's first tree walk, Cape Smokey announced in May 2022 that they would be adding state-of-the-art snowmaking equipment to extend their winter ski season.
The new equipment, which includes a groomer and snowmaking machines, will enhance the mountain's natural 155 inches of average annual snowfall and extend the ski season by an anticipated two months. The new snow blowers, which can produce and maintain snow at temperatures above zero degrees Celsius, will allow Cape Smokey to start their snowmaking efforts when the weather cools in November and keep the ski area open until April.
"The new snowmaking capabilities covering half of the mountain will not only extend our season but improve the overall quality and experience at Cape Smokey. It is essential for us to keep the momentum moving forward and to grow and add to our facilities each year. Our goal, in addition to the development at Cape Smokey, is to contribute to making Ingonish a year-round destination," Martin Kejval, CEO of Cape Smokey Holding Ltd., shared in a release provided to Travel + Leisure.
In addition to skiing, Cape Smokey is developing snowshoeing, sledging and tubing, backcountry skiing, and even heliskiing opportunities in the winter. In the summer, the year-round resort offers hiking in the mountains, kayaking in the ocean, and direct access to the world-famous Cabot Trail, a scenic highway that traverses the island's rugged coastline and passes along the Cape Breton Highlands and the Cape Breton Highlands National Park.
And, of course, there's the tree walk, a walkway at the top of the mountain that passes among the treetops, and the Cabot Trail's only brewery. One more thing to plan a trip around? Cape Smokey's Smokey Sessions, a popular music series in the summer, but really, any time is the perfect time to visit as it's continually adding new amenities and activities — from snowmobile and bike rentals to beer and music festivals.
Ready to visit? Here's what else you need to know How to ride
Visitors can grab season passes or day passes on the mountain's website. A single-day adult ticket is USD 58.45 (INR 4,776).
Where to dine
Stevenson & Son Family Kitchen: Stevenson & Son Family Kitchen is the new kid on the block, opening its doors in November 2022. The restaurant serves "home-style cooking," including tasty baked goods for breakfast and dessert and hearty lunch and dinner options in between.
On mountain: Don't worry about finding food, as you can get a great meal right on the mountain. Ski Cape Smokey offers breakfast, lunch, and dinner, including burgers, wraps, fish n' chips, and more. It's also the perfect spot for an après ski beer as it carries its own Cape Smokey Bohemian Pilsner, along with plenty of wine and ciders for a little variety.
Where to stay
Knotty Pine Cottages: Snag a home away from home by booking a spot at Knotty Pine Cottages. The accommodation offers several options, including one-bedroom cottages with kitchens and living spaces and motel rooms for those looking for fewer frills. The best part? It's a quick two-minute drive to the mountain.
Castle Rock Country Inn: Find even more personalised service at the Castle Rock Country Inn, a 16-room boutique hotel that prides itself on its comfortable furnishings and delicious breakfast that comes included so you can have a great meal before hitting the slopes.
Keltic Lodge Resort and Spa: Find a slice of luxury just up the road at the Keltic Lodge Resort and Spa. The resort offers suites and cottages and is home to a full-service spa to help you unwind further during your stay.
This story first appeared on www.travelandleisure.com
Main and Feature Image Credit: Courtesy of Destination Cape Smokey
Related: This Colorado Resort Is Bringing Back Its Vintage Ice Bar For The Upcoming Ski Season
Written By