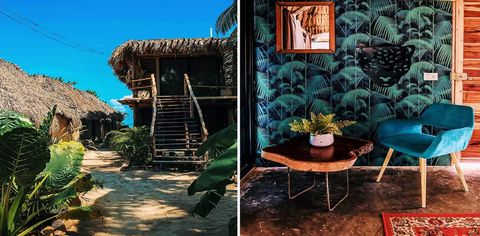 Three years ago, tired of the hectic pace in New York City, my husband and I bought a house in Mexico. Our new home was a crumbling colonial house we planned to renovate in the historic centre of Mérida, the capital of Yucatán. Both of our lives had reached a point where an adventure felt exciting, and our careers allowed us to work remotely. In addition to creating our dream home, we hoped to travel around the country, heading anywhere from Calakmul in the south to Cuatrociénegas in the north. By T+L editors
"These Mexican hotels are inspired by local culture"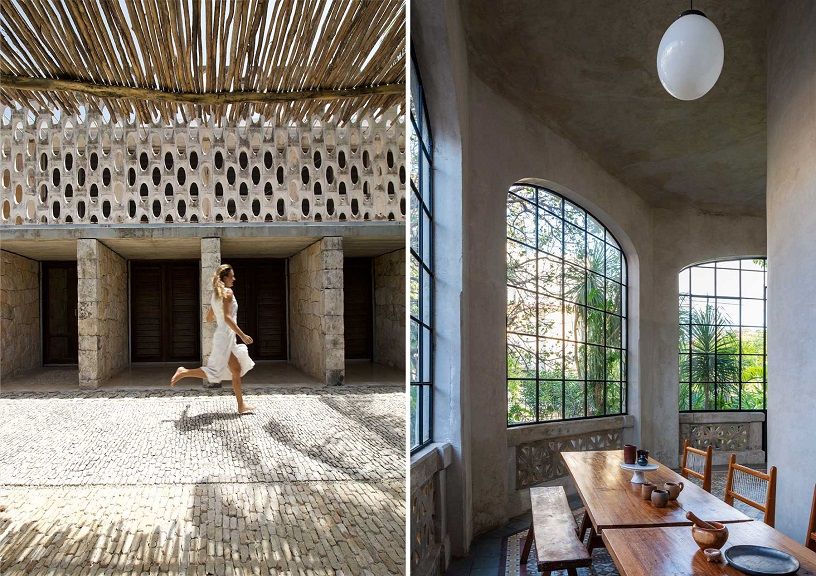 Instead, we found some of the most interesting destinations right in our backyard. Travellers from around the world are drawn to the sprawling resorts in nearby Cancún and the Riviera Maya in the state of Quintana Roo. But in the adjacent state of Yucatán, we came across smaller, more characterful Mexican hotels that are the passion projects of individual investors, many of them inspired by local culture.
One of our early escapes was to Sisal, just over an hour's drive northwest of Mérida, on the Gulf of Mexico. It was an important port in the 19th century, but as ships got too big to dock there, the once-busy transport hub slipped into a quieter existence. Sisal was recently named a "Pueblo Mágico," an official designation for towns that have preserved their heritage and traditions, and with a recently reconstructed highway, it's ready to welcome newcomers.
We checked in to Club de Patos (clubdepatos.mx; doubles from USD 360 or INR 28,068), just east of town. Once a private duck-hunting club, the property was converted into a nine-room hotel last year. There's a tropical-modernist feel in the rooms and private terraces. A new bar, created by Mérida artist and designer Gabriel Peón, makes the most of locally sourced produce. The restaurant's pink and tan floor is covered in the pasta (cement paste) tiles often found in Yucatecan homes. A dramatic breeze-block wall dominates the side of the building that faces the terrace, a pool, and the sea.
The quiet, intimate scene tends to attract couples, who busy themselves with mellow activities such as walks in the mangroves in search of wild flamingos. The restaurant serves mostly Mexican dishes at breakfast and lunch and Italian specialities at night. The hotel's owners intend to keep things small, with just the current nine guest rooms. There are other plans afoot for connecting with the community, including converting a nearby abandoned shrimp farm into an art and gastronomy space.
On the other side of the state, we discovered El Cuyo, an under-the-radar beach town that's long been a favourite of kitesurfers due to its steady winds. The 10-room Casa Mate (fb.com/casamatecuyo; doubles from USD 75 or INR 5,847), which opened in 2021, has a style best described as boho-chic — with an emphasis on the boho. Dropping the fancy extras of a luxury resort, it instead doubles down on the funky beach-hotel vibe with thatched roofs and vintage décor.
The colonial town of Espita sparked my interest when I heard that a chic contemporary hotel opened there in 2020. Espita is perhaps best known for its honey and its Christmas fair when there is dancing in the streets. Casona Los Cedros (casonaloscedros.com; doubles from USD 174 or INR 13,566) has coaxed day-trippers into staying longer — it's also a great base from which to explore nearby Mayan sites like Ek Balam and Chichén Itzá.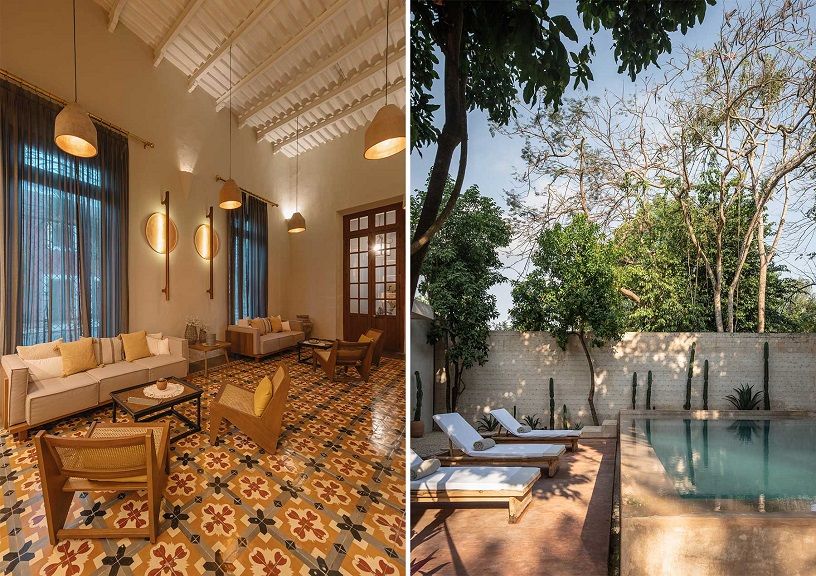 A stay at the Casona has become a repeat weekend escape for us. The eight-room hotel is built into a 19th-century home that was meticulously restored by French architect Laura Lecué. The floors are lined with pasta tiles, and the walls are finished using a traditional Mayan waterproofing technique. Behind the historic building is a pool surrounded by a tropical garden. Every time we step out onto that patio, the sensation is one of entering an oasis under a green canopy. The bustle of the market and town square seems a thousand miles (1609.34 km) away. The most rewarding part of the Casona project, Lecué told me, was working with local craftspeople, carpenters, gardeners, and artisans to build the property.
Mérida has seen a wave of boutique hotel openings, too. In the heart of the city, the eight-room Decu Downtown (decuhotels.com; doubles from USD 187 or INR 14,579) is the latest of Decu Hotels' five locations. When it was renovated recently, some rooms were done in colonial motifs with antiques. Others were influenced by Mayan design with walls of chukum, an ancient form of stucco.
Across town in the greener, quieter García Ginerés neighbourhood, another hotel is drawing attention for its modern aesthetic. I already knew artist and designer Claudia Fernández's name from her store in Mexico City before I visited Casa Puuc (casapuuc.com; doubles from USD 290 or INR 22,610). The six rooms are decked out in midcentury modern décor, with vintage pieces by both Mexican and international designers. "I love Mérida. There's a calm and peace here, and in Yucatán generally," Fernández told me. "I started out looking for a little house for myself and then a friend showed me this 1914 building, which was perfect for a small hotel."
As we walked into the courtyard, we noticed the sounds of birds high up in the centuries-old mango, mamey, and cedar trees. They regularly stop in on their migrations. I suppose humans are not the only ones interested in checking out an interesting opening.
It sometimes feels like I hear every week about a new project on the horizon, from a four-room inn near Mérida's historic centre to a hacienda that is being restored outside the colonial town of Izamal. Our trips around this little state are just getting started.
(This story first appeared on travelandleisure.com)
Related: This All-Glass Cabin In The Mexican Jungle Is One Of The Most Stunning Airbnbs We've Ever Seen
Written By