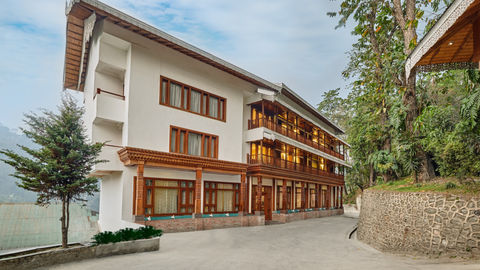 Sterling Gangtok – Orange Village offers a window into Sikkimese culture like none other. Here's some #travelinspo for you to freeze your next vacation plans. By Parvati Mohanakrishnan Set in an orange orchard on a hillside overlooking the meandering Rani Khola River and with unparalleled views of Sikkim's pristine mountains, Sterling Gangtok – Orange Village makes for an idyllic getaway. The fresh mountain air, gardens, and orchard do wonders for the mind, as do walks up twisting mountain trails and visits to monasteries nearby. But it is in the property itself that you get an authentic introduction to local culture. The recently launched resort features 41 beautifully appointed rooms – a Privilege Suite, Priemire Cottages and Rooms, and Classic Rooms – most of which have private balconies that offer breathtaking views of either the mountains or the landscaped gardens. The décor is appealing to the senses; white walls offset the light-wood floors, and the use of the typically Tibetan red and Sikkimese motifs on the linen. Natural light floods in abundance and the mountains call out to you through the picture windows. Delicious local cuisine is served at Suntaley Chulo, the in-house restaurant and bar. Influenced by the region's mélange of Indian, Nepali, Bhutanese, Tibetan cultures, the restaurant serves a variety of dishes that include delicacies like momos, thukpa, gundruk ko jhol, and kinema curry. In addition, find a variety of Chinese, Continental, and Indian favourites. The all-day bar serves an extensive selection of fine liquors, cocktails, and mocktails, as well as a variety of finger food. Wellness is but a natural aftereffect of staying in such beautiful surroundings, but if you want to enhance that feeling, experience Subuthi Spa. The name of the spa is derived from two Sanskrit words: su means 'good' and buthi translates to 'existence of mind'. In keeping with its moniker, the spa offers treatments that focus on re-balancing mind, body, and spirit. The five elements come together in the Signature Spa Rituals to relax and rejuvenate you. The massages on offer range from Swedish and deep-tissue to Aromatherapy and anti-cellulite massages. Also on offer is a variety of Ayurveda massages. For those who never take a break from their pursuit of fitness, the fitness centre is ideal. Breathe in the fresh mountain air and find renewed energy to push yourself to attain your fitness goals. The hotel is also conveniently located within easy driving distance of the area's attractions. Take a day trip to the glacial Tsongmo Lake, or visit Rumtek Monastary. Your fascination for orchids will only be enhanced at Jawaharlal Nehru Botanical Garden, and you find several picture-postcard views to photograph from Tashi Viewpoint.
Steeped in local culture, Sterling Gangtok – Orange Village serves you the best of Sikkim on a beautiful platter.
Related: Sikkim Becomes World's First Fully Organic State, Wins Top UN Award
Written By