Plush, lively, food-focused and super convenient, the new Kimpton Kitalay is the energizing spirit of next-generation Koh Samui.
Since its opening, we've spent lots of time at the Choeng Mon Beach property. Pick your pleasure: the place is ideal for a romantic getaway, an escape with the kids, a hashtag-petcation (there's an adorable dog run), and a frankly raucous weekend with friends. The travel planning is easy, as it's a quick flight from Bangkok (and Samui airport has a full slate of direct international arrivals as well) and then mere minutes to check-in. As for the planning on site, well, we'd suggest leaving that in the hands of the capable, amiable Kimpton team.
Valentine's Day, or any romantic occasion, really, calls for an oceanfront pool villa and a private wine-pairing dinner in your gardened cocoon where you can see the waves and the stars without straying far from your bed. Then again, those less inclined to be – ahem – seen by others might prefer a sprawling oceanview suite on the top story of one of the hotel wings; they're luxe apartments from which you can spy Samui's outlying islands with box seats.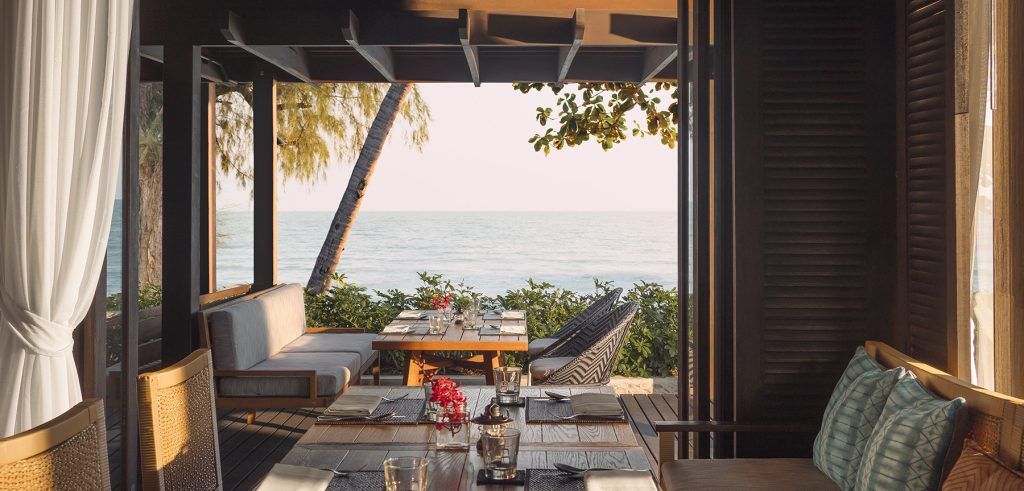 This generation's Kimpton brand is dedicated to doing things different. So forget floating breakfast – wouldn't you rather have a floating cocktail hour with caviar? Sunday brunch is more like a parade of a la carte seafood, and if you don't order the crispy lobster paella we'll never forgive you. Their bloody Marys are Thai-spicy (beware), come with even more spices on the side and are topped with a river prawn close in size to the lobster from you've just ordered.
You might then afterwards be inclined to nap, which you totally can do in one of the pool's floating beanbags, while your friends play pool, foosball and ping (beer?) pong in the submerged tables.
Or, like our friends-with-kid strongly recomment, wake yourselves up in the splash-park, head down the waterslide a few times, then leave the little one in the boat-shaped Junio kids' club for arts and crafts and crowd-pleasing ball pit while you head to HARNN spa right next door.
Martinilicious happy hour or Kimpton kids' complimentary ice cream cart. Paddleboarding or prosecco (lots and lots of prosecco – the bar staff at some point stopped asking if we wanted another bottle and went ahead and popped the corks). The hotel is your beach house living room.
Our most recent visit to Kimpton Kitalay was a big group jaunt that included Debbie Bazoo – pop queen, actress and friend of T+L – and her family. It was a long weekend filled with kayaking, kiddie time, laughter, lounging, and of course lots of lobster paella. Check out how much fun was had by all:
---