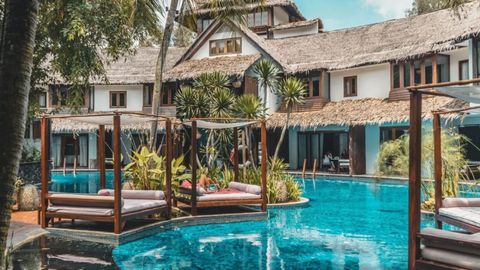 All the reasons why you need to stay at Villa Samadhi in Kuala Lumpur — from the beautifully designed aesthetics to the distinctive living spaces.
Here's an open secret… an invitation to a world beyond the fast-paced city life. It's true that Malaysians are never short of options when it comes to places for vacations. They are blessed with an abundance of quality luxury and boutique hotels throughout the country. Road trips are also popular, ideal for times when we want to vacay without leaving the country. However, if you're in Kuala Lumpur and prefer a staycation sans travelling, here's one to consider.
Situated on Jalan U Thant in the city is Villa Samadhi — a tranquil retreat away from the city's bustle. Hidden from street view, the urban yet quiet Villa Samadhi is truly unlike any other. The amalgamation of the bamboo-clad gate and grass roof helps enforce that notion. Throughout the establishment, you will notice designs based on traditional Malay architecture while its minimalistic "Rustic-luxe" concept sees the utilisation of bamboo, stone, black cement, glass and wood. Every element comes together to transform and elevate the place.
The bedroom of Luxe Sarang villas

The interior of the Luxe Crib rooms

The Loft at Villa Samadhi
Here, you can escape to any of the villa's 21 guest rooms; all inspired by nature. Flanked by a huge "lagoon" for more unwinding, the rooms here range from 600 to 2,000 square feet. There are seven categories in total, all curated to be different from each other. They include the likes of Crib, Luxe Crib, Sarang, Luxe Sarang and The Loft. The villas come equipped with balconies, plunge tubs, en-suite bathrooms and comfortable beds. If you're staying on the Ground Floor, you will also get direct access to Villa Samadhi's pool. In addition, private gardens and modern kitchens are available in selected rooms too if that's something you prefer during your stay.
For honeymoons, consider The Loft which comes fitted with a private pool and a king-sized bed. On the other hand, if the patio-to-pool component is more your thing, opt for the Luxe Sarang rooms. Whichever option you end up going for, one thing's for certain: you will be a part of a retreat that places significance in being sustainable. Craftsmen from Villa Samadhi itself are responsible for the wood and bamboo carpentry you can find here; with many of the materials sourced from Malaysian indigenous tribes — the "Orang Asli".
The Dining Room at Villa Samadhi

Many of the guest rooms at Villa Samadhi come with "lagoon" access
Of course, when you're at Villa Samadhi, it's all about finding complete relaxation. With that, you don't want to leave the space — including for food. This is when The Dining Room comes to the rescue. At the all-day dining restaurant, you get to savour a menu comprising flavours of Malaysia and beyond. If your room has a kitchen, it's also said that you have the option of requesting for meals to be prepared in the comfort of your villa.
Beautifully designed, a realm of peace and fascinating in more ways than one, Villa Samadhi is an easy choice. So, the next time you're on the lookout for a serene retreat within Kuala Lumpur, you know where to go.
Learn more about Villa Samadhi HERE.
Book your stay at Villa Samadhi, Kuala Lumpur via Agoda.com
Book your stay at Villa Samadhi, Kuala Lumpur via Booking.com
Shop the best travel experience here
This story first appeared here.
(All photos by Villa Samadhi)
Related: 12 Stunning Island Resorts In Malaysia To Add To Your Bucket List
Written By