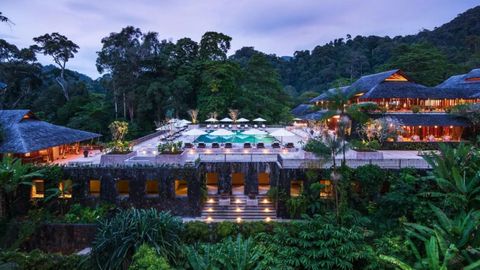 The Datai Langkawi is celebrating its 30th anniversary with immersive programmes throughout 2023, with a grand finale planned for December.
Sounds of chirping birds, mild waves on the beach and the distinctive rainforest scent fill the senses — as you're sitting at The Lobby Lounge awaiting the key to your room. You've just arrived at The Datai Langkawi, welcomed by friendly faces as soon as you disembarked from the shuttle. Served with chilled lemongrass and ginger tea alongside decadent snacks, this is the first moment you get to revel and take in the fact that you've arrived. You are officially in an idyllic paradise.
All about The Datai Langkawi:
Flanked by Datai Bay and the Andaman Sea, The Datai Langkawi is as enchanting as it is stunning. Positioned north of Langkawi Island, the five-star homegrown resort — comprising 121 guest rooms in total, including villas — is built as part of a rainforest (said to be ten million years old) that has helped shape its identity ever since its inception. This year, The Datai Langkawi is celebrating its 30th anniversary with special residences and celebratory events across four unique chapters. Earlier this year, The Datai Langkawi launched Chapter One. 'Celebrating our Community' saw the resort partner with NGO (Non-governmental organisation) Green Growth Asia Foundation. Held from March 10 to 19, 2023, Chapter One featured games and presentations that accentuate climate change and its risks.
In addition to a food festival, KanshaLife led craft workshops while photojournalist SC Shekar's immersive photographs of the resort were showcased throughout the corridors of the main building. If you are ever at The Datai Langkawi, you can spot these works of art as soon as you arrive!
We had the pleasure of experiencing Chapter Two of the resort's 30th anniversary and it was truly a surreal experience. 'Celebrating our Arts and Crafts' ran from June 23 to July 2, 2023, and it was a spectacular affair. This time, The Datai Langkawi collaborated with Malaysian e-commerce brand Dia Guild — organising a pop-up featuring curated brands from Southeast Asia, including Khoon Hooi, Fern, Neil Felipp and more. Founded by Aisha Hassan, Alia Farouk and Kylie Francis, Dia Guild was started to champion artisans from the region while providing a platform for their creations to be showcased.
A look at a Rainforest Villa in The Datai Langkawi

The bedroom of a Rainforest Villa

The exterior of The Datai Langkawi's Rainforest Villa
As part of the Chapter Two season, the inspiring women of Dia Guild hosted their first-ever fashion show. Held at the resort's Beach Club, the show saw two Malaysian visionary designers introduce their designs — Khoon Hooi with 'The Cotton Story' and Fern Chua with 'Marine Series'. Nia Atasha, an LSA100 alumnus, walked for both designers alongside fellow models such as Roanne Woo and Cyii Cheng. There was also a silent auction which included a gorgeous dress by another LSA100 alumnus, Alia Bastamam.
To close Chapter Two, The Datai Langkawi's very own Chef Chai Chun Boon worked with Chef Kim Hock of Michelin-starred Au Jardin and Chef Shaun Ng of Hide on a one-of-a-kind six-hand dinner. The five-course degustation menu saw each chef creating dishes that not only showcase their respective prowess but also blend seamlessly with the theme of "arts and crafts". Beautifully plated concoctions such as the Fermented Petai Sour Cream with Charred Seasonal Vegetables as well as A5 Wagyu with Citrus Spice Sauce were ethereal. Missed the first two instalments? Fret not, Chapter Three ('Celebrating our Nature') and Chapter Four ('Celebrating 30 Years of The Datai') are coming your way. The former, to be held from September 2 to October 1, comprises collaborations about wildlife conservation with Gaia and marine mammal conservation with MareCet while Save Wile Tigers will be sharing about global tiger conservation. In addition, a guest chef is slated to host a gala event on September 29, 2023, to raise funds via live auction for both The Datai Pledge and Save Wild Tigers.
As for Chapter Four, expect The Datai Langkawi to celebrate its 30th-year celebration finale to be massive. It's a triumph, after all. The finale is planned for December 8 to 17, 2023. Alongside 'The Datai Classic' golf competition, there will also be a myriad of workshops, showcases and bazaars.
On 16 December, The Dining Room will lend itself to the event of all events — with acclaimed chefs Michel and Sébastien Bras scheduled to make their much-anticipated return to the resort. Look forward to performances by surprise acts while savouring culinary creations by both chefs who have a total of five Michelin stars combined.
Learn more about The Datai Langkawi and its 30th-year anniversary celebrations HERE.
Book your stay at The Datai Langkawi via Agoda.com
Book your stay at The Datai Langkawi via Booking.com
Shop the best travel experience here
This story first appeared here.
(All photos by The Datai Langkawi)
Related: 5 Things To Do When You're Staying At Else Hotel In Chinatown Kuala Lumpur
Written By