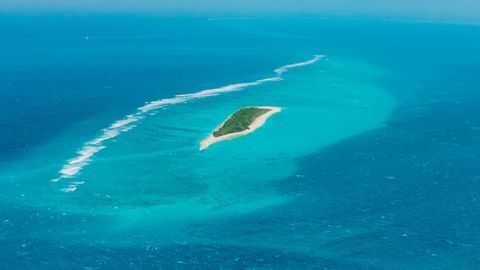 One of the first floating villa resorts to open in the Indian Ocean, Soneva Secret promises to be the ultimate secluded island inspired by nature's magnitude, mystery and enchanting beauty.
Soneva Secret, as the name suggests, will be a true hideout in one of the Maldives' most secluded areas, Haa Dhaalu. Promising unparalleled solitude and privacy, this floating villa resort–which will open for stays on January 10, 2024–invites you to enjoy time slowly melting away and lose yourself to memorable experiences. In short, Soneva Secret promises a bespoke experience unlike any other!
In keeping with the brand's ethos of barefoot luxury in The Maldives, with the new opening Soneva will deliver on its promise of sun, sea, and sand with the bonus of privacy.
Secluded Villas at Soneva Secret Explore 14 overwater and island villas, including secret hideaways accessible only by boat and the Maldives' first floating villa. Expect the ultimate overwater stay surrounded by tropical gardens. Not only will every room and villa offer personalised services to ensure an unforgettable escape in nature but they have also been designed keeping sustainability in mind. The overwater villas have been consciously designed to be unaffected by wave movements and can only be accessed by sea.
Each villa will feature a pantry, minibar, covered dining area, family-sized TV lounge with a large daybed and sunken seating, and a fully equipped gym overlooking the surrounding turquoise waters. The cherry on top will be the spa treatment room, waterslide into the lagoon and an al fresco dining sala.
Signature Experiences The island is your playground! When at Soneva Secret, choose to swim with manta rays and sea turtles, take off on yachting adventures across the Indian Ocean, enjoy stargazing spectacles at Soneva's overwater observatory, or engage in non-motorised water sports such as canoes, paddleboards, catamarans and windsurfing.
Dining at Soneva Secret
Indulge in a bespoke menu and the finest cuisine in your private paradise with a dedicated chef provided for each villa. The 14 chefs at Soneva Secret will come from different nations, including Japan, Thailand, Vietnam, the Maldives, Italy, Indonesia, France, South America, Sri Lanka, China, the Middle East, Korea, India, and the Nordic countries. Each expert will bring with them knowledge of their native cuisine and prepare it using carefully-sourced ingredients. Take your dining experience to another level by eating on a floating kitchen platform out at the sea. As you savour a selection of sumptuous dishes prepared by a personal chef, you will be able to unwind by dipping your feet in the crystal-clear blue sea below.
Personalised Service
Secret Soneva will breathe pure rare and bespoke luxury! Every stay will deliver exceptional and customised service standards, courtesy of a dedicated team of three—a Barefoot Guardian, for round-the-clock butler care; a Barefoot Assistant; and a dedicated chef to deliver exceptional meals.
So, what are you waiting for? Plan your dream holiday and book a stay to discover the secret to the most rare and bespoke experience only with Soneva Secret!
Related: Why Soneva Resorts In The Maldives Are The Best For Blissful Family Retreats In Big Villas
Frequently Asked Questions ( FAQs)
— When is Soneva Secret opening?
Soneva Secret will welcome its first guests on January 10, 2024.
— How to reach Soneva Secret?
Soneva Secret 2024 will be accessible via a scenic 75-minute seaplane flight directly from Velana International Airport in Malé. A 40-minute seaplane flight from Soneva Fushi in the Baa Atoll; a 30-minute seaplane flight from Soneva Jani in the Noonu Atoll; or a leisurely full-day cruise from Soneva Fushi onboard Soneva in Aqua, a luxury yacht, will also be available. Guests will also be able to fly directly into Kulhudhuffushi Airport in the Haa Dhaalu Atoll and take a one-hour speedboat ride to the resort.
— Does Soneva Secret have a doctor on site?
Secret Soneva will have a resort nurse available 24/7.
— Can I make a reservation for my stay at Soneva Secret now, or should I wait until closer to the opening date?
Soneva Secret 2024 is now open for bookings for stays after January 10, 2024.
Written By