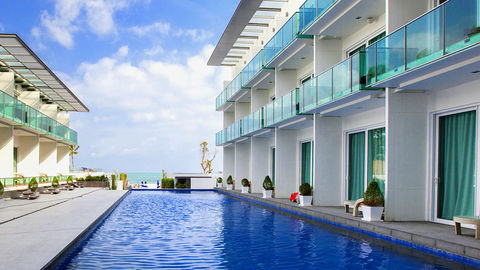 The KC Resort & Over Water Villas in Koh Samui, Thailand boasts a spectacular infinity pool that guests love, but that's not it. It has rooms with the infinity pool right underneath your bed! By Payal Das
For your next luxury holiday, we recommend you pack your bags right away and head to Thailand. KC Resorts & Over Water Villas is a luxury property sprawled in Koh Samui between the spectacular Chaweng Bay, the gorgeous sapphire Gulf of Thailand, and the tropical Matlang Island, restoring your faith in paradise. The most redeeming feature of the resort is that the over water villas are built right above the infinity pool, allowing you to hop off your private deck and swim underneath it! The glass floor lets you peek into the glistening water while lying on the bed. Walk into your luxury suite to find rose petals in the bathtub, near the sink, and on the bed. This is a warm way in which the hotel welcomes its guests and makes them feel right at home. The over water villas have a personal state-of-the-art light therapy jacuzzi that easily fits two people and overlooks the sea. Relax in the tub here or enjoy an outdoor shower with your partner. This resort is all about wellness and rejuvenation. If you don't wish to leave the privacy of your room, stay in and let your meals be brought in and served in your private balcony that overlooks the Chaweng bay. Written By