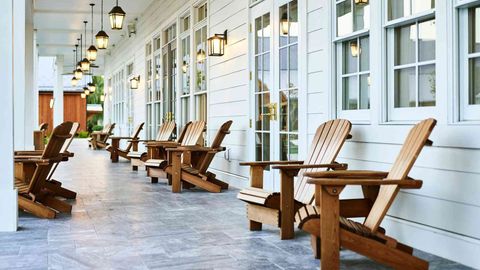 When the rare solar eclipse sweeps across the United States on April 8, 2024, its path starts in Texas and crosses the US through Maine, treating sites in the beltway to the natural phenomenon of the moon blocking the sun. While cities like Indianapolis and Buffalo, New York, are among the most searched places for eclipse chasers, one of the most stunning viewing spots is New York's Finger Lakes region.
A serene destination known for wineries, waterfalls, and quaint hotels, the eastern side of the Finger Lakes will be within the eclipse's path of totality. And that includes The Lake House on Canandaigua, right on the northern side of Lake Canandaigua.
Witness the 2024 solar eclipse from this New York Finger Lakes resort To celebrate the occasion, the lakefront hotel is offering a Solar Eclipse Package where guests can enjoy Mother Nature's spectacle starting at 2 pm on April 8. Guests who book the hotel special will receive deluxe accommodations for two, a keepsake blanket, and eclipse-viewing glasses. They'll also be able to join the resort's Eclipse Viewing Party that day from noon to 5 pm, which will include hors d'oeuvres, a cash bar, and entertainment. The package includes a two-night stay at this 124-room New York Finger Lakes resort — from Sunday, April 7, to Tuesday, April 9 — so you can make a full eclipse vacation out of the event. Currently, rooms available for the packages range from its 360-square-foot Town and Wood King rooms (from USD 724 (INR 60,177) per night) to its 547-square-foot Premium Lake King Suite (from USD 1,124 (INR 93,424) per night).
Shop the best travel experiences here The Lake House also features a range of dining options, like American classic fare at its Rose Tavern, dockside drinks at its local favourite Sand Bar, cocktails at the Pool Bar & Grill, as well as coffee and pastries at its Library. There's also the on-site Willowbrook Spa with creekside saunas and access to its private garden.
Book your stay at The Lake House on Canandaigua via Booking.com
For more information on the Solar Eclipse Package, visit lakehousecanandaigua.com.
(Hero and feature image credit: The Lake House on Canandaigua)
All currency conversions were done at the time of writing
This story first appeared on travelandleisure.com
Related: This Gorgeous City In New York's Finger Lakes Has Incredible Waterfalls & Beautiful Wineries
Written By