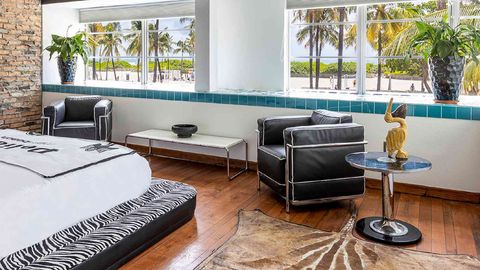 A most welcome last-minute invitation to the South Beach Food & Wine Festival recently brought me to sunny Miami from rainy Los Angeles. I booked the Pelican Hotel on Ocean Avenue for its convenient location near the events and had just a quick glimpse of the hotel's crisp green and white exterior and Art Deco-style lettering before I entered. At that point, this Florida hotel looked similar to the avenue's many small hotels with outdoor dining along the busy sidewalk.
The restaurant was the most notable feature outside as well as inside, with beautifully set tables taking most of the lobby space. A well-stocked bar was the next thing I spotted before I found the small reception area off to the side. My room was ready, and the charming Lorenz checked me into room 309, where I was greeted by a bright orange fur club chair and an entire wall painted in wild yellow and green wavy stripes. That was one of my first clues that this hotel was something different. That, and the lettering on the door that said "Psychedelic(ate) Girl." Hmmm.
Owned by Renzo Rosso, founder of the Italian fashion brand Diesel, the hotel was completely renovated and reopened late in 2022. Rosso purchased the hotel in 1990, and his son, Andrea Rosso, coordinated the two-year transformation. Each of the 32 rooms is unique, with its own name, decor based on retro-inspired movie themes, and cheeky vintage furniture.
Plan a visit to this quirky Florida hotel I had the opportunity to see several other rooms, including the penthouse, where Rosso stays when visiting Miami. Its expansive outdoor terrace, furnished with palm trees and lounges, overlooks Ocean Drive. Inside, there's a curved white sofa, mirrored coffee table, framed Warhol paintings of the Beatles, shiny chrome light fixtures, and a bright orange table and chairs. A round window between the living room and bedroom is actually a tropical fish tank and a chrome-framed panther tapestry hangs over the bed, with intricate stained glass windows alongside. Another room, called "Old Glory," features a framed vintage Diesel banner and walls covered in pale blue denim. The room named "Me Tarzan, You Vain" is decorated with zebra stripes, a leopard cub painting, a bamboo-framed mirror, and a striped nightstand of woven natural material. In the "Go Bananas" room, vivid palm designs decorate the walls and the fabric on rattan furniture. In an aviation-themed room, engine parts serve as nightstand bases. The tile work in each bathroom complements the room's hues, applied in exquisite detail. Pelican Cafe: One of the best Italian restaurants in Miami beach My sister joined me on the trip, and we had a dinner reservation at the Pelican Café. Our outside table on the upper level was the perfect place to watch the constant parade of South Beach locals and visitors. Lovers of everything Italian, we were happy to hear the wait staff speaking the language of our favourite travel destination. The dinner, from our burrata with ripe cherry tomatoes and cantaloupe with prosciutto to our tiramisu and pistachio ice cream, was exceptional. Our server, Andrea, suggested the perfect wine from Naples, and we agreed that Pelican Café is too modest a name for one of Miami's best Italian dining spots.
Chef Giancarlo "Wendy" Cacciatori, famed for his restaurants in Miami and New York, oversees the kitchen, bringing his culinary experience from his native Emilia Romagna. The all-day menu includes seasonal dishes, pasta, seafood, and traditional Italian cuisine with a modern touch.
"A fun and casual experience"
Complimentary beach chairs and towels, daily aperitivo hours, turndown housekeeping, and a mini-bar with refreshments are included for guests, and the hotel's staff members are part of the fun and casual experience. We enjoyed getting to know several during our short stay, and we learned that Ilenia, who we chatted with at the bar, would be leaving soon to work in Puglia, Italy, at Borgo Egnazia — one of the best resorts in Italy — for the season.
Our stay at the Pelican Hotel was the icing on the cake, so to speak, of our trip to Miami for the South Beach Food & Wine Festival. Spending a few nights in the yellow and green "Psychedelic(ate) Girl" was fun, and next year, we hope to return to a totally different and just as whimsical room.
Book your stay at the Pelican Hotel via Booking.com
Book your stay at the Pelican Hotel via Agoda.com
(Hero and feature image credit: Pelican Hotel)
This story first appeared on travelandleisure.com
Related: St. Petersburg, Florida's Iconic Pink Hotel Just Got A Stunning Refresh — Take A Peek Inside
Written By