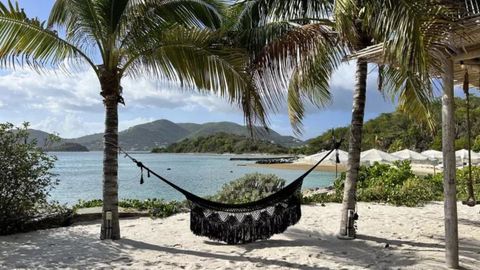 If you've ever fantasized about packing it all up and leaving the world behind for your very own private island, I found the next best thing. Until June of this year, you could only book a stay at The Aerial, BVI for retreats called Elevate Summits or whole-island buyouts.
Now this exclusive luxury resort in the Caribbean has opened its doors for travellers booking an all-inclusive nightly rate for one of the island's individually designed rooms and villas, and I was one of the first to check in.
From the window of my tiny puddle-jumper plane, I saw the island emerge out of the cerulean waters as we arrived at Tortola at dusk.
By the time I reached the marina where The Aerial's boat picked me up, it was dark. After a short ride, I arrived at the private island's dock, where I was greeted and transported to the Fellowship Hall via pastel-coloured Moke for dinner on the deck under the stars before heading to bed in the Love Villa.
Here, room numbers are replaced with inspirational names like Joy, Dream, and Wisdom, and the resort's focus on deep wellness infuses every activity, meal, and moment on the property. It's an undeniably beautiful place, with over 43 acres of lush hills, white-sand beaches, and rocky shoreline to explore, and a capacity of 34 guests means the island feels like your personal slice of paradise. An infinity pool looks out over the Sir Francis Drake Channel and neighbouring islands, a private beach is stocked with every water toy imaginable, and chefs are waiting to prepare delicious meals packed with local flavour.
This luxury resort in the Caribbean is located on a private Island
The Aerial, BVI The Aerial, BVI feels like your very own private island experience thanks to its residential layout and low guest capacity.
The all-inclusive rate includes delicious and wholesome meals and drinks, including superfood-charged cocktails, tasty fresh seafood, and plenty of vegetarian options.
Luxe amenities include an oceanfront infinity pool, a private white-sand beach with all the water sports toys, and ample lounge areas to stop and admire the breathtaking island views.
The mission-driven resort works to support the local community and the world at large through several nonprofit initiatives.
And that's just the start. This island is so much more than your average all-inclusive beach resort. The Aerial, BVI defines itself as a new kind of "purpose luxury" resort that offers enriching wellness experiences in an elevated setting to provide transformational experiences. I've always been sceptical of resorts billing themselves as transformative travel experiences, purporting to change my life with spa treatments and days spent in the sun. But The Aerial goes much deeper than that, offering delicious and wholesome dining featuring island-to-table meals and activities like sound baths, hikes along the shore, and visits to Redemption Ranch to see the island's family of rescue zebras and horses, whose stories of redemption and healing inspire visitors in group and one-on-one sessions.
The island is full of beautiful quirks and thoughtful details that can only be described as the personal touch of The Aerial, BVI's owner, Britnie Turner, and the incredible staff that make it such a special property. Turner founded Aerial when she was 21, and she has developed the brand to encompass a number of companies including Aerial Development, a real-estate development company, and Aerial Recovery, a nonprofit organisation with the mission to respond to natural and manmade disasters, combat sex trafficking, and support military veterans and first responders.
Heal the Heroes is an initiative that offers veterans and first responders year-long programs to help them transition to civilian life; part of the experience includes a retreat at The Aerial, BVI, and they can later become what the organisation calls Humanitarian Special Operators and embark on disaster response and rescue missions. Involved in every aspect of The Aerial, BVI's development, Turner has transformed the private island into a luxury wellness resort that is, as she says, "a force for good."
The rooms Each of The Aerial's 17 unique rooms (spread out in five main residences across the property) was designed with a specific intention that it's named for. I stayed in the Love Villa, a spacious suite with an outdoor shower and balcony overlooking the pool and nearby islands. Although they're all different, rooms are outfitted in warm natural materials that highlight the true beauty of the island and offer balconies or patios with stunning ocean views.
Sunscreen, bug spray, after-sun lotion, hand sanitiser, shampoo, conditioner, and soap — all with all-natural ingredients — are included in the room. There isn't a single "bad" room on the property, but there are a few exceptional options, including rooftop Dream with a private deck and large circular bed under a macrame chandelier and the beachfront Mindfulness Villa that can double as the spa when not occupied.
Food and drink The Aerial's dining ethos — if it's here, it's good for you — sets it apart from other all-inclusive properties in the Caribbean. Meals and drinks are prepared without refined sugars, preservatives, and food colourings, and the food tastes so delicious, that it makes you wonder why we even use those things in the first place. Cocktails are infused with superfoods and the plentiful mocktail choices are just as carefully curated and delicious; booze-free choices are far from an afterthought at this luxury resort in the Caribbean.
Private chef-prepared meals feature locally sourced produce and a pescatian-forward menu. Breakfasts start with a wellness shot and include a number of chilled items like overnight oats or fruit and an a la carte menu featuring three daily options to choose from — with delicious dishes like caramelised banana protein waffles, huevos rancheros, and avocado toast. At breakfast, we selected our lunch and dinner choices for the day, typically choosing from a vegetarian, pescatarian, or meat (usually chicken) option.
My favourite meals included lobster ravioli absolutely stuffed with succulent meat and served by candlelight on the Fellowship Hall's deck overlooking the ocean at sunset; a shrimp and lobster pizza eaten at the Beach Pavilion; and the tastiest, warm cookies served with a melty scoop of ice cream — somehow better than any I've had with refined sugar. Fresh seafood and a delightful range of flavours and cuisines artfully prepared, along with gorgeous meal settings located throughout the island that rotated throughout the stay, made meal times some of the best times during this trip.
Experiences and amenities With a private white-sand beach, a gorgeous infinity pool, and plenty of places to stop and take in the incredible views, this luxury resort in the Caribbean has everything you need for a perfect private island vacation. Down at the beach, paddle boards, Seabobs, snorkels, and even clear kayaks provide plenty of ways to explore the gin-clear waters, and on land, there are lounges, hammocks, games, and a toes-in-the-sand beach bar with swing seats. Up at the main building, you could spend hours looking out at neighbouring islands and watching ships as they sail by from the pool.
Of course, The Aerial is all about purpose-driven luxury and the daily activities and amenities offered on the island reflect that. Yoga classes, hiking trails, an outdoor gym outfitted with wooden equipment, and lots of cosy nooks perfect for meditation and journaling allow guests to dive into the wellness experience as much as they'd like during their trip. One of the island's most magical spots, Redemption Ranch offers tours, horseback riding, zebra encounters, and equine therapy with the rescued animals living on the property. I had the opportunity to experience equine therapy firsthand, and it was filled with moments that surprised and moved me, leading to a deeper connection with Titan, my horse partner, and with myself, that I wasn't expecting. Nine horses, seven miniature horses, 21 tortoises, and four zebras aren't the usual private island inhabitants, but they add so much character to the island.
The Spa Is there anything more relaxing than feeling the ocean breeze and hearing the soft crash of waves as you get a massage? Guests can book bespoke massages — including CBD-infused massages — offered in a serene oceanfront palapa called Mindfulness, tucked away at the end of the beach. My experience was the definition of dreamy, and I couldn't imagine a more beautiful and truly relaxing place to get a massage. The only downside is that few, if any, other spas will ever be able to top that experience.
Shop the best travel experiences here
Nonprofit goals and sustainability The Aerial, BVI is unique not only in its luxe private island offerings but also in the company's mission to support people in need in the local community and the world. At The Giving Shop, the island's version of a gift shop, 100% of the proceeds from purchases go to Aerial Recovery, the resort's nonprofit partner, which supports three key initiatives: ending human trafficking, manmade and natural disaster response, and Heal the Heroes.
The Aerial, BVI partnered with local nonprofit Green VI to implement environmentally friendly practices including composting, using electric Moke vehicles on property, and more. Smaller sustainable touches like eco-friendly coffee pods and large-format toiletries also drive home the island's sustainability efforts.
The location This luxury resort in the Caribbean is located on Buck Island, just a short boat ride from Tortola in the British Virgin Islands. The island is close enough to Tortola to provide easy access to the airport and nearby towns and attractions, but it's just secluded enough to feel like a true getaway, with stunning views in every direction.
The closest airport is Terrance B. Lettsome International Airport (EIS), and lucky for American travellers, it recently got even easier to reach the BVI. In June, American Airlines began its inaugural flight service between Miami International Airport and EIS, and they plan to add another flight this winter. Transfers between EIS and The Aerial are included.
Finding the best value The Aerial offers an elevated all-inclusive experience starting at USD 950 (INR 78,447) per night. In case it wasn't already abundantly clear, this isn't your average mega all-inclusive property with mediocre meals, lacklustre drinks, and uninspiring activities. Every element of the experience is meticulously thought through and designed for a regenerating wellness-forward experience.
Delicious meals thoughtfully prepared with wholesome, fresh ingredients and tasty cocktails and mocktails are included in the rate, along with private transfers from EIS airport, amenities, and activities. The daily schedule lists out each day's included activities – ranging from hikes down to Redemption Ranch to learn about the horses and zebras to sound baths under the unbelievably bright stars.
Other experiences, like equine therapy sessions or spa treatments, are available at an additional cost, and we think they're worth booking to further enhance your stay.
Book your stay at The Aerial BVI via Booking.com
(Hero and feature image credit: Elizabeth Rhodes/Travel+Leisure)
This story first appeared on travelandleisure.com
All currency conversions were done at the time of writing
Related: The Best Times To Visit The Caribbean For Beautiful Weather, Fewer Crowds, And Lower Prices
Written By