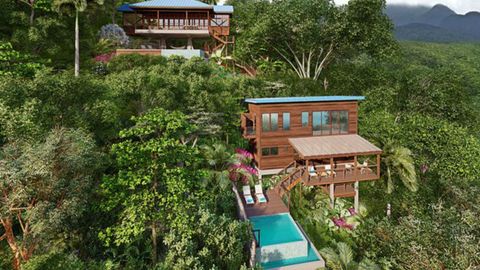 The Caribbean is booming with new hotels. There are new palm-fringed beachfront hotels, cliffside hideaways, and towering all-inclusive catering to every travel personality. The existing hotel talent has responded to the influx of tourists this year with complete rebrands, multimillion-dollar renovations, and sustainably minded initiatives.
Steps away from some of the world's most vibrant coral reefs and national parks, it's easy to be completely immersed in the stunning environment at these hotels. If you're looking for a reset at a hotel with a major refresh, these are a few of the best new hotels opening (or reopening) in the Caribbean this year.
The best new luxury hotels opening (or reopening) in the Caribbean in 2023
Secret Bay, Dominica On a cliffside in the Caribbean's forested "Nature Island," a.k.a. Dominica, Secret Bay unveiled four new clifftop multi-villa estates in June, with four more to be completed by the end of this year. Situated on a 200-foot mountainside with postcard-perfect views of an azure Caribbean Sea, the villas feature three bedrooms and four bathrooms, a gourmet kitchen, a private plunge pool, bathrooms with rain showers and soaking tubs, and direct access to a future on-property funicular.
The all-villa, Relais & Châteaux rainforest resort will also debut a number of other new amenities in the coming months, including an outdoor chef's table experience set in the property's organic garden, a full-service microbrewery that produces locally made kombucha, a mini theatre, and three floating decks with views of the ocean and Cabrits National Park. Guests can also book a private dinner on one of the decks.
Morningstar Buoy Haus Beach Resort at Frenchman's Reef, Autograph Collection, St. Thomas – St. Thomas, Virgin Islands After the devastation of Hurricane Irene and Marina in 2017, this 94-room luxury hotel in the Caribbean made a comeback in May with a USD 425 million rebuild. The Marriott Bonvoy property includes four beach and poolside bars with private cabanas, an infinity oceanfront pool, and access to charter private boats on Frenchman's Reef. Located on St. Thomas's south coast, on Morningstar Beach, the hotel has a new neighbour, too: The Westin Beach Resort & Spa at Frenchman's Reef, where Buoy Haus guests will have free access to The Westin's amenities. Pro tip: To see more of the US Virgin Islands, take a 15-minute boat taxi ride to St. John for a sunset dinner at La Tapa restaurant.
Book your stay at Morningstar Buoy Haus Beach Resort at Frenchman's Reef, Autograph Collection via Booking.com
Book your stay at Morningstar Buoy Haus Beach Resort at Frenchman's Reef, Autograph Collection via Agoda.com
Curtain Bluff, Antigua This fall, one of Antigua's most beloved all-inclusive resorts will unveil a multimillion-dollar renovation including a selection of new suites, an adults-only wellness area, a yoga pavilion, and an infinity pool. The 72-room celebrity favourite is located on the south coast of an island that's said to have 365 beaches. Rooms are situated directly on power white sand, and the glitzy Hulford Collection suites feature sweeping verandas and infinity-soaking pools. Be sure to take a four-minute walk to Gina's Cook Shop, located on a roadside in Morris Bay and serving up jerk chicken, fresh fruit, and coconut water.
Book your stay at Curtain Bluff - All Inclusive via Booking.com
Sam Lord's Castle – A Wyndham Grand Resort, Barbados
Set to open in September as the largest all-inclusive resort in Barbados, Sam Lord's Castle will include five towers with a total of 422 rooms. Formerly a pirate's castle, the southwestern coast beachfront property will have 10 restaurants and bars, including a food hall with a sampling of local eats (ideal when you're on an island known for flying fish sandwiches and macaroni pie). Rooms at the eco-resort will include up to 650 square feet of space and ocean-view, lanai-style private balconies.
Belnem House, Bonaire This eco-friendly resort opened in May with 31 luxury suites, apartments, and penthouses. Fully powered by solar panels during the day, the resort also only uses biodegradable products in an effort to be as self-sustaining as possible. This luxury hotel in the Caribbean has also teamed up with Wannadive to offer diving opportunities to one of the oldest marine reserves in the world at Bonaire National Marine Park. At Belnam House, guests can relax poolside or by the on-site tropical garden.
Book your stay at Belnem House Bonaire via Booking.com
The Riviera Maya Edition at Kanai, Mexico Latin America will get its first Edition hotel before year's end with the opening of The Riviera Maya Edition at Kanai. With 186 rooms and suites on the Caribbean coastline, the hotel is steps away from the region's famous lagoons, temples, and vivid coral reefs. A spa, six restaurants, and what is sure to be a trendy beach club will round out the amenities. And Kanai is a 680-acre gated community, located a few minutes from downtown Playa del Carmen, and also home to a newly opened St. Regis.
Shop the best travel experiences here
(Hero and feature image credit: Secret Bay)
This story first appeared on travelandleisure.com
Related: The Best Family-Friendly Beach Resorts In The Caribbean
Written By