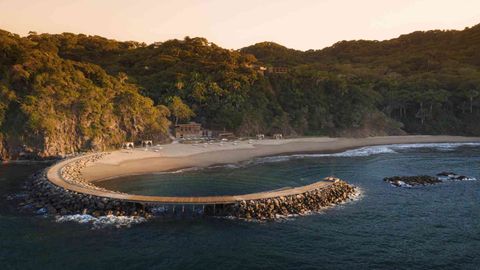 As if Mexico's sunshine, beaches, and natural beauty weren't enough to rejuvenate any visitor, these resorts deliver healing treatments in plush spas for the ultimate in wellness experiences. Therapies combine indigenous customs and modern science, using natural ingredients to promote health, mindfulness, and serenity.
In various locations throughout Mexico, these resorts offer personal attention and restorative treatments designed to last long after the vacation ends.
The best wellness-focused resorts in Mexico
Rosewood Mayakoba, Riviera Maya Set among dense mangroves and meandering lagoons, the resort features Sense, A Rosewood Spa with 12 treatment rooms, a yoga pavilion, a pool, and eight Wellness Suites — two-story lofts designed for an immersive wellness experience. The Wellness Suites include a heated plunge pool, reflexology fountain, meditation pavilion, aromatherapy shower scents, and a dedicated wellness butler. Rosewood Total Wellbeing is a program based on Ayurvedic principles with a personal consultation and a range of treatments.
Four Seasons Resort Los Cabos at Costa Palmas, East Cape
An expansive beach on the Sea of Cortez, six pools, a spa with sauna, steam room, hydrotherapy whirlpools, and spa suites create an atmosphere of relaxation for massage, facials, reflexology, and body treatments like the Mother Earth aromatic body wrap. Wellness experiences at the resort include guided meditation, yoga, breathwork, chakras alignment, and Reiki for healing at the mental, physical, and emotional levels.
Book your stay at Four Seasons Resort Los Cabos via Booking.com
Book your stay at Four Seasons Resort Los Cabos at Costa Palmas via Agoda.com
Waldorf Astoria Los Cabos Pedregal, Cabo San Lucas This cliffside resort set along the Pacific Ocean is home to the Waldorf Astoria Spa Luna y Mar, inspired by ancient traditional Mexican folk healing known as curanderismo. For example, the Indigenous Herbal Detox incorporates native plants of Baja, and The Intention uses herbal aromatherapy and the energy of plants in a healing massage. Every month, the spa hosts a transformative "Wellness Weekend," a three-day journey to inner peace through focused well-being experiences.
Book your stay at Waldorf Astoria Los Cabos Pedregal via Booking.com
Book your stay at Waldorf Astoria Los Cabos Pedregal via Agoda.com
Rancho La Puerta, Tecate
Set on 4,000 acres about three miles (4.82 km) south of the US border, Rancho La Puerta was founded in 1940. The resort includes 40 miles (64.37 km) of hiking trails, 32 acres of landscaped gardens, an organic farm, and three full-service holistic spas. Guests stay in individual casitas and dine on a lacto-ovo-vegetarian diet. A range of holistic therapies is offered, including massage, body treatments, facials, detox, reflexology, and wraps. Lectures, concerts, fitness workshops, cooking classes, and hikes are all part of an immersive wellness vacation.
One&Only Mandarina, Riviera Nayarit
The resort, set in a tropical rainforest, is home to the One&Only Spa, where guests experience the healing atmosphere through ancient rituals, meditation, breathwork, and astrological readings. Guests can choose from three four-day wellness itineraries after consultation with the resort's wellness director, with options for ancient healing, a green beauty retreat, or complete relaxation. The spa includes saunas, steam rooms, and natural springs, with a wide range of treatments.
Book your stay at One&Only Mandarina via Agoda.com
Book your stay at One&Only Mandarina via Agoda.com
Las Ventanas al Paraiso, a Rosewood Resort, San José del Cabo Located at the tip of the Baja Peninsula, the resort offers treatments and therapies focused on a holistic approach to wellness. The Four Elements spa menu is inspired by ancient healers of Baja, tapping the powers of earth, air, fire, and water and employing indigenous plants, water, crystals, and other natural elements. In the 90-minute Raindrop Aromatherapy treatment, 10 essential oils are applied, enhancing the body's natural defences.
Shop the best travel experiences here
Conrad Punta De Mita, Riviera Nayarit
Ocean views and a secluded beach are the backdrops for this resort, where the spa features seven treatment rooms, a sauna, a whirlpool, and an outdoor hydrotherapy pool. Treatments influenced by the ancient Huichol culture, the indigenous people of the region, include the temazcal experience, a purification ritual that begins with cleansing by a shaman before each guest enters the temazcal, a dome-shaped stone structure. Herbal steam, chanting, and meditation are followed by a relaxing swim in the secluded spa pool.
Book your stay at Conrad Punta de Mita via Booking.com
Book your stay at Conrad Punta de Mita via Agoda.com
Grand Velas Riviera Nayarit, Riviera Nayarit
Set on Mexico's Pacific coast surrounded by the Sierra Madre Mountains, Grand Velas is an all-inclusive resort offering a variety of activities and wellness opportunities. The Se Spa features 20 treatment rooms and more than 30 holistic experiences using all-natural products, plant extracts, oils, and aromas. The therapeutic "Hydrotherapy Circuit," treats the body with water at varying temperatures and includes the Jacuzzi, sauna, eucalyptus inhalation, steam with chromotherapy, hot and cold lagoons, pressure shower, and hydro-reflexology.
Book your stay at Grand Velas Riviera Nayarit via Booking.com
Book your stay at Grand Velas Riviera Nayarit via Agoda.com
Chablé Yucatán, Chocholá
This secluded resort about 30 minutes from Merida features private casitas and expansive villas set in a lush landscape. Their wellness programs combine ancient Mayan healing customs with advanced therapeutic methods. After a personal consultation, guests can choose from three Chablé Spa Journeys: Fountain of Youth, Tree of Life, and Heaven on Earth. The Spa's energy centre is the cenote, considered a sacred site, where a welcome ritual takes place. Treatments include hydrotherapy, massage, flotation, and aromatherapy.
Book your stay at Chablé Yucatan via Booking.com
Book your stay at Chablé Yucatan via Agoda.com
Montage Los Cabos, Cabo San Lucas Set on Santa Maria Bay, the Montage offers wellness programs at Spa Montage inspired by traditional Mexican folklore's Tree of Life and the Torote tree at the resort's entrance. The Signature Baja Wellness Journey begins with a herb-infused wrap and warm bath to reduce stress, followed by a facial massage, cold jade stones, and warm stone massage. The Mezcal Renewal Massage, based on Oaxacan customs, includes heated poultices and ends with a taste of Clase Azul mezcal.
Book your stay at Montage Los Cabos via Booking.com
Book your stay at Montage Los Cabos via Agoda.com
(Hero and feature image credit: ONE&ONLY)
This story first appeared on travelandleisure.com
Related: This Los Cabos Hotel Now Has 60 Private Stunning Residences
Written By