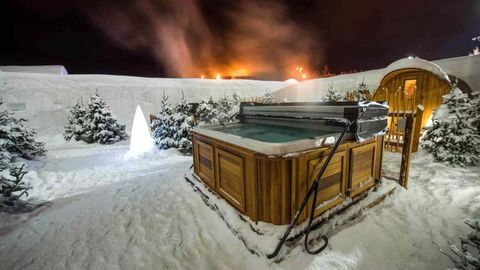 Whether staying in a hotel made entirely out of ice and snow sounds like a dream or a nightmare, there's no denying that it's a rare experience. And while the original ice hotel opened in Sweden in 1989, you don't have to fly across the Atlantic to spend the night surrounded by snow. North America's only ice hotel is right across the border in Canada, and it just opened for the winter season.
The ice hotel in North America is now open
The Hôtel de Glace outside Quebec City opened its doors for the 2023 season on January 4. It is the only place in North America where guests can sleep on a bed made of ice surrounded by four walls made of — you guessed it — ice and snow. Every year the builders and designers choose a theme and run with it — so while you can always expect to see giant snow arches, crystal-clear ice sculptures, and ice chandeliers, the hotel never looks exactly the same. Similarly, if you book a themed room you may find yourself surrounded by mushrooms, flowers, and woodland creatures or under a Japanese-style pagoda — all carved out of the snow. Each room at the Hôtel de Glace is outfitted with Arctic sleeping bags, and some have roaring fireplaces and private hot tubs and saunas — the perfect way to ensure that you're extra warm before you slip under the covers. Meanwhile, all guests have access to the property's "Nordic relaxation area," an outdoor space with a sauna and hot tubs designed for stargazing. The entire experience kicks off with a welcome drink — served in a glass made of ice, of course. And from there, the ice theme continues with access to the nearby ice skating path, which is illuminated in the evening, and up to 24 slides and sledging hills. In the evening, you can sip on a cocktail in a bar that's -5 degrees Fahrenheit (-20 degrees Celsius).
And while we'd all like to think we can happily sleep through the night in a room made of ice, every booking at the Hôtel de Glace comes with a backup plan: a room in the neighbouring Hôtel Valcartier, a four-star property with endless heat and an on-site spa that offers a full thermal experience. The Hôtel de Glace opens in phases. The hotel's grand hall, chapel, ice bar, terrace, and hot tub and sauna area opened on January 4, while more rooms and the ice workshop are set to open on January 7. The entire structure, including the Grand Slide, are scheduled to be completed by January 16.
Every overnight booking at the Hôtel de Glace includes a room for the same night at the Hôtel Valcartier (think of it as your Plan B), a welcome cocktail, and full access to the hot tubs, sauna, and ice skating path. Rates start at USD 400 (INR 32,909). You can also visit the ice hotel for the day with a pass that starts at USD 25 (INR 2,056).
This story first appeared on www.travelandleisure.com
Main and Feature Image Credit: Courtesy of Québec City Tourism
Related: How To Plan The Perfect Trip To Finnish Lapland — Northern Lights And Midnight Sun Included
Written By