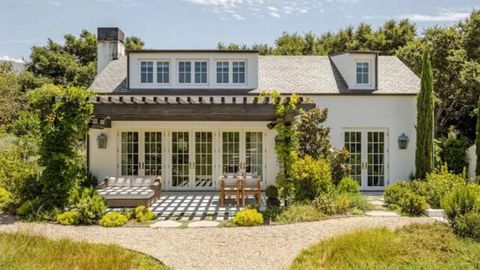 Actress and Goop founder Gwyneth Paltrow has partnered with Airbnb to open up her home for a one-night stay in an effort to make the world "a little less lonely".
Staying at a celebrity's home is an opportunity that doesn't happen very often. Staying at a celebrity's home with them actually hosting and spending time with you is even rarer still. But that's exactly what Gwyneth Paltrow is inviting you to do. The actress has collaborated with Airbnb to open up her California guesthouse for a one-night stay for two guests—but not everyone is thrilled by it.
Enjoy a "Goop-inspired" stay at the home of Gwyneth Paltrow thanks to Airbnb
View this post on Instagram
Gwyneth Paltrow's Montecito guesthouse is as beautiful as the rest of her California estate. Even Airbnb CEO Brian Chesky praised it as "one of the best homes [he's] ever seen" in the video the actress posted on Instagram. Aside from the beautiful and utterly serene surroundings, the stay is also "goop-inspired" as it's dubbed on the Airbnb site. "Goop essentials to nourish your body and soul" and Goop-inspired meals are all part of the package. Depending on your view of the company, that could be a major draw or drawback. The Goop CEO also mentioned in the video that guests can have a special dinner with her and her husband complete with a wine from their cellar. They can also make use of the property's serene surroundings to get some peace and quiet. At the core of it all though is an effort to make connections once again. "Airbnb hopes to make the world a little less lonely," reads the text from the video. "While we may begin as strangers, I hope we'll find connections and commonalities over a delicious meal," wrote the actress in her IG post. This is exactly the reason why some people find the whole thing a little off-putting. There are some people who have called it out of touch, which is something that the actress has been criticised for in the past. "Who could ever afford to stay there?" reads one comment, while another said, "It seems a little tone-deaf to say this will somehow help people feel more connected/less lonely when it's for whatever couple is rich enough to afford to wine and dine with her". How much the stay will cost remains to be seen. Right now, it's listed at INR 0 with bookings opening up on August 16, so maybe it'll actually be a lucky draw from the people who sign up.
You can learn more about the stay and the property on its Airbnb site.
(Hero and feature image credit: Airbnb)
Shop the best travel experiences here
This story first appeared here
Related: Here's How To Rent The Iconic Barbie Malibu DreamHouse On Airbnb
Written By