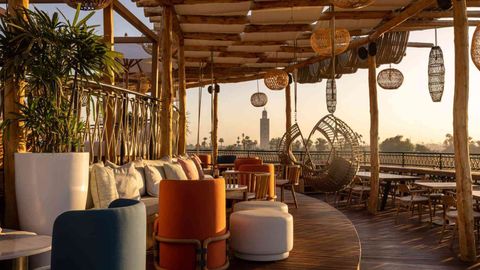 Never has a hotel made me blush so much.
On a sunny January day, I stepped off the plane in Marrakesh to attend the opening weekend of the hotly anticipated Nobu Hotel Marrakech, the brand's first introduction to the African continent. After making it through passport control, I found myself embraced immediately in the arms of Nobu. Or, at the very least, the driver who was there to take care of my every need.
Within 15 minutes, we made it to the hotel, where once again, I was barely out the car door before someone had taken my bag, already knew my name, and sat me down with a delicious pot of Moroccan mint tea (with sugar, of course), and poured it in fanciful fashion from as high as she could muster. For a moment, I sat chatting with my fellow guests (who were so utterly chic I shudder to think about my own off-the-plane outfit), taking in the new lobby, which overtook The Pearl Hotel and turned it into a sleeker version of its former self. The hotel remains in a perfect circle, with no clear beginning or end; only now, it surrounds a living tree directly in its centre, giving it a new breath of life.
Here's a look inside the new Nobu hotel Before I could get too good of a look, and before my tea had gone cold, I was escorted to my room, one of 71 suites (you know it's an all-suite hotel) circling the tree. In the rooms, there are still flecks of the Pearl, including in the bathrooms where the older tile remains, but soon enough, those too will be gone as the Nobu continues its renovation. Guests can choose from 44 Junior Suites, six Deluxe Junior Suites, 18 Deluxe One Bedroom Suites, two Miyabi Suites, and one Nobu Suite, but no matter which they choose, they'll be rewarded with views of either the Atlas Mountain Range or Koutoubia Mosque, Marrakesh's biggest mosque.
In my bedroom, I found more textural delights: walls covered in luxurious leather and golden grommets that simply begged to be touched, white curtains lifted by the soft Moroccan breeze flowing in from the balcony. And it was then that I realised, this hotel felt like it was flirting with me. From there, I felt its every move like a sweet kiss on the cheek. And I mean that literally — in its 2,000-square-meter spa where I indulged in a massage using Moroccan oils and in its subterranean pool heated to just the right temperature — and figuratively, with its red linens, paintings, and soft music that all felt like a saucy wink.
The gorgeous common spaces felt provocative — and none more so than the rooftop terrace. The Nobu kept The Pearl's circular pool but gave it an upgrade with rattan furnishings, plush white daybeds, and a DJ booth in the corner, where someone is always on hand to set the mood — be it relaxed in the morning hours, or upbeat for those ready to dance the night away.
It all felt like the perfect dalliance with Marrakesh, especially because of Nobu's proximity to famed attractions like the Medina, the city's shopping epicentre filled with artisanal goods, fragrant spices, and an energy that never feels dull. In fact, you can walk there in just a few minutes from Nobu's front door, or ask the concierge to book you a guide to show you the best shops in every alley. And, just a bit farther down the street, visitors can pay homage to fashion icon Yves Saint-Laurent at the YSL Museum, which sits next to his former home in the city. Though there are countless places to dine out in the area, no guest should ever depart without having at least one meal inside the Nobu Restaurant and Bar, which features all the Nobu hits, like black cod miso and yellowtail sashimi with jalapeño, alongside restaurant-exclusive dishes created by chef Nobu Matsuhisa that use locally sourced ingredients. But like all great affairs, this one was brief. After just 48 short hours, it was time to leave. For now, quick glances (at its Instagram page) will have to do — until we undoubtedly meet again.
See more about the hotel, and book a stay (starting at USD 430 or INR 35,060 per night), here.
This story first appeared on www.travelandleisure.com
Main and Feature Image Credit: Courtesy of Nobu Hotel Marrakech
Related: Morocco Is a Perfect Family Adventure — With Desert Camps, Motorcycle Rides, and Camel Rides
Written By