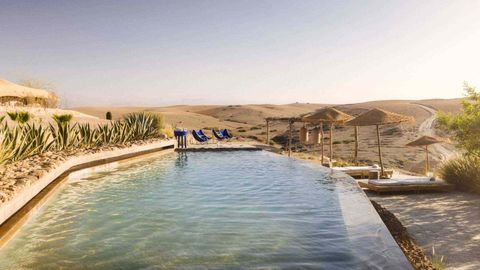 While Marrakesh is home to some of the best hotels in North Africa, if you crave an out-there experience in the wilderness of the Atlas Mountains, consider the brand-new Caravan Agafay luxury camp, from hospitality group Habitas, slated to open on October 1. By Dobrina Zhekova
Located just 45 minutes from downtown Marrakesh, the property will offer travellers an immersive glamping experience by embracing nomadic culture — with modern conveniences. The camp will feature 20 canvas-walled tents spread across five hectares in the desert, as well as a long list of five-star amenities such as two swimming pools, a horse and camel stable, an outdoor cinema, a wellness centre, and a gourmet restaurant, Olivar, serving Moroccan fare with locally sourced ingredients.
Here's a sneak peek inside the new glamping hotel in Morocco "Morocco is a very special country, [we] felt it aligns perfectly with our vision at Habitas: human connection, authentic experiences, learning, and discovery," Oliver Ripley, co-founder and CEO of Habitas, told Travel + Leisure. "Caravan Agafay is our take on a desert retreat, where guests can embrace a sense of discovery and exploration through enriching programming that incorporates local culture and authentically connects guests with the local community." Blending timeless elegance with a boho-chic aesthetic, Caravan Agafay's tents are outfitted with artisanal furnishings and decorative items such as rugs woven in the traditional Indigenous North African Berber style, pottery, and cushions, that Ripley explained, were sourced from local cooperatives based in the Atlas Mountains and souks in Marrakesh. A king-size bed dressed in luxe bedding, an en-suite bathroom with organic toiletries, and complimentary Wi-Fi complete the in-room experience. Outside, private patios and terraces with comfortable floor cushions and coffee tables are the perfect spot to take in the sweeping desert vistas during the day and starlit skies at night. Travellers can take part in horseback riding, camel trekking, desert survival skills workshops, yoga classes, and intimate music performances on-site. For each guest staying at the new camp, the company will donate USD 10(INR 804) to its global impact initiative that creates economic and educational opportunities in the communities where Habitas has properties, including Tulum, Mexico, and AlUla, Saudi Arabia.
Nightly rates at Caravan Agafay start at USD 350 (INR 28,151), and you can book your stay here.
This story first appeared on www.travelandleisure.com
Main and Feature Image Credit: Courtesy of Kleinjan Groenewald Images
Related: This New Glamping Resort Outside Budapest Has 6 'Rock Cabins' — See The Photos
Written By