Bright red coffee cherries, a hundred birdsongs, and soulful food—it is easy to be swept away by Coorg's magic, discovers Adila Matra on a road trip to the beloved hill station. By Adila Matra
"I like walking barefoot," says seven-year-old Tejas, frolicking around her grandparents' coffee plantation. Her white frock and ponytail dance in the breeze. I am at Souland Estates Luxury Homestay in Coorg, finding it hard to divide my attention between this sassy third-generation owner and the blazing yellow trumpet flowers further away. Close by, a majestic chikoo tree groans under the weight of rotund fruits.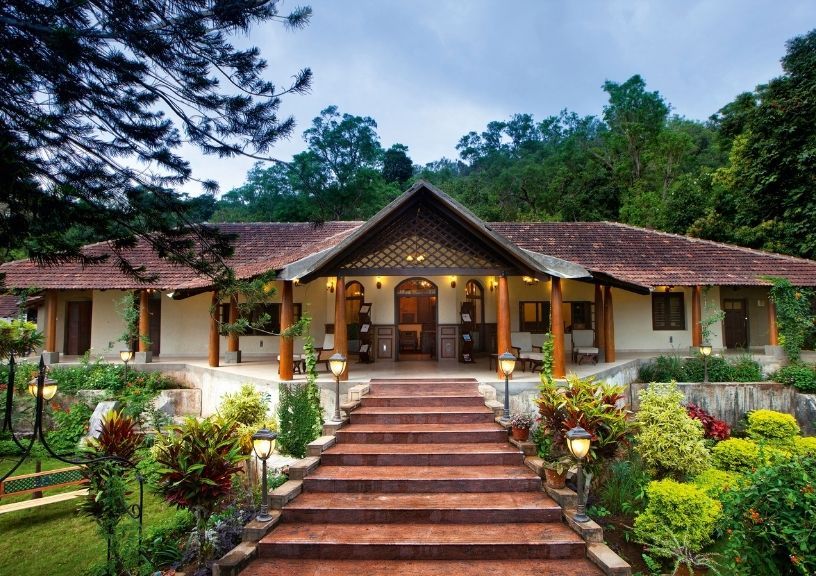 Spring is in full swing when I arrive at this Airbnb in Valnoor—a small hamlet bordering the Durare forest—after a five-hour road trip from Bengaluru in a BMW X3. The journey is part of a partnership between Airbnb and the luxury automobile company aimed at popularising road trips in this part of the country.
Run by TC Jayaprakash and family, Souland has four cottages: Perch, the one I check in to, is built atop what used to be the estate manager's office and dates back to the 1950s; The Granary is where the family once stored grains; the coffee pulping unit is now a cosy cottage called The Loft; and closer to the bungalow where the family lives is Cloud 9, the erstwhile office of Jayaprakash's father.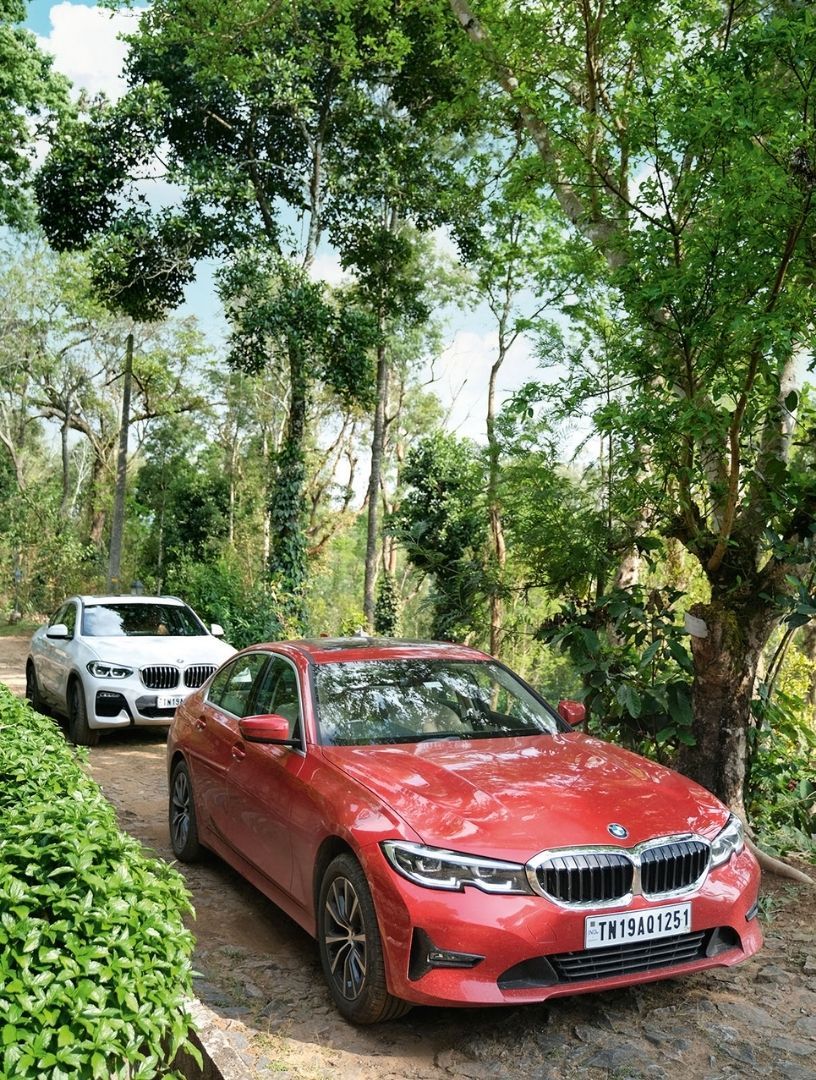 Jayaprakash, an engineer by profession, is an avid reader. So, when I whine about the weak Wi-Fi, his daughter—and mother of Tejas—Jyotsana takes me to the living room that boasts books of every genre and generation. I pick up a thriller and never talk about the Wi-Fi again.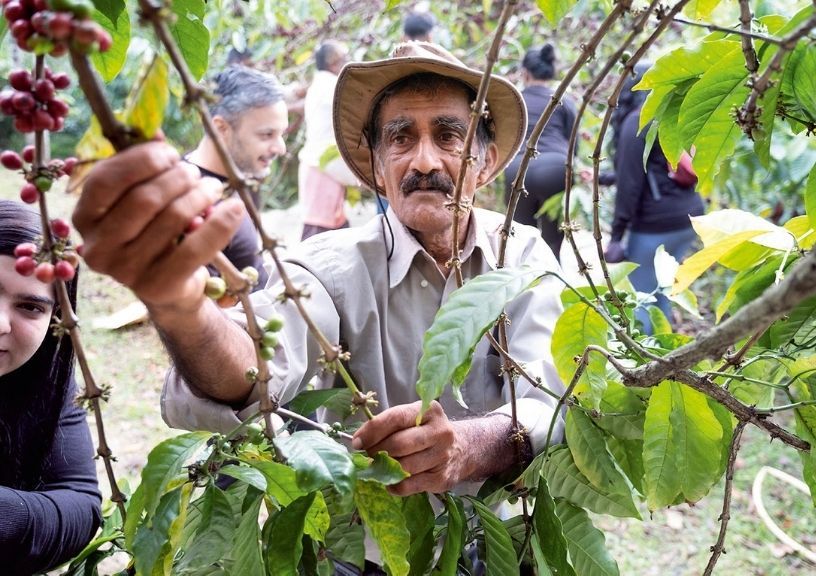 The next morning is crisp, and I begin it in the company of a Malabar Giant Squirrel, who leaps from branch to branch outside Perch's balcony. On the day's agenda is a coffee plantation tour; it would be criminal to leave Coorg without one. Ganapathy, the owner of Vivekananda Estate (popularly known as Ooty Estate among locals), greets us in camouflage clothing. "I am a follower of Gabe Brown," he says, as he takes us around the plantation of Arabica and Robusta coffees. Brown is a North Dakota rancher and pioneer of the soil-health movement, which focusses on the regeneration of resources. This means Ganapathy doesn't use any chemicals in his fertiliser; he sprays a mix made from molasses, micronutrients, cow dung, copper wire, and discarded batteries. I indulge in some coffee picking; the sound of cherries raining down on tarp turns out to be quite meditative.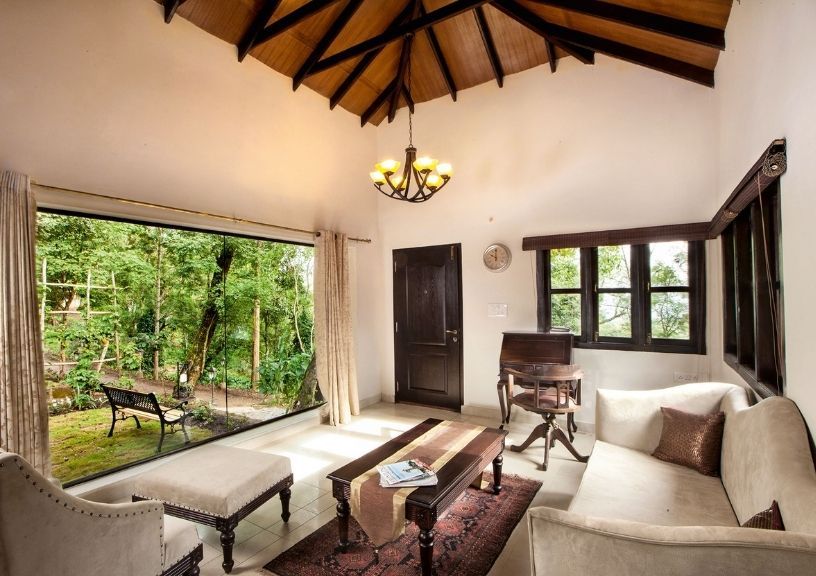 Accompanying Ganapathy is Ganesh, the self-proclaimed 'Bird Man of Coorg'. He has been watching birds for over 25 years now, and his impression of the high-pitched call of a Malabar Parakeet is convincing enough to fool the bird itself.
After the walk, Ganapathy's daughter Anjali lays out a Kodava brunch in the homestay on the estate. She runs PigOut, A Coorg Kitchen Story, a venture started in 2012 to serve homemade Coorg specialities in and around the region. There's pandi or pork curry, onakerachi (smoked pulled pork), paaputtu (steamed broken rice cakes cooked with milk and coconut), kuru curry (mixed beans), sausages, eggs, bread, homemade preserves, jams, pickles, and more. Brunch is followed by lively conversations and sweet paan under the canopy of trees.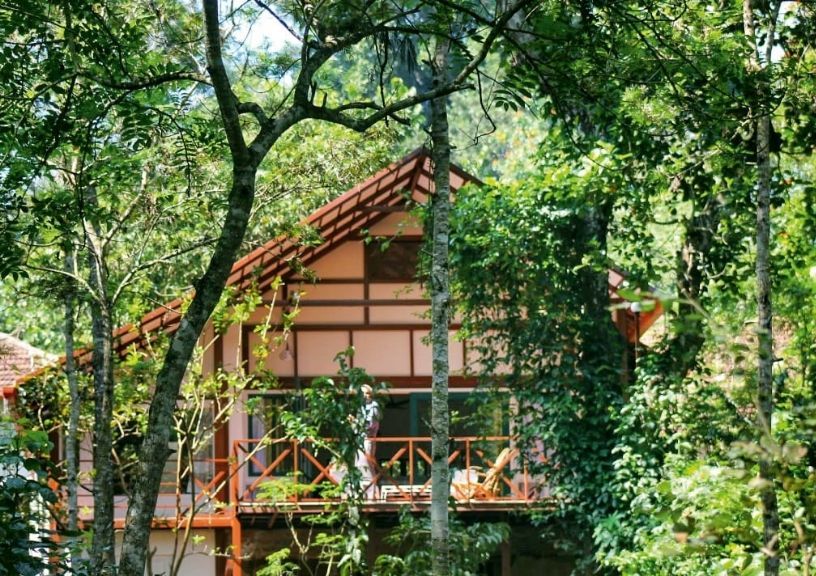 Back at Perch, I get in the bath overlooking the dense forest and watch the lazy afternoon give way to a cold evening. Dinner is set at Mercara Downs Golf Club in Madikeri; it is a quiet and elegant affair, the cherry on top of a rewarding day.
My last day in Coorg begins with B:Live's electric-bike tour. B:Live offers e-cycling tours and has collaborated with Airbnb to let tourists experience the lesser-known spots of the hill station. While my travel companions whiz through the narrow roads of Madikeri in biking gear, I, a non-cyclist, tail them in a car. But the views are just as soothing. We stop by streams and dams to recharge, and gulp down cups of local coffee on the way.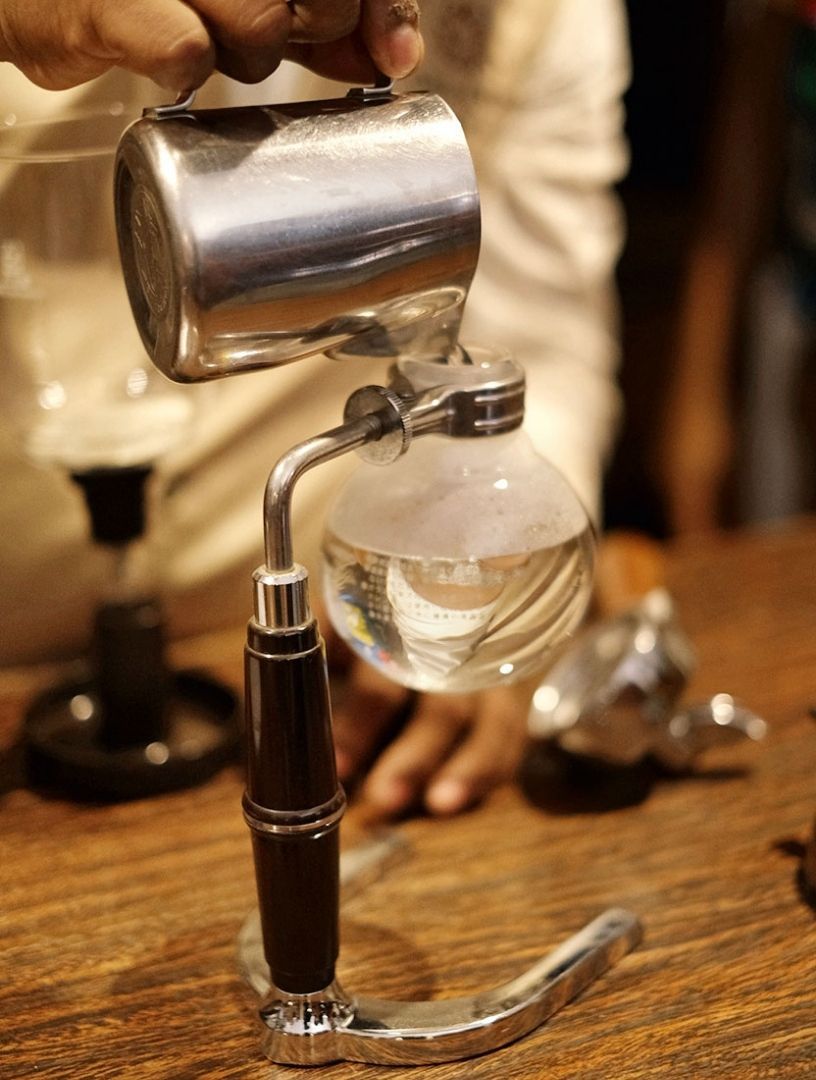 The final stop is the Old Kent Estates & Spa in Suntikoppa. Its mere sight shakes us out of exhaustion. Perched at a vantage point in a 200-acre estate, Old Kent greets one like an overbearing patriarch. It was originally built and developed in the 1800s by a British army officer, Lieutenant Colonel W R Wright, whose descendants sold it to the Thaikappa family in 1964. The fourth-generation owner, Sadat Sathak, greets us at the door along with his wife and mother.
In an attire of black blazer and beret that alludes to a bygone era, Sathak nudges us to envisage a jungle where big game abounded 23 years ago. There are no horses or lordly English men on the premises anymore. But the leather-bound books in the library, antler wall hangings, soot-covered fireplace, and the Victorian dining table are enough to send a chill down my spine.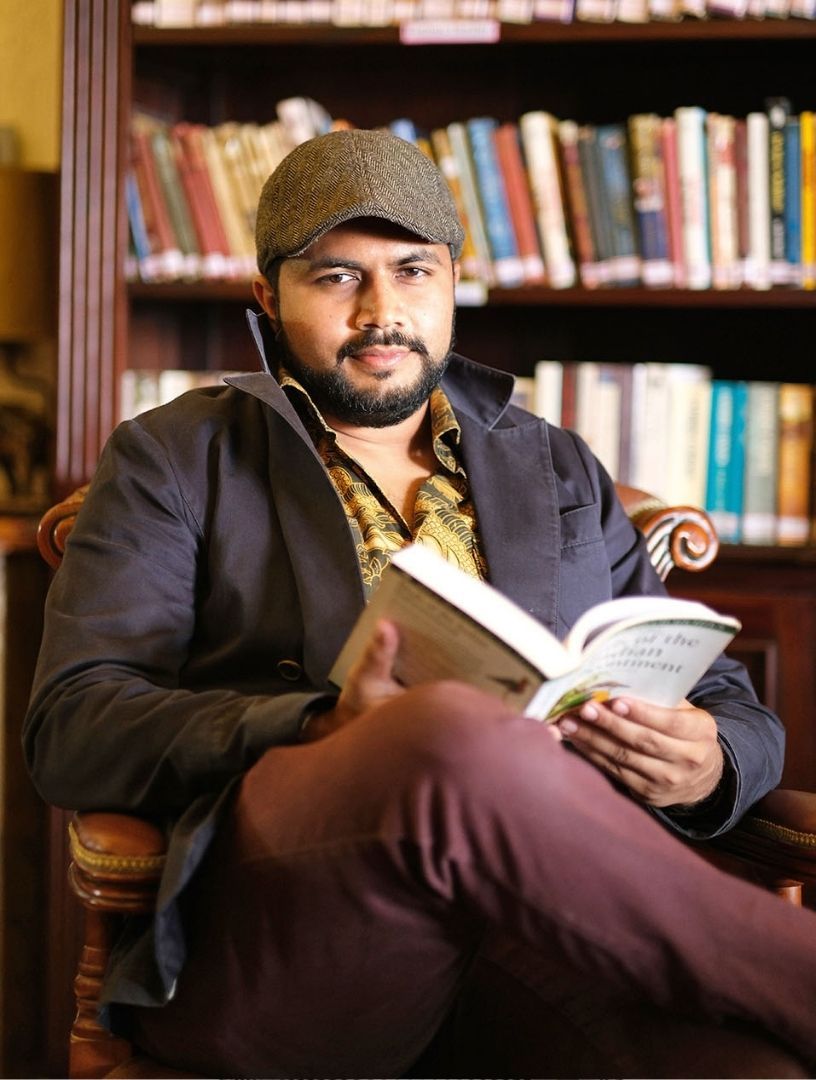 Available to book on Airbnb, the rooms at Old Kent Estates & Spa have been designed as a reception, a dining room, a library and games area, and a home theatre. Each of them has been named after a member of the Wright family.
It is here that I get introduced to the nuances of coffee-making; the manifold steps from seed to that divine cup of coffee that gets you through the day. I repeat after Ijaz Mahmood, a Specialty Coffee Association-certified barista: picking, drying, hulling, grading and sorting, and finally, tasting. Though his demonstrations of drying and grading are intriguing, it is the tasting that excites me most. Swigs of espresso shots, made from fresh coffee beans that are dried and ground in front of our eyes, are followed by an affogato shot that is devoured pronto. By the time the lavender-infused cold brew arrives, I am hopped up on caffeine, silently dreading the sleepless night that will inevitably follow.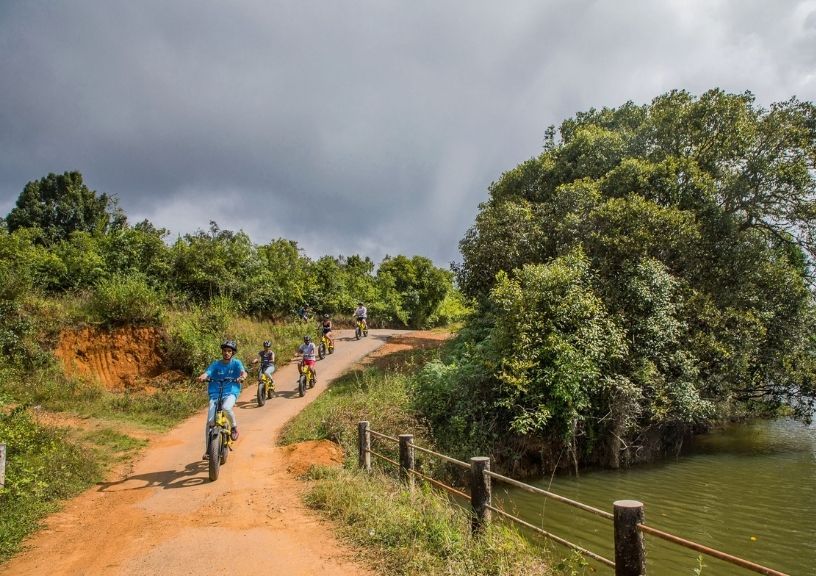 When I get back to Souland Estates, Tejas is lounging in her tiny white cane chair by the wind chimes, an Enid Blyton storybook in her hands. She waves at me, "I am reading this one again!" The hardcover has an illustration of a girl looking up at a tall tree speckled with lanterns, owls, kingfishers, and hollows. I look around and feel envious. In Coorg, Tejas gets to be the wild child that is her favourite character.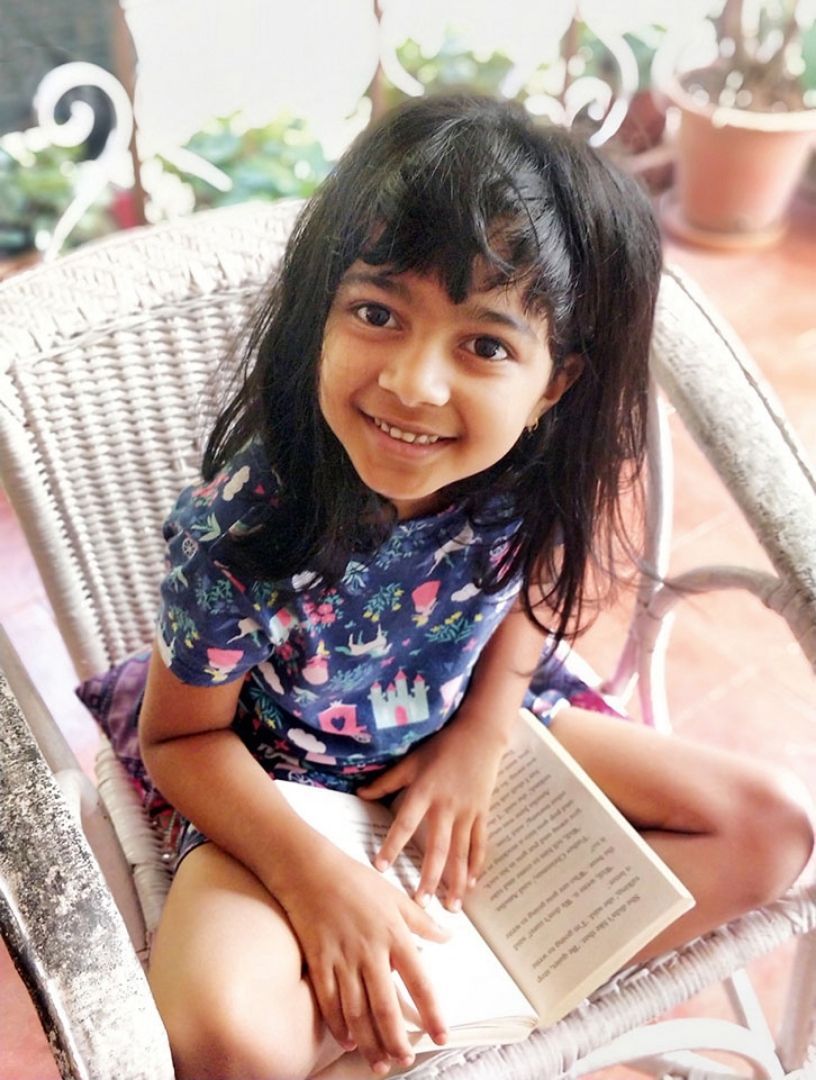 GETTING THERE
The nearest airport to Coorg is in Kannur, 94 kilometres away. But a five-hour road trip from Bengaluru makes for a good weekend plan.
STAY
If you are looking for a homely and serene holiday, book Perch at Souland Estates Luxury Homestay (starts from INR 7,300) on Airbnb. Old Kent Estates & Spa (starts from INR 10,000) is a colonial-era homestay offering private cottages. Superhost Preeth's homestay, Udaya (starts from INR 9,000), offers a scrumptious breakfast spread and absolute solitude.
EAT
PigOut, A Coorg Kitchen Story curates bespoke dining experiences. Enquiries via Instagram (@pigout_coorgkitchen) and email (anjali.ganapathy@gmail.com).
The Harvesters in Kushalnagar offers authentic local flavours along with fusion cuisine against the backdrop of a river.
Related: These 7 Unexplored Places In Coorg Will Leave You Awestruck