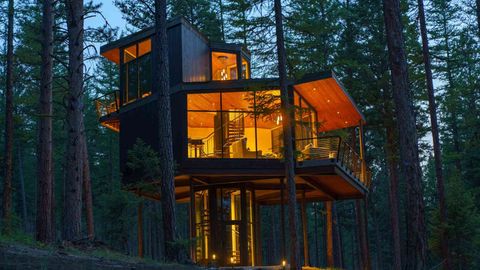 Who hasn't wished for a tree house as a kid? The whimsical structures provide an oasis of freedom and imagination. Fortunately, you don't have to give up your adventurous dreams just because you're an adult, all thanks to these luxury tree houses. By Dobrina Zhekova
Tree houses have become popular in luxury hospitality, with five-star properties offering unique and eco-friendly experiences and accommodations. Of course, these are not the makeshift tree houses you remember from back in the day. Outfitted with private pools, saunas, custom furniture, and five-star amenities, these high-end spots are the pinnacle of luxury living.
Read on for 10 showstopping luxury tree house stays around the world
Ngala Treehouse, South Africa Nestled in lush trees on the border of Kruger National Park, Ngala Treehouse offers a memorable way to experience Africa's wilderness. The solar-powered multilevel construction is entirely off the grid, but it provides all the luxury amenities you'd find in a five-star villa. Its best feature is the sleep-out viewing platform with a retractable screen that's perfect for alfresco dining, stargazing, and observing wildlife, including the Big Five (don't worry, a thorn security fence surrounds the house, and guests are only a phone call away from their dedicated tree house attendant).
Playa Viva Tree House, Mexico Overlooking a mile (1.6 km) of pristine Pacific coastline, Playa Viva is an eco-luxury destination with 18 rooms and six new bamboo tree houses suspended in the air among palm trees. The eye-catching design of the structures was inspired by drone footage of manta rays and features palapa roofs, "living" palm piers, and balconies with hammocks.
Playa Viva became an instant sensation when it launched its original oceanfront Jet Treehouse. Sitting six feet in the air, it features a king-size bed, private bathroom, lounge area with a hammock, and unobstructed ocean vistas.
Green O Tree House, Montana An outdoor hot tub, a soaking tub, a glass-encased spiral staircase, floor-to-ceiling windows, and a chef's kitchen await in this luxury tree house perched on stilts 23 feet in the air. Located on a ranch in western Montana's Blackfoot River Valley, the modern structure is one of four available for rent. There's a large terrace for enjoying the tranquil forest, and with more than 100 miles (160 km) of hiking trails, resort guests have plenty of opportunities to explore the area on foot or via an ATV tour. Other fun activities include fly-fishing, shooting sporting clays, and even helping in a cattle drive.
Secret Bay, Dominica Located on a scenic cliffside in the rain forest overlooking the clear Caribbean waters, Secret Bay's six tree house-style villas are the pinnacle of laid-back luxury, offering unprecedented privacy among the unspoiled landscape of the island of Dominica. Guests can cool off in the privacy of their villa pool or head down to the beach. The residences also have spacious decks with sea and mountain views, floor-to-ceiling windows and folding doors that create a seamless indoor-outdoor transition, a butler, a concierge, guides, and a private chef. The wellness-focused resort also comes with a myriad of unique experiences, including night snorkelling, lionfish hunting, private concerts, and cooking classes.
Treehotel, Sweden Conceived by Scandinavia's leading architects, Treehotel's eight treetop rooms are architectural gems cocooned deep in the Swedish woods. The design varies between a bird's nest-like structure perched atop a tree and a mirrored cube clad in reflective walls to blend in with the environment. Treehotel's newest room, which opened in June, is the Biosphere by Danish design firm Bjarke Ingels Group (BIG). They installed 350 bird nests directly on the room's facade to help "strengthen the biosphere and natural habitat" of birds in Sweden. The tree room has glass walls, a rooftop terrace with 360-degree views of the forest, and see-through floor panelling.
Tree House at Punta Sayulita, Mexico With almost 6,000 square feet, this sprawling tree house villa in Mexico's Punta Sayulita is the epitome of indoor-outdoor luxury living. The two-level treetop residence boasts three master suites, each with an outdoor shower and gorgeous jungle and bay views. Other highlights include tropical wood finishes, custom furniture and Mexican-inspired decor, a private infinity pool with a stone hot tub, French doors, soaring ceilings, a gourmet kitchen with a beautiful all-marble island, a media room, and outdoor lounge areas. Guests also have access to a beautiful beach, a beach club, and miles of hiking and biking trails.
Tree Houses at Chewton Glen, United Kingdom When one of England's most renowned country hotels, Chewton Glen, was looking to modernise its guest experience and add a few more family-friendly options to its accommodation offerings, it reached out to award-winning design studio Blue Forest. The task? Create six new tree houses that have all the luxuries travellers have come to expect from the property in the most environmentally friendly of ways.
So, Blue Forest designed the tree houses to look like floating lily pads peeking through the lush forest. Each has a natural, curved shape and comes with a spacious balcony overlooking the woods and scenic Chewton Bunny valley. The accommodations are also furnished with a hot tub and plenty of seating. Inside, locally sourced woods and materials ensure the structures blend in with their surroundings. Wood-burning fireplaces, flat-screen TVs, kitchenettes, king-size beds, and marble bathrooms remind guests that, despite the rugged surroundings, they are still in one of England's most prestigious hotels.
Secret Tree House Blue Mountains, Australia You won't be able to take your eyes off the spectacular view from the balcony of this secluded tree house, which lies between two national parks and the Blue Mountains rain forest in Australia. The adults-only property is set on 600 acres of private land and offers gorgeous treetop vistas and complete privacy. Equipped with a kitchenette, a fireplace, floor-to-ceiling windows, and a hot tub, this is the ultimate romantic getaway. The rustic décor incorporates plenty of eye-catching wood accents, like branches lining the French doors, so you'll truly feel like you're in the tree house of your childhood dreams — albeit a considerably more luxurious one.
Kona Luxury Tree House, Hawaii Guests at this spectacular tree house will enjoy breathtaking views of Hawaii's coastline and five-star amenities. Sitting on a three-acre farm in a tropical rain forest, the 500-square-foot one-bedroom tree house soars above fruit trees and has live tree trunks growing through its centre. The property also features an infrared sauna, an outdoor shower, and a hot tub, in addition to the beautiful custom mango wood furnishings, mosaic bathroom floors, and a tranquil lanai for the best sunset vistas. The tree house was even voted the most wish-listed Airbnb in Hawaii in 2021.
Keemala Tree Pool Villas, Thailand Set against the lush, rain forest background in Phuket, these spacious cocoon-like tree houses stand out with their striking design inspired by the We-Ha Clan, who built their homes elevated from the ground and worshipped the universe. The two-story structures span 1,800 square feet and feature master suites, private pools, soaking tubs, and hanging seating. Outdoor showers and spacious living room areas round out the amenities of these tree houses, which can accommodate up to four people.
This story first appeared on www.travelandleisure.com
(Main and Feature Image Credit: Stuart Thurlkill)
Related: This Gorgeous, Family-Friendly Maui Resort Has 9 Pools And Brand-New Rooms And Suites
Written By