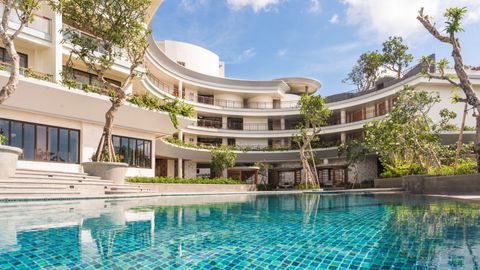 On your next trip to Indonesia, head straight to AYANA Segara, Bali for a truly opulent stay inspired by the local culture.
Adding to the luxurious standings of the AYANA estate in Jimbaran, the group hosted its first guests on November 5, 2022, at the AYANA Segara, Bali. Its Balinese-inspired architecture, with a carefully curated blend of modern and contemporary styles, makes the property feel like a story narration.
Introducing AYANA Segara, Bali
Design The sight of a forest dovetailing with an ocean is any nature lover's desire, and AYANA Segara, Bali understands this well. Tri Hita Karana, a Balinese philosophy and AYANA's motto, creates an immersive experience for its guests to enjoy the expansive panoramic views of Jimbaran Bay and the Indian Ocean.
With its architectural style, exquisite traditional ornaments with Balinese influences, and breathtaking views of the landscape, AYANA Segara Bali pays attention to its setting and immerses visitors in the serene, cosy, and slow-living Bali luxury lifestyle.
WATG, an award-winning design firm, put their soul into ensuring the design gels with the surroundings and helps guests connect with Balinese culture the moment they enter. For instance, the hotel foyer has intricate wood carvings, akin to local traditions. Kamasan paintings, a traditional art form from the Balinese village Klungkung, depict Balinese epics like The Wayang Tales. AYANA Resort Bali's ceiling features the same Kamasan mural, which unites the two structures. Notably, Yasuhiro Koichi, the founder of SPIN Design Studio, has crafted Balinese-inspired interiors for rooms and restaurants.
Stay AYANA Resort Bali has 197 rooms. Of these, the suites offer indoor-outdoor spaces with private balconies or terraces outfitted with daybeds, and floor-to-ceiling nature-framing windows that invite the cool breeze of the Indian Ocean. Modern lines and contemporary interiors celebrate Balinese regional craftsmanship.
Each room features a spacious walk-in closet, a luxurious sitting area, and a dining area. The lavish bathrooms feature marble rain showers and enormous oval bathtubs. Catering to the needs of all types of guests, the property also offers two-bedroom Oceanic View villas for guests travelling in families with a dining space for six.
Dine The property has three restaurants that are adorned by natural lighting, al fresco seatings, and curated menus to suit all discerning palates. Karang, the 194-seater all-day dining restaurant located near the pool, has Pan-Asian, local and Western breakfast buffets alongside tapas-style plates of Chinese and Italian dishes. It also comes with an open dining space and bar that has dual operations–a pool bar during the day and a full-service bar for dinner.
Offering a spectacular wine list, featuring some exclusive wines from Italian and Spanish boutique vineyards, Scusa serves scrumptious salads, plates of pasta, and seafood. Not only does it serve amazing food, but also boasts of amazing sunsets.
Luna is a farm-to-table concept restaurant located on the highest point of the property. It serves dishes made from locally-sourced fresh ingredients.
Celebrate Vista, the open-air function space situated above the property, provides guests with panoramic views of the pristine Jimbaran Bay area. It is suitable for elegant wedding receptions, and innovative MICE functions.
Unwind AYANA Segara Bali's indoor-outdoor concept is also maintained through its main swimming pool. Bali's largest indoor-outdoor pool, the AYANA Segara Main Pool is suitable for swimming, exercising, or just sipping on delicious beverages while enjoying a good soak. You can also enjoy the rooftop pool at Luna Rooftop Bar or choose from one of the 15 pools in the estate.
Offering a whopping number of 53 treatments to choose at the 22,000-square-foot world-class destination spa, AYANA Spa is regarded as the Best Hotel Spa in Indonesia by Travel+Leisure Southeast Asia's 2023 T+L Asia Pacific Luxury Awards. A professional wellness team, including fitness and wellness coaches, along with a diverse spa program provide guests with all the pampering they need.
Related: 22 Best Things To Do In Bali — From Volcano Treks To Luxe Spa Days
Written By