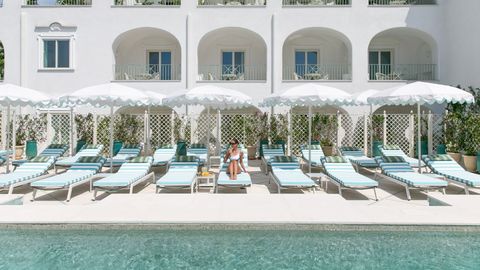 Get ready to step into a world of reimagined allure at Hotel La Palma, Capri's latest haven of elegance by Oetker Collection. In an exclusive, Travel+Leisure India & South Asia gets the first look.
Emerging as the most chic and sought-after address on Italy's Capri island, Hotel La Palma opened its doors for the first time over 200 years ago in 1822. Since then, this historic gem has undergone a remarkable transformation. After an extensive 2.5-year renovation, the hotel has now been meticulously redesigned and reopened as a haven of elegance by the Oetker Collection and owner partner Reuben Brothers. Timo Gruenert, CEO of Oetker Collection, adds, "I simply cannot think of anything more exciting than the debut of a true masterpiece hotel in one of the most beautiful and glamorous destinations in the world, the island of Capri. This is an homage to la dolce vita and the legacy of this legendary location – the first hotel in Capri – all while bringing Hotel La Palma once again back to epicentre of the island's vibrant social scene."
Jamie Reuben of Reuben Brothers weighs in, "We are thrilled that Hotel La Palma has joined the prestigious Oetker Collection portfolio of hotels; a group that has, for so long, upheld the very highest standards in refined hospitality."
Notably, this marks the 11th addition to Oetker Collection's illustrious portfolio, in sync with the brand's commitment to carefully curating exceptional properties in the world's most coveted destinations.
Introducing Hotel La Palma
Timeless Aesthetics As part of this remodelling, the hotel has amped the exclusivity by bringing down the room count from 80 to 50, including 18 exquisite suites, each boasting its own private balcony or terrace. Famed interior designer and visionary Francis Sultana has lent his expertise to this project, working closely with talented Italian craftsmen and local artisans to craft a truly exceptional ambience.
From the moment one enters the hotel, contemporary ceiling frescos by Roberto Ruspoli – credited as the artist who reinvented frescos – honour Italy's classical past. Ruspoli shares, "The paintings show classical figures that have been inspired by the Roman world. The passage of emperors floats dramatically in blue and green tones, evocative of the sky, sea, and nature; and like ancient fallen plaster, leaves room for the shape of palm trees." In other spaces of the hotel, Sultan's meticulous attention to detail resonates in every inch– from the bathroom taps to the dining chairs. The result? A seamless fusion of Capri's timeless minimalism with a touch of 1950s jet-set glamour!
Step into rooms adorned with calming Mediterranean hues of blues, greens, and turquoise; where textures take centre stage to create a tranquil and tactile ambience that instantly welcomes you. Reflecting Sultana's unmistakable style, the marble and bronze-lined bathrooms exude sophistication. To preserve the hotel's authentic essence, exquisite handmade rattan furniture by Bonacina, in-room artwork by Luisa Lambri, and custom bathroom fittings by Stella have also been incorporated.
Blissful Experiences Gourmands can indulge in delightful culinary experiences at Hotel La Palma's exceptional restaurants and bars. For those seeking sun-kissed bliss, the hotel also boasts its very own private beach club, Da Gioia by La Palma, another creation envisioned by Sultana. This beach club promises to become the vibrant hub of social gatherings on the island, transitioning seamlessly from day to night. Led by acclaimed Chef Gennaro Esposito, the chef's signature restaurant at the hotel, Gennaro's, welcomes you to travel back to the timeless charm of 1950s Capri — where one could enjoy authentic, unpretentious Italian cuisine in a vibrant and contemporary setting, overlooking the lively streets below. At Gennaro's Bar & Terrace, guests can soak in the spirit of Italian culinary excellence. Up on the rooftop, Bianca is an alfresco dining space that offers stunning views over Capri Village and the sea. Slip into the golden age of classic Capri at the newly built pool deck, Aqua Bar & Pool. After a day at the beach, head to La Palma Spa to rejuvenate and pamper yourself with luxurious treatments and the natural goodness of Tata Harper's products. The wellness area comes complete with three treatment rooms, including a double suite; a wet area with a salt room, sauna, Turkish baths, and sensory showers; and a dedicated beauty cabin. Alternatively, active folks can sweat it out at state-of-the-art Technogym machine.
Creative Collaborations In a first for any hotel, Italian beauty brand Santa Maria Novella, founded in 1221, provides Hotel La Palma's bathroom amenities.
In fact, these collaborations also extend to the exclusive Hotel La Palma capsule collection. As part of this, the hotel has joined forces with renowned editor and tastemaker GianLuca Longo to curate an expansive selection of bespoke products from Italian brands that represent craftsmanship and quality. This includes designs by La Double J, Marinella, Farella, Aquazzurra, Panizza 1879, Marella, Allegra Hicks, Chiara Grifantini, Emilia Brano, La Gae L, and others.
Add to this Oetker Collections' signature intuitive hospitality for a truly memorable stay. As Gruenert, rightly concludes, "As with all our masterpiece hotels, we are truly committed to creating a sense of timeless hospitality, deeply rooted in family spirit and genuine kindness."
Related: Travel To Transform: Walking Around Cinque Terre In Italy With A Paintbrush
Frequently Asked Questions (FAQs)
Question: How to reach Capri?
Answer: The nearest airport is Naples International Airport, which is about 10 km away from the city's port. Other airports like Ravello (20 minutes away) and Rome (70 minutes away) are also accessible. If you prefer sea travel, ferries or hydrofoils can take you to Capri from Sorrento or Positano in 25 minutes, from Naples in 50 minutes, and from Amalfi in one hour.
Question: What is Oetker Collection?
Answer: Oetker Collection is an exceptional porfolio of outstanding hotels, estates, and villas located in Europe, the UK, Brazil, and the Caribbean. Famed for luxurious quality and elegance, these properties are situated in highly sought-after destinations. Each offering by Oetker Collection doubles as a landmark that embodies legendary hospitality and a welcoming family atmosphere.
Written By