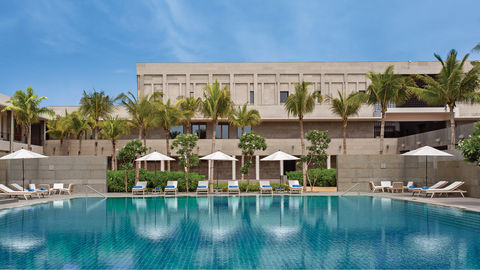 If you're looking for a quick getaway in Chennai to spend some quality time with family and friends, head to InterContinental Chennai Mahabalipuram Resort. By Aindrila Mitra
Sunday becomes a whole lot better, possibly perfect, when your 65-square-metre suite with a private balcony opens up to an expanse of landscaped greenery, with the sound of the ocean soothing your senses while you enjoy a personalised breakfast spread served in the room. That was just the start of the service at InterContinental Chennai Mahabalipuram Resort—the 15-acre luxury property situated on the beautiful Coromandel Coast. It's perched by the East Coast Road, barely half an hour away from the UNESCO World Heritage Site of the Shore Temple of Mahabalipuram.
Equipped with 106 rooms, the hotel features a contemporary design style aesthetically balanced with influences from South Indian architecture—long corridors, large pillars, modern furnishings, and the grand central courtyard, which comes with a lotus pond. The resort is a sight to behold, especially when the sun sets, and the pond is dotted with lamps. The rooms are equipped with all the amenities that you may need on a family staycation. The suite has spacious seating and the one amenity I ended up using the most—the Lavazza coffee machine!
When it comes to F&B, the resort boasts an array of dining choices—the all-day diner, Melting Pot, that serves pan-Asian and Mediterranean cuisines; Tao of Peng offers mouthwatering Chinese cuisine; and the coolest one on the list, KoKoMMo (Chennai's first tiki beach shack), which is a must-visit if your idea of an ideal evening is to chill on the beach, sipping on mimosas and enjoying lip-smacking grills. The gambas aioli with prawns and pan-seared scallops with bruce butter and chardonnay sauce come highly recommended.
The resort's kids club, Planet Trekkers, offers a host of activities ranging from drawing and glass painting classes, to treasure hunts, movie shows, and etc., so that you can indulge in some serious R&R at the Amrtam Spa by Escenza without a worry in the world. I opted for the Deep Tissue massage and snoozed off quite contentedly.
Related: The T+L Masterclass At KoKoMMo, InterContinental Chennai Mahabalipuram Resort Was Beach Party At Its Best
Written By