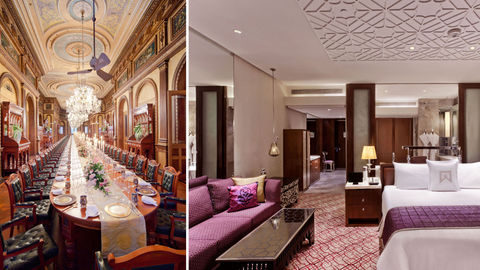 Once a centre of pearl trade and now a busy IT hub, Hyderabad boasts a host of luxury hotels. Experience the best of both worlds as the old and the new rub shoulders in the City of Nizams. By Vidya Sathyapriyan
Thse 10 hotels in Hyderabad offer a royal experience
Get treated like royalty on the city's pedestal The Falaknuma Palace is quite literally a 'Mirror of the Sky'. It sits, majestically, 70 metres above Hyderabad, epitomising the grandeur and romance of the time when Nizams ruled the city. The erstwhile residence of Nizam Mehboob Ali Khan has been converted by Taj Hotels into a private palace with 60 rooms. It was once the sole preserve of visiting royalty, including King Edward VIII and the last Russian Tsar, Nicholas II. Now, you can experience a slice of their lifestyle, as you arrive in a horse-drawn carriage at this luxury hotel, be escorted by butlers, and retrace steps of history as you take the Grand Staircase. Embark on a regal gastronomical journey at Adaa, Celeste, Gol Bungalow, Jade Terrace, and South East Garden while you stay here.
An oasis of calm in a bustling city Like the famed Koh-i-noor, India's lost diamond from which the hotel draws inspiration, ITC Kohenur is a rare treasure. It offers stunning views of a freshwater lake in the midst of a busy city. A large number of its 274 luxurious rooms and suites overlook the lake, offering a sense of serenity to the guests. The hotel has nine versatile meeting, banquet, and conference spaces. This includes the pillar-less Deccan State room, which can be divided into two separate halls. The hotel also boasts two sprawling outdoor venues—the Pearl Deck and the Golconda Greens. If you are a foodie with a discerning palate, ITC Kohenur promises an inspiring culinary experience. The Golconda Pavilion offers a fine spread of Indian and inventive international cuisine, while Yi Jing presents a contemporary culinary interpretation of Chinese culture. Dum Pukht Begum's brings you the royal cuisine of India, while Ottimo leads you into an Italian kitchen. Match the rich fare with a collection of the finest beverages at The Peacock Bar and SkyPoint.
Live luxuriously at the best address in town One of the most luxurious five-star hotels in the city, Park Hyatt Hyderabad has 250 accommodation options that boast stunning art and decor. Choose from its opulent suites, rooms, and serviced apartments in Banjara Hills. After taking a peek into the luxurious lives of Nizams, tuck into a meal fit for kings and queens at the hotel's gourmet restaurants. This property also has the distinction of being the first luxury business hotel in the city to offer 41 fully serviced pet-friendly luxury apartments called 'The Residence'. Indulge in contemporary luxuries, while also enjoying the comforts of a space that feels like home. Should you call one of these your home for a while, a butler, a private entrance, designated parking, and an all-day-long concierge service will be yours to enjoy.
Say 'I do' in style
Green lawns that make for a picturesque event setting, custom wedding arrangements, and spacious accommodation make this Hyatt property stand out as one of the top wedding destinations in Hyderabad. The hotel has 166 guest rooms, including nine suites, with free internet and digital check-in services. It also offers a superb catering selection. The hotel's professional wedding consultants help you organise an intimate wedding with their floral decoration, menu planning, audiovisual and video-taping, music, and entertainment services. The hotel also offers an unparalleled culinary experience. Drop by the award-winning restaurant at the property, Collage, for its teppanyaki, woodfired pizzas, and outdoor seating. The Lounge Bar offers more than 150 local and international labels of drinks, all of which can be enjoyed against the beautiful backdrop of an indoor waterfall.
There's plenty of room for a relaxed stay Whether you're looking for a relaxing break with your friends and family or have an upcoming business trip, you will find Trident to be a well-suited venue in the city. The hotel is located in the heart of HITEC City, close to the Special Economic Zone. Famous tourist spots and entertainment hubs of Hyderabad can be conveniently accessed from Trident. Laid out over an area of 41 square metres, the Deluxe Rooms are among the most spacious options you'll find in the city. Guests can choose from 323 Deluxe Rooms, Premier Rooms, Trident Club Rooms, Executive Suites, Premier Suites, and Trident Club Suites. The last two categories are expansive at nearly 84 square metres, with separate living areas and bedrooms. All rooms and suites offer views of the city skyline or the Rock Heights Park through their floor-to-ceiling windows.
Come for work, stay for leisure A stone's throw away from the Hyderabad International Convention Centre, one of the top MICE venues in the country, this hotel is a great destination for business travellers seeking a relaxed stay. You can easily access the offices of IT and pharma giants like Google, Amazon, Deloitte, Apple, Facebook, Novartis, and Universal Health Group, all of which are in a six-kilometre radius, while being cocooned in 15 acres of tranquillity. As you get work done, relax and enjoy the landscaped gardens replete with the sights and sounds of exotic birds. You can also make use of the event facilities located within the hotel. Three banquet halls, a ballroom, and a resort-like ambience provide a wide variety of indoor and outdoor event options. Choose from one of the 288 rooms in the hotel to leave the city behind and turn your business trip into a revitalising break
Work in comfort and luxury This five-star hotel is conveniently located in the financial and IT district of Gachibowli, putting you close to all of the area's leading global corporations and convention centres. The rooms and suites come with complimentary Wi-Fi and generous amenities. The hotel has an array of dining options—the 24-hour Link Cafe offering gourmet delicatessen fare; the international restaurant Feast, whose themed Sunday brunch is very popular among guests; and more. To feel at home, look into Sheraton Hyderabad Hotel's serviced apartments. The Studio Apartment is optimum for extended stays, with plenty of room to work, dine, and relax. The one- or two-bedroom apartments come with a fully-stocked kitchen and club access.
Revisit Nizam-era culture Taking inspiration from the city's rich history of precious stones and textile production, this hotel's decor is a blend of contemporary art and the culture of the Nizam era. It has 263 rooms offering stunning views of Lake Hussain Sagar and an infinity pool. You can pick from Luxury Rooms, Courtyard Rooms, Lake Rooms, Trillion Suites, Residence Rooms, and more. The crown jewels are the La Sultana and Osmania Suites, designed by fashion designer Tarun Tahiliani and French textile designer Jean-François Lesage respectively. Both the suites pay homage to nobility with the use of rich fabrics, crafts, chandeliers, and replicas of Nizam-era furniture. Tahiliani is also behind Aish, the fine-dining restaurant bedecked with mirrors, Belgian crystal chandeliers, and handcrafted crystal lights. The Aqua bar, Carbon bar, and Kismet club are perfect for unwinding.
Host your most important events This property is located in a serene spot just off the city's retail and business district. Whether it's a board meeting, a wedding, or a quiet family gathering, the chic hotel offers an ideal meeting spot for guests. A carpeted ballroom with 325 square metres of pillar-less space and 232 square metres of pre-function area means that you can host a hassle-free event. The hotel also offers four meeting rooms—Tokyo, London, New York, and Ginger Lilly—that are perfect for conferences. Start your day with the Super Breakfast buffet at Chill & Terrace, and spend your evenings with a refreshing cocktail at Bar 41. Choose from the hotel's 158 rooms, which come with free Wi-Fi and in-room coffee and tea facilities.
Where practicality meets sophistication
With a minimalist design philosophy and a special focus on food and amenities, Avasa Hotel reflects a pragmatic sensibility. Spread over 15 floors, the hotel offers 217 stylish and spacious rooms, which are a combination of elegance and comfort. Take your pick from the Avasa Gallery Suite, which is nearly twice the size of the most spacious room in the city; the generously sized Avasa Studio Suite; and the utilitarian and stylish Avasa Silver, among others. Avasa believes that food is as much an expression of life as any other art form. So, there's Pi, which serves world cuisine all day; and Ohm for Asian cuisine with a contemporary twist. If drinks are on your mind, head to the Sky Lounge, where Hyderabad's sparkling skyline awaits you.
Related: Revisiting Hyderabad: From The Land Of Nizams To The Startup Hub Of Today
Written By