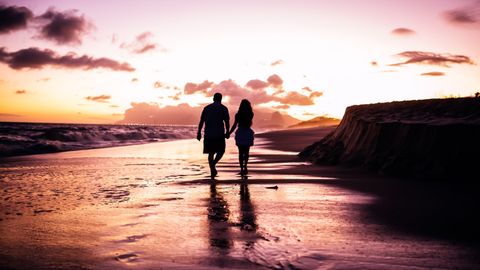 Valentine's Day is around the corner, and we understand if you haven't been able to ideate something great yet but we are here to help you with your last-minute planning for an ultimate experience. So, check out these staycation package options that will help you bring in the special night with your bae in the ultimate luxury.
This year, Valentine's Day (February 14) is on Tuesday. Yes, we know that the day of love may require a lot of careful planning and multiple leaves, in case you want to plan a trip, which is probably why so many of you might not have made special plans to bring in the day yet.
If a romantic date or just a few hours together is not how you intend to celebrate this romantic day this year, then a staycation is something that you can definitely look into. Several luxe hotels are offering unique experiences for the day of love, which will be combined with an overnight stay to make your experience all the more memorable. So, in case you haven't made plans yet or do not want to take too many leaves from work, check out these staycation package options that hotels have for you, and make your partner feel like the million bucks they are!
Top staycation packages to bring in the Valentine's Day 2023
ITC Narmada, Ahmedabad Indulge in opulence this Valentine's Day at the beautiful ITC Narmada. Book a luxurious staycation with your partner through ITC One, and bring in the day of love with them – or even alone, because why not celebrate self-love this time around? Enjoy hand-crafted amenities, refined luxury and more as you enjoy a leisurely getaway, and elevate your senses with the delectable bites at the classic restaurants here. ​
For bookings, contact: 079 6966 4000
JW Marriott Bengaluru Prestige Golfshire Resort & Spa, Bengaluru Unwind this Valentine's Day amidst modern luxury at the beautiful JW Marriott Bengaluru prestige Golfshire Resort & Spa. The hotel, set against the backdrop of Nandi Hills, make for the perfect location for a romantic getaway. So, revel in the luxuries as you pamper your better half on this special day. The hotel is offering a special staycation, with offers such as a room upgrade to one with a spacious garden terrace and special welcome amenities. Enjoy an extensive breakfast buffet at The Aviary with a side of birdwatching, relax your senses at the award-winning spa and avail 30 percent off on all couple therapies offered. What's more, the package includes a special departure gift to make your day memorable.
Contact: 080 4505 9999/+91 87929 29427 for more details
Pullman New Delhi Aerocity This Valentine's Day, Pullman New Delhi Aerocity is bringing to you an immersive experience that will make you fall in love all over again. With a state-of-the-art room, an en-suite bathtub and a spectacular runaway view, the romantic staycation is what you and your partner will need for a night of love and togetherness. This is not all – the special offerings in terms of food and beverages includes an exclusive and appetising Mediterranean dinner at Farmer's Basket at Pluck, or a lavish five-course set menu with intimate candle lights at Honk, the hotel's award-winning Pan Asian restaurant.
Price: INR 15,000 + taxes onwards
Date: February 14, 2023
St. Regis Goa Resort, Goa Bring in the season of romance at one of the most romantic destinations in India, aka Goa. As Valentine's Day approaches. St. Regis Goa is set to celebrate love all month. So, soak up the tropical sun and the serene beaches with special staycation packages by the resort, which include daycations, barbeques, open-air film screenings, delightful breakfasts and more. Enjoy a romantic dinner with sparkling wine, to round off the experience and make it a memorable Valentine's Day indeed! Oh, and the offering also includes a 60-minute couple spa treatment for you and your partner.
Valid Dates: Till April 22, 2023
Know more here
Four Seasons Bengaluru Celebrate love with a super comfortable stay at the Four Seasons Bengaluru. Check in on Valentine's Day and pamper your partner (and yourself, too) at various locations across the property – be it your luxurious suite, delicious meals at the many restaurants, or the in-house spa.
The package includes a couple meal at Big Pergola, which will have a five-course set menu with a special, romantic set-up. The offer also includes a bottle of Rose champagne, suite for two, pick-up and drop in a Mercedes car, special Valentine's Afternoon Tea at The Lobby, couples' spa and a violinist at CUR8.
Dates: February 14-15, 2023
Price: INR 1 lakh + taxes onwards (for two)
Aahana Resort, Corbett If you're in Delhi-NCR, take Valentine's Day as an opportunity to explore the wilderness. Bask in the soft sun as you go on wildlife safaris, experience a relaxing spa with your loved one, and indulge in a delicious, romantic meal with your partner under the clear February sky. Aahana Resort is offering staycation packages to celebrate love in all forms, and the package includes a two-night stay (breakfast and dinner included), cake and a bottle of wine (once during the stay), poolside candlelight dinner with live music, a buggy ride, high tea by the pool, birdwatching and nature walks and spa vouchers worth INR 1,000 (redeemable with full body massage/couple massage), to help you make the most of the day.
Price: Starting at INR 43,999/-
Contact: +91 70886 00024
Website: www.aahanaresort.com
Brij Lakshman Sagar Resort, Raipur Experience a rustic, luxurious stay at the Brij Lakshman Sagar Hotel, Raipur, and bring in Valentine's Day in a unique way this year. The two-night-three-day package includes made-to-order meals in Mardana or in the comfort of your room, guided nature walks, birdwatching sessions, kayaking at the on-site lake, personalised yoga sessions, spa, foot scrub or a face treatment (once during the stay), breakfast by the lake, sundowner on the rocks, stargazing, candlelight dinner at Zanana, barbecues, bonfire, and a whole lot more. So, experience the best of hospitality and make this Valentine's Day special for your other half.
Price: INR 24,000 plus tax per night
Know more here
Neemrana Ramgarh Bungalows, Ramgarh Enjoy a luxe stay at The Ramgarh Bungalows in the Kumaon belt to bring in Valentine's Day. This Neemrana Hotels property offers stunning views of nature, valleys and warm fires to snuggle up to your bae. What's more, you get to enjoy fresh fruits such as apricots, plums, pears, and peaches and bring back jams, or simply watch the snow fall at night as you warm yourself in your lover's embrace.
Call: +91 124 4666 166 (8:00 am to 8:00 pm, all days) for reservations
E-mail: reservations@neemranahotels.com
Know more here
Andaz Delhi Plan the perfect staycation with the love of your life this Valentine's Day at Andaz Delhi. The hotel's world-class hospitality will make your partner feel like they're on top of the world. Experience exclusive benefits during your stay, especially if you are a World of Hyatt member, which will bring to you an array of services and comfort.
Know more here.
The Leela Palace New Delhi Celebrate a week of love with opulence and grandeur as you indulge your partner with the best that they deserve. And to bring in the day of love, The Leela Palace New Delhi has released its Valentine's Day staycation packages and offers, that extend till the entire week! Their V-Day week offers include a palatial stay, a buffet breakfast, BMW pickup/drop within a distance of 20 kilometres, 20 per cent discount on in-room dining, 15 percent discount on laundry, in-room amenities and INR 1,000 credit on SPA (per person, once during the stay). The Valentine's Day staycation package, valid for February 14, will include customised welcome amenities, pickup and drop in a BMW, personal butler with the stay, bespoke dining by the poolside with a live performance and a specially curated menu and premium alcoholic beverages, and in-room breakfast the next day.
Dates: Staycation package: February 14, 2023; Valentine's Week Offer: February 13-19, 2023
Price: INR 4,99,999 plus taxes per couple (for the Valentine's Day package)
Saj By The Lake, Maharashtra Immerse yourself and the love of your life in the serenity of Malshej Ghat as you spend a night at Saj By The Lake. The property is known for its elevated views that overlook the valley, and offers the perfect escape from the chaos of the city. The property has ample activities for you and your partner to undertake and unwind. Watch the sunset, enjoy trekking and cycling and pamper your partner with a simple yet romantic dinner as you make the most of the day of love, calm in each other's embrace.
Mademoiselle Goa Settle into luxury as you spend Valentine's Day at one of the uber chic suites at Mademoiselle Goa. The property is the perfect mix of fantasy and comfort, offering you a dreamy vacation with your partner. The balcony is enclosed in a cocoon of privacy, allowing you to relax in the outdoor bath with a glass of bubbly. Indulge in a scrumptious breakfast in bed the next morning, paired with mimosas or some more champagne, to celebrate your love.
Fazlani Nature's Nest, Lonavala Fazlani Nature's Nest is a beautiful property in Lonavala. To celebrate love this Valentine's Day, the place is offering a special Celebrate Together with Wellness package. It includes a two-night stay, spa treatments such as Aroma, Balinese, or Swedish massage, and a candlelight dinner at Hive, their restaurant with beautiful views of the lake and mountains. Enjoy outdoor activities such as horse riding, fishing and forest bathing.
The Glass Villa, Goa Fall in love again as you make new, beautiful memories with your beloved. Ideal for the same is The Glass Villa, in the picturesque village of Aldona. Goa. Enjoy lush greenery as you relish delicious meals prepped by the in-house chef, go kayaking with your beau and spend evenings gazing out of your window, comfortable in each others' embrace.
Wyndham Ahmedabad Shela Valentine's is a beautiful time to celebrate your love. And if you're in Ahmedabad, head to Wyndham Ahmedabad Shela. The hotel is providing unique experiences for couples looking for some privacy and quiet. Enjoy a romantic breakfast and a candlelight dinner for two at the Cube Lounge. You can also avail a 30 per cent off on spa treatments.
Price: INR 7,777
Know more here
Ramada Plaza Palm Grove Mumbai Spend and evening with some of the best views of the Arabian Sea, as you settle into a room at the Ramada Plaza Palm Grove, Mumbai. The property's Valentine's Day staycation package includes breakfast, a romantic evening tea as well as a specially curated dinner. What's more, enjoy a 15 per cent discount on massages and salon services.
Know more here
Radisson Blu Plaza New Delhi Airport This Valentine's Day, Radisson Blu Plaza Delhi Airport has the perfect offer for you. Enjoy a luxury staycation at the property, and make your beloved feel like the most important person. Enjoy a romantic date night at NYC or head to The Great Kebab Factory for unlimited servings of succulent kebabs, flavourful tikkas and biryanis. If you fancy, you can opt for a sundowner by the Deck, or relish a delicious Asian meal at Soy x Neung Roi.
Price: INR 14999 + taxes
Contact: +91 98991 15508
Valentine's Staycation package options if you want to travel abroad
Conrad Maldives Rangali Island Known as the first undersea residence in the world, The Muraka at Conrad Maldives is the place for you to realise your Valentine's dreams. You can book this two-storey villa for yourselves and enjoy ultimate privacy and comfort. The upper level has private living and dining areas, along with an outdoor deck and an infinity pool, two bedrooms, bathroom with an ocean-facing tub and 24-hour butler service. On the lower level is the private underwater aquarium's master bedroom with uninterrupted views of the Indian Ocean's marine life. So, make the most of the day of love with a stay at this uber-luxurious property.
Price: Starting at USD 9,999 (INR 8.2 lakh, approx)
Know more here.
Shangri-La Muscat Valentine's is all about making an impression on your partner and sweeping your partner off their feet. So, head out for a two-day stay in the Royal Suite at Shangri-La Al Husn Muscat for the stay of a lifetime. You'll be picked up in a chauffeur-driven Bentley for an overnight stay. In the car, your butler will take you to a helipad for a helicopter ride. Witness the beautiful sunset with chilled beverages, as you soak in the orange and pink skies, before you're taken to the stunning Shangri-La Al Husn hotel. You'll then be driven to the Royal Suite at Al Husn, wherein you will spend the night in the lap of luxury.
Dinner will be a personalised affair at the clifftop, along with a live performance, as you sit under the stars, overlooking the Gulf of Oman. Back at the hotel, a handwritten note with a voucher to curate a piece by Majliya awaits you and your love. Next morning, you'll wake up to a room filled with flowers, and an indulgent, en-suite breakfast. During the day, you can also enjoy a 90-minute-long couple massage with frankincense.
The Residence, Maldives One day isn't enough to celebrate love, and The Residence Maldives is bringing in Valentine's Day this year with staycation packages that have events lined up for the entire week. Gift your partner an unforgettable vacation and celebrate them as you whisk them off for a romantic, luxe getaway. The property is tucked away in a private location, and offers beautiful views of the ocean. Soak in the Maldivian sun as you spend time by the water — at the sea or at the pool villa — and indulge in delicious breakfasts in the pool. Opt for a beach dinner complete with cocktails and gourmet canapes, or unwind at the spa. You can also take up some adventure activities such as jet skiing or snorkelling, or go scuba diving to experience the underwater life.
Hilton Maldives Amingiri Resort, Maldives Valentine's Day is almost here, and here's your chance to plan a last-minute romantic getaway to the romantic Maldives. Hilton Maldives Amingiri Resort has curated special romantic experiences for you and your partner to celebrate your love. Opt for a romantic dinner at the beach, floating breakfasts and sunset cocktails, enjoy a rejuvenating spa treatment, head out for adventures such as snorkeling, glass kayaking and scuba diving, and learn to make cocktails. What's more, the resort occupies the entire Amingiri island, so all its expansive beaches, villas and private pools will only feature guests at the hotel, ensuring that you get the privacy you want for your escapade.
Know more here.
Hero and Featured Image Credit: Edgar Chaparro/Unsplash
Related: Running Out Of Date Ideas? Whisk Your Partner On A Romantic Getaway Based On Their Zodiac This Valentine's Day
Written By