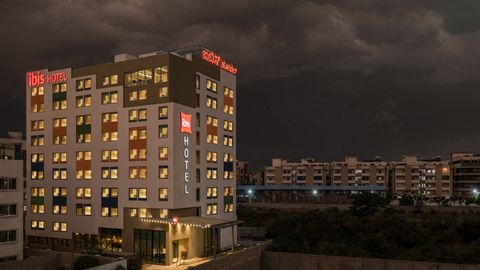 Adding to their repertoire of modern and luxurious properties in India, Accor and InterGlobe Hotels have introduced a lively new business hotel in the country's garden city. The space is underlined with vibrant local craft-inspired decor, progressive technology, and the brands' commitment to an eco-friendly future. Here's an exclusive peek at the experience of checking into ibis Hebbal, Bangalore. By Eshita Srinivas
North Bangalore is uniquely positioned – being just about a 30-minute drive away from both the Kempegowda International Airport and the bustling Central Business District (CBD). This convenience in a city infamous for its slow-moving traffic has made it one of the most desirable destinations for locals and visitors alike. Naturally, all eyes are on ibis' latest property – their 21st in India – which stands tall amidst a sea of residential spaces, offices (read Manyata Tech Park), and restaurants. We dropped by to scope it out for ourselves.
Bangalore's new ibis merges modern comforts with Indian sensibilities From the get-go the experience of staying here is seamless, courtesy of the breezy mobile check-in. The eight-floor property boasts 154 rooms and a chic lobby. The latter is marked by easy-to-follow signage and luxurious carpeted floors in the property's signature shades of red and white. A quick glance at the cosy, compact rooms reveals large windows that offer picturesque views of Bengaluru's concrete landscape and a couch space to admire it from. Also featured are a mini table, safe deposit, tea and coffee amenities, and the brand's beloved 'sweet bed' – queen-sized and comfortable. Sleek TV panels are complemented by easy access to OTT entertainment channels, ensuring you don't miss out on your weekly binge sessions. The vibrant decor is unmissable and inspired by the culture and history of Karnataka. The view from your bed could be that of intricately-designed elephants – an allusion to the famed Mysore Dasara festival – or even the Mysore Palace, complete with colourful Bidriware details. Additionally, rooms feature local elements – like Hase Chittara – created by tribal women. The bathrooms, meanwhile, come fitted with eco-friendly amenities, hair dryer, hand shower, and a minimalist, functional grey-tile design. The high-speed WiFi here lives up to its name and laundry and ironing services are a call (to the housekeeping staff) away.
With these amenities, the property fuses style and comfort – catering to those in the city for work or leisure. This fusion of western aesthetics and Indian flavour comes from Singaporean architectural design firm Miaja.
The hotel is home to India's longest-running breakfast The hotel's multi-cuisine restaurant Spice It is worth its salt – hosting an impressive interactive fireless kitchen, a lively bar, and India's longest-running breakfast – from 4:00 am until noon. Comfortable wooden decor, large windows, and breezy upholstery mark the dining experience here. The digital menus come with meticulously-curated spreads, each delicacy promising to be authentic and unique. All of the food is sustainably and ethically produced, with waste being treated mindfully. That's not all, you could choose to unwind at their lively swanky bar with high chairs or cosy up with a book at their well-stocked mini library with a cup of coffee. A quick walk through the property reveals a 24-hour fitness centre with a treadmill, weights, and other important equipment. Not to mention, stunning views of the city's bustling infrastructure. The property also features two fully-equipped boardrooms and convertible meeting rooms. Adding to the modern, technology-forward amenities at the property – is the exclusive ibis music playlist that's a part of the brand's global collaboration with Spotify. That aside, you can avail facilities like squash, football, tennis, golf, and volleyball on site. That aside, the property is pet friendly. In the future, the property plans on eliminating all forms of single-use plastics, including switching out plastic water bottles in rooms with glass alternatives. Reflecting on this, Mr JB Singh, President & CEO, InterGlobe Hotels, said, "This is the fourth ibis hotel in the city and our designers have done an exceptional job of curating this unique lifestyle product to match the needs and demands of the new age travellers." He added, "With every new hotel, we strive to provide our guests with unique experiences through innovative design, best in class amenities, and our commitment to providing the highest level of service." ibis has quite the legacy in India – having been around since 1974 – and is known for its contemporary style and warm hospitality. With over 1,200 hotels in over 65 countries, it's got a reputation to uphold. And this particular property lives up to it and how. If you're visiting, the property is a quick cab ride away from the city's must-visit spots including Tipu Sultan Palace, Cubbon Park, Lalbagh Botanical Garden, and MG Road.
To celebrate the opening, the property has introduced attractive inaugural offers – including complimentary lunch or dinner – valid until September 30 2022.
Prices for rooms start at INR 6, 499 per night.
For more information and bookings, head to the official website, here.
All images: ibis Hebbal, Bangalore
Related: This St. Barts Hotel Has Private Pools, A Tranquil Garden Spa, And Some Of The Best Beach Views In The Caribbean
Written By