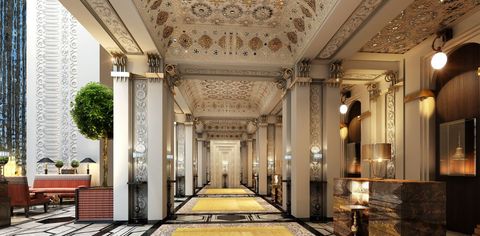 Adding to their repertoire of luxurious properties in India, ITC Hotels have introduced a set of exciting new and upcoming spaces in Ahmedabad and Guntur. Fusing local craft and aesthetics with modern-day comforts these hotels promise a curated stay experience like never before. Here's an exclusive peek at what a typical day would look like at Welcomhotel and ITC Narmada. By Eshita Srinivas
ITC's newest properties – Welcomhotel and ITC Narmada – each have a story to tell. Flavours of the local culture underline every part of both properties – from the well-designed rooms to the expansive buffet spreads. Naturally, there's much to explore and discover on a visit. Add to this modern-day fixtures, environmental-friendly details, and the signature ITC hospitality and you've got yourself a stay worth writing home about. We're taking a walk through the enticing new spaces that have come up in Guntur and Ahmedabad.
Welcomhotel in Guntur pays homage to Asia's largest chilli market The land of temples and art, Guntur, also houses Asia's largest market yard for zingy chillies. This, along with the town's fertile environment, is reflected in Welcomhotel's brick-coloured exterior which greets you right at the outset. As do the property's lush gardens. Step through the doors to witness a celebration of Kalamkari and Kondapalli through vibrant details of glass and marble.
Your choice of stay comes from 104 well-appointed guest rooms, including a presidential suite, four executive suites, and four standard suites – each ranging from 32 sq. m to 130 st. m in dimension. Satiate your culinary cravings at one of the hotel's signature restaurants, which are known to offer delicacies that are a rich amalgamation of heritage and local sensibilities .
The WelcomCafe has tastefully curated buffets and a la carte spreads while the popular Peshawri offers award-winning bites cooked in traditional clay tandoor – including kebabs and dal bukhara. For creative libations, head to the glamorous green lobby of Swizzle. And when you'd like to unwind after a long day, you could step right into K by Kaya Kalp – a spa that's based on time-honoured Indian wellness principles and global wellness concepts or get pampered at a state-of-the-art salon.
Get your workout in at their well-equipped gymnasium or head over to the rooftop pool. This property is also one of a kind, being the first to have an LEED Platinum certification in Andhra Pradesh and the only five-star hotel in the region. That's not all, the space promotes responsible tourism by being powered by renewable energy from ITC's own wind energy farm near Anantapur, Andhra Pradesh. The property also has its own water bottling plant, allowing it to serve zero-mile drinking water in glass bottles titled 'SunyaAqua'.
For more information, visit the official website here.
ITC Narmada in Ahmedabad reflects the beauty of river Sabarmati In line with the theme of staying connected to your roots while embracing the luxuries of contemporary sensibilities, ITC Narmada fuses local artwork with modern fixtures. The facade, which will greet you at the outset, features local craft, including an interpretation of the popular 'Tree of Life' at the Siddi Sayyed in the city. That, along with the rest, is inspired by the classical Gujarat Toran of the Sun temple at Modhera. The atrium lobby, meanwhile, features a grand water wall – a nod to the life-giving river Sabarmati.
Walk around the property and you'll note latticework, mirrors, silks, brocades, cotton-weaves, and teakwood of Narmada's basins. An expansive 4,600 sq. ft hall is divided into two sections – serviced by a 2,422 sq. ft pre-function area. You'll also walk past five meeting rooms and one high-tech boardroom. Peek through one of the 291 rooms along the way and you'll discover 405 sq. ft of well-designed rooms as well.
To dine, choose from the Adalaj Pavilion, which offers an array of local and international delicacies or The Royal Vega, an exclusive space that serves the most indulgent vegetarian fare through ancient Indian culinary techniques. For some classic tandoor and charcoal-grilled fare, head to Peshawari or give your palate a taste of experimentation with inventive Chinese delicacies at Yi Jing. Sweet tooths will find their haven at Fabelle: The Chocolate Boutique which features handcrafted creations with exotic ingredients.
To unwind, head to the Kaya Kalp spa which features a couple spa rooms and three treatment rooms or take a dip in the outdoor pool. All this, with the added bonus of being close to business spaces and residential accommodations, make this upcoming property quite enticing.
For more information, visit the official website here.
All images: Courtesy ITC Properties
Related: Luxury At Your Fingertips—With The All-New ITC Hotels App
Written By