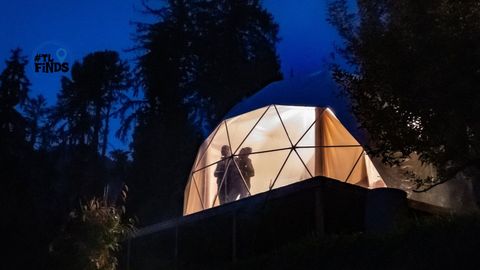 Travel + Leisure India & South Asia brings you #TLFinds, a series that gives you a sneak peek into new and interesting places and experiences across the country and overseas. The latest in the series is GlampEco Stays – India's first sustainable and luxury glamping experience, complete with geodesic domes and an 80-year-old mud-house. By Emerald Williams
What is it?
GlampEco Stays is a glamping destination in the Himalayas, situated in the Hamta village close to Manali in Himachal Pradesh.
Ideal for: Solo travellers, couples, groups, individuals on a workation, families, or friends. Not recommended for children below 18 years and senior citizens.
Review of GlampEco Stays: Located at a height of 2,600 metres above sea level, GlampEco Stays is an exceptionally unique property that offers an amalgamation of modern amenities with a distinctive wilderness experience. Housed at a 60-degree incline of a mountain, the luxury hotel offers for breathtaking panoramic views of the Manali valley and Dhauldhar ranges.
Stay One of the most striking features about GlampEco Stays is their Geodesic Domes, which are strategically built to withstand some of the most extreme temperatures that the mountains have to offer. Be it hail, storm, rain or sun, the domes can endure it all! The attention to detail and research gone into building these incredible structures is equally noteworthy. The room's interiors are built using a thermal material to brave the cool, while the help retain the warmth of the room inside during chilly nights. They also reflect the sun's harsh heat during the summers, providing for an ambient temperature across all seasons. I am equally awestruck by the exciting features and amenities in the room. The five-metres wide transparent front bay window allows me to enjoy stunning valley views as I wake up. Additionally, each geodesic dome is equipped with 24-hours of running hot water, an en-suite washroom, hair dryer, heater and cooler for guests to enjoy a comfortable stay. They also have electric heated blankets for those extra chilly nights!
Bringing technology to the mountains, GlampEco Stays offers high-speed WiFi, ambient lighting, and smart speakers that also control the colours and lights of the centre chandelier. The rooms are also equipped with an open dressing area and enough space to accommodate an extra sliding bed.
Experience
But that's not all! Their exceptionally delectable spread of food caters to all kinds of palates – from Continental and Italian, to European, Indian, Chinese, and even traditional Himachali food.
A glimpse of the local life can also be seen at the 80-years-old mud house. Refurbished with classic interiors while also keeping the old-world charm alive, this traditional home is located within an apple orchard and offers dramatic views of the valley, snow-capped mountains, and the ever-drifting clouds. It even has a large wooden deck outside, while the indoor common areas comes stacked with plenty of board games and books. So you can forget about your cell phones for a while and enjoy being in the moment with yourself or in the company of others!
An ode to nature Despite all these luxuries, GlampEco Stays remains deeply rooted in sustainability — making it India's first sustainable and luxury glamping experience. Akshat Jain, co-founder of GlampEco Stays, tells that the management has taken various measure to reduce their carbon footprint while living amid nature. This includes structuring the domes in a way that it does not disrupt nature, sourcing sustainable ingredients for the kitchen, installing bio-digester toilets, and following a no-tolerance policy for single-use plastic. Even the wet waste that is generated at the property is used as fodder for cattle and manure for the fields. The lighting across the property, as well as the heated water provided in the domes, is powered through solar panels that generate electricity. For GlampEco Stays, the little things add up to make it a truly sustainable traveller's paradise.
Address:
Curve Number 32 , Hamta Village AD Hydro Project Road, Prini, Manali, Himachal Pradesh 175143
Tariff:
INR 9,999 per night
For bookings:
+91 7018026692 / +91 8750646964 / hello@glampeco.com
Related: TL Finds: MansionHaus — A Historic Mansion & Members Club In The Beating Heart Of Goa
Written By