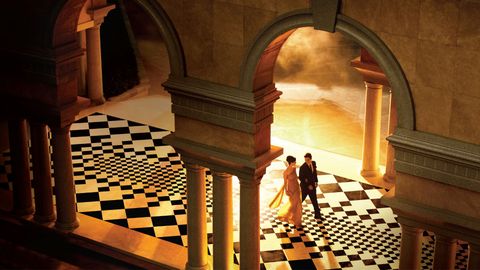 Travel+Leisure India & South Asia checks in to The Leela Palace Chennai, where timeless elegance meets historic charm.
Location
Located 35 minutes away from the Chennai International Airport, near the Bay of Bengal, The Leela Palace Chennai offers a beautiful amalgamation of modern and traditional. The hotel's central location makes exploring Chennai's treasures convenient. Think DakshinaChitra Heritage Museum, Marina beach, and T Nagar for shopping.
Shown on map
Images of The Leela Palace Chennai
[gallery size="full" columns="1″ link="none" ids="221857,221856,221855,221854,221853″]
Rooms at the property
The Leela Palace Chennai has 12 categories of rooms to suit every traveller. All rooms feature a comfortable king-sized bed and a marble-clad bathroom with a deep-soaking tub and rain shower. Choose from an array of pillow options — from goose down feather to exclusive neck supporting pillows.
Facilities
In-room mini bar
Free WiFi
Infinity pool
Pillow menu
Business facilities
Free parking
Tea/ coffee maker in all rooms
Telephone
Work Desk and Chair
Wardrobe
Bathrobe, bath slippers, hair dryer
Property Rules
Check-in time, 2:00 pm: check-out time, 12 noon.
Early check-in and late check-out will be subject to availability and additional charges will apply.
Any change in taxes and/or any other levies/charges/ fees will be chargeable extra, as prevalent during the stay.
Children up to 12 years stay free in parent's room when using existing bed(s) in room. Children aged 12 years and older will be charged fully.
Children up to six years stay free in parent's room when using existing bed(s) in room. Children aged seven years and above are fully charged.
Some experiences may not be available due to local government regulations and alternatives maybe offered in such cases.
Review of The Leela Palace Chennai
Stepping into The Leela Palace Chennai was like entering a realm of timeless elegance, reminiscent of the majestic Chettinad palaces that dot the landscapes of Tamil Nadu. The moment I arrived, I was greeted with an aarti, setting the tone for a royal stay. Check-in was a breeze! I was ushered to my room; or rather, my regal chamber.
The room seamlessly blended modern comforts with the intricate artistry of Chettinad architecture. The carved wooden furnishings, exquisite tapestries, and the soft glow of antique-style lamps exuded a sense of history and culture. Beyond the windows, views of the sea helped invoke a feeling of serenity in the heart of the bustling city. The proximity to cultural landmarks and the city's vibrant pulse added to the overall appeal. Amenity-wise, things are tip-top! Each bathroom has a bath tub to soak in these sea views. The expansive pool area offered a welcome respite from the city's signature humidity, while the fitness center and spa catered to those seeking active rejuvenation. For me, however, entertainment found other outlets.
During my visit, The Leela Palace Chennai had organised a special evening for its guests: a musical evening. Aimed at celebrating the Icons of Leela by the Leela, sarod maestros Amaan Ali Bangash and Ayaan Ali Bangash, the curators of the signature Melodies by the Leela, enthralled audiences with their soulful serenades. Each melody was a compilation that wove together the soul of India, all while embodying the spirit of Chennai. Put simply, it was truly memorable! A special mention to the impeccable service at The Leela Palace Chennai. The staff's dedication to ensuring every facet of my stay was perfect was unparalleled; their warmth and willingness to accommodate any request made me feel like royalty. My dedicated butler catered to every need, ensuring that my stay was flawless. My stay here was more than just a hotel visit; it was a journey through time and culture. If you seek a retreat that embodies the essence of Chettinad's regal past, I recommend The Leela Palace Chennai.
Food and Dining Dining at The Leela Palace Chennai is a culinary journey through Chettinad's rich gastronomic heritage. The flavours at Jamavar, the hotel's fine dining restaurant, were a revelation. Each dish was a delightful homage to the region's bold spices and intricate recipes. The Library Blu Lounge, with its panoramic vistas, was the ideal spot to unwind with a well-crafted cocktail. The courteous staff made it even more enjoyable. I even made a pitstop at China XO for some of the most extraordinary dimsums and cheung fun.
What to visit nearby
DakshinaChitra Heritage Museum
St Thomas Cathedral Basilica
Kapaleeshwarar Temple
Marina Beach
T Nagar
How to reach
Flights from Bengaluru, New Delhi, Mumbai and Hyderabad operate daily to and from Chennai. The property is less than a 30-minute drive from the airport.
Activities to do
Personalised yoga session
Thai massages
Art Walk
Pottery workshops
Surfing
Kayaking
Standup Paddling
Peacock trails
Cancellation Policy
Free cancellation up to two days before arrival
Restricted rates are non-refundable, non-amendable, and non-transferable.
Tariff
Doubles from INR 13,090
Related: The Leela Palace Udaipur: Where Tradition Meets Opulence
Frequently Asked Questions (FAQs):
— Is early check-in or late check-out available at The Leela Palace Chennai?
Yes, but it is subject to availability.
— Is free parking available at The Leela Palace Chennai?
Yes, valet parking is available for guests.
— Can I pay at check-in at The Leela Palace Chennai?
Reserved bookings can be paid at the time of check-in at the property.
— Is breakfast served in the room?
Breakfast can be served in the room at additional charges.
— Is late-night food available at The Leela Palace Chennai?
Late night food is available at Spectra, the all-day dine-in restaurant.
Written By