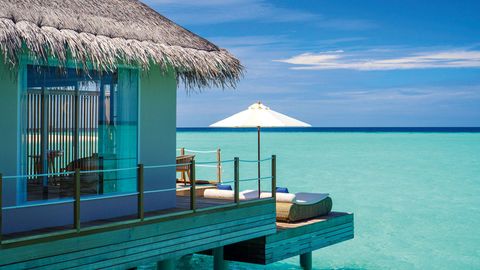 Travel+Leisure India & South Asia travels to the Maldives and experiences the best of hospitality and the beautiful blue ocean experience at Baglioni Resort Maldives. By Chirag Mohanty Samal
This year, as I was planning my birthday, an invitation to Baglioni Resort Maldives landed in my inbox. I had never been to the Maldives, so without much ado, I grabbed the opportunity. Baglioni Resort Maldives is a 45-minute seaplane ride from Velana International Airport in Malé and is located on the island of Maagau in Dhaalu atoll.
Exploring Baglioni Resort Maldives
Stay
The property is an outlet of the eponymous luxury Italian brand. Suffused with Italian hospitality and charm, the resort is surrounded by white sands and blue water. The villas with thatched roofs—some set amidst coconut groves and others above water—add to the tropical vibe. Experience
The highlight for me was the beautiful house reef that I explored on my first ever snorkelling stint. Perfectly trained and egged on by the guest relations officer (GRO) Khassu, I took my first leap of faith under water where a whole new world opened up in front of me. There's a reason why coral reefs are called underwater gardens; the coloured plants and marine life they support are unlike anything you see on land.
The resort has inhouse marine biologists who conduct research and work towards coral reef restoration, and inform guests about the significance of adopting corals in the region. Those who pledge support are taken through the process of coral planting in the ocean.
Another important aspect is the warmth and hospitality of the staff that make you feel at home. The hearty buongiorno and buona sera that the staff greets you with, or the unique experiences that the GROs curate for you make the stay even more special. I was surprised with a beautiful beachfront dinner replete with a celebratory cake followed by movie screening under the stars. However, there are other activities that guests can choose from, like daily wellness classes—yoga, aqua aerobics—and water sports like kayaking, snorkelling, and deep-sea diving. The resort also arranges dolphin-spotting tours, sunset and stargazing cruises, and fishing excursions. Dine
The gourmet offerings deserve a special mention too. The beachfront Taste restaurant offers European and Asian cuisine while the poolside Gusto serves authentic Italian fare and the Japanese restaurant Umami with outdoor seating on water decks serves sushi, sashimi, and seafood dishes. On my last evening, as I sat by the sea looking at the moon peeping through the trees, I felt oddly at peace and most importantly, at home.
Related: This Dreamy Georgia Island Is Home To Beautiful Beaches, Delicious Southern Food, And Family-Friendly Hiking Trails
Written By