After a month of never-ending work days and personal loss, Travel+Leisure India & South Asia's Senior Content Manager checks into Amal Tamara in Kerala in search of calm.
Taking note of the rigours and stresses of modern-day living, Amal Tamara in Kerala relies on ancient Ayurvedic practices to heal the mind, body, and soul. Set against the tranquil waters of Vembanad lake and embodying the peace and quiet of Alleppey, this boutique property by Tamara Leisure Experiences is designed to help unwind.
Creating a symphony between contemporary Ayurveda with the comforts of modern-day luxuries, this escape is not for the wayfarer. Instead, it is an abode for individuals looking for a transformative lifestyle change. Amal Tamara, complete with its simplistic and thoughtful Kerala architecture-inspired accommodations, believes in the philosophy of Chikitsa Chatushpada — a unique Ayurvedic concept that aims to create a synergy between the physician, patient, therapist, and medicine for curative programmes. When here, spend days immersed in the time-tested school of medicine, all in the company of a knowledgable staff relentlessly working towards your betterment. For this, overnight trips do not suffice. Instead, this retreat only offers curative packages ranging from seven, 14, 21, and 28 days. This could be for weight-management, boosting immunity, ortho-care, anti-ageing, panchakarma or detox, and more.
Location
Amal Tamara is located in Mannancherry village, roughly 75 kilometres away from Cochin International Airport in Kerala.
Amal Tamara images
Rooms at Amal Tamara
Amal Tamara offers its guests, or Amal Yatris, three categories of rooms to choose from: Astha, Ekta, and Idha Rooms. While each room varies in size, all guarantee views of the calm Vembanadu lake via a private balcony.
The Astha Room comes complete with hardwood furniture, a workspace for journaling, single or twin beds, a foyer, and a private bathroom. The Ekta rooms promise all this, and an additional seating area for extra comfort. The Idha rooms, the most spacious category of the three, also features a walk-in closet designed in traditional Kerala-style architecture.
Facilities
Ayurvedic treatments and therapies
Doctor Consultations (including pre-arrival assessment and consultation, and post departure follow-ups)
Guided yoga and meditation
Diet consultations and individualised curated organic meals
Wellness and lifestyle reforming activities
Herbal waters
WiFi (However, the resort has a no-phone policy in public spaces. Additionally, as part of digital detox, they recommend refraining from Wi-Fi usage after 10:00 pm)
TV
AC
Single/Twin beds with linen
Work Desk for journaling
Hot water kettle and coffee station
Closet
Coffee table
Daily housekeeping
Amenities
Airport pickup and drop
Daily Ayurvedic treatments
Meditation and Guided Yoga
100 per cent vegetarian kitchen
Multi-lingual staff
24-hour front desk
Housekeeping and laundry services
Property Rules
Check-in – 1:00 pm; Check out – 11:00 am
Government ID proofs are accepted (Aadhaar Card, Driver's Licence, Passport); Foreign nationals are requested to produce passport with a valid entry visa.
Children below 12 years are not allowed.
Pets are not allowed in the retreat.
Right to admission of visitors into the retreat premises and guest areas remain solely with the management.
Alcohol, smoking and tobacco chewing is not permitted during the Ayurveda programme and is strictly prohibited across the Amal premises.
Usage of mobile phones are allowed only inside guest rooms
Review of Amal Tamara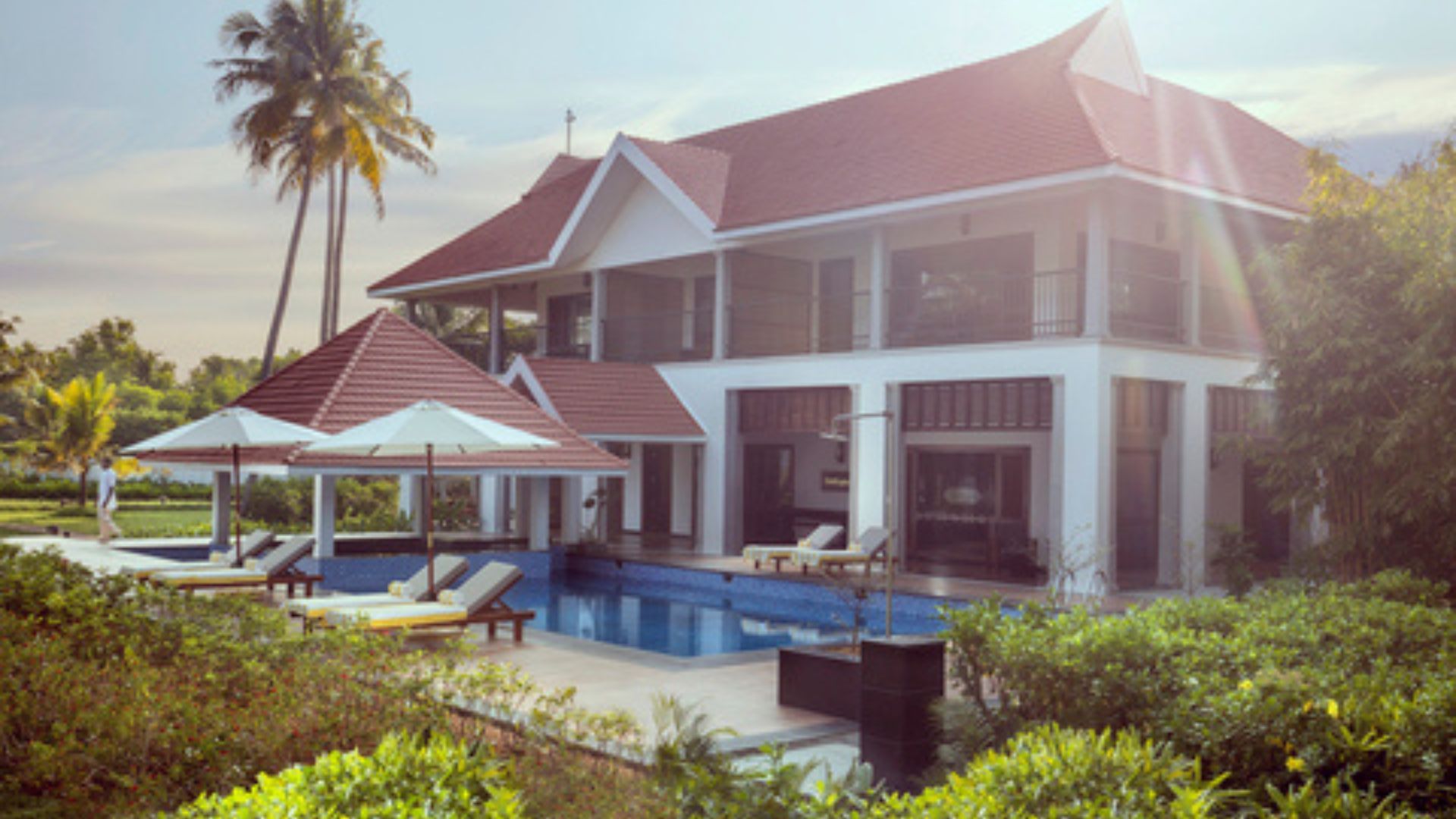 As I filter through my mails, a subject line catches my eye: Follow up consultation. Instantly, memories of Amal Tamara come rushing back.
It was October 2022. And it was going by in a blur partly due to long work days and partly in coping with the loss of a loved one. From where I stood, any semblance of quietude seemed miles away, roughly 1,700 miles from New Delhi, all the way in Mannancherry, a small village in the Alappuzha district of Kerala.
Ordinarily, I stray away from Ayurvedic retreats owing to my lack of knowledge in the traditional medicine. The lush environs and the calm it lent to the atmosphere dissipated my concerns. Surrounded by the beautiful Vembanad lake and set amid swaying palm trees, Amal Tamara creates the ideal ambience to relax the mind.
As I sat in the waiting area, fresh coconut water straight from the shell was offered to get rid of travel fatigue. Interiors are designed like a traditional nalukettu (traditional homes of joint families in Kerala)– a rectangular structure with four blocks that are linked by an open courtyard. On one end, wooden shelves are lined with traditional games like pallanguzhi, marbles, and chaupad. On the other, beyond the central courtyard, a plethora of dried medicinal herbs generate intense aromas. There's gokshura for treating urinary disorders, kapikachhu or velvet beans for maintaining a healthy nervous system, pippali, for respiratory ailments and improving metabolism, thakkola for digestion, and many more. A blackboard caught my eye: Clarity within leads to clarity outside, it read in cursive penmanship. Ironically, clarity is exactly what I lacked at the moment. Then again, the Amal Way of Life promises to help achieve balance of body, mind, and spirit.
My journey towards well-being began with an Ayurvedic consultation. The key to holistic healing is a personalised programme tailored to individuals or Amal Yatris as the boutique property addresses their guests. For me, senior Ayurveda physician Dr Haripriya S Bonsalay kickstarted this process. Over an hour-long one-on-one, Dr Bonsalay not only debunked Ayurveda for me, but also took detailed notes of my health–physical, emotional, behavioural, and mental. Conclusively, she explained, "You've got a kapha dosha body type."
For the uninitiated, according to Ayurveda, every human manifests three biological energies—vata, pitta, and kapha. While each person is said to have a blend of the three energies, it is the unique ratio of the doshas that defines one's Ayurvedic constitution which serves as a blueprint for achieving optimal health. Throughout one's life, the proportions of these doshas constantly fluctuate basis the environment, diet, age, and more. Imbalanced doshas, it is believed, affects health. To achieve balance, Amal Tamara offers a range of curative programmes ranging from seven, 14, 21, and 28 days. This could be for weight-management, boosting immunity, ortho-care, anti-ageing, panchakarma or detox, and more.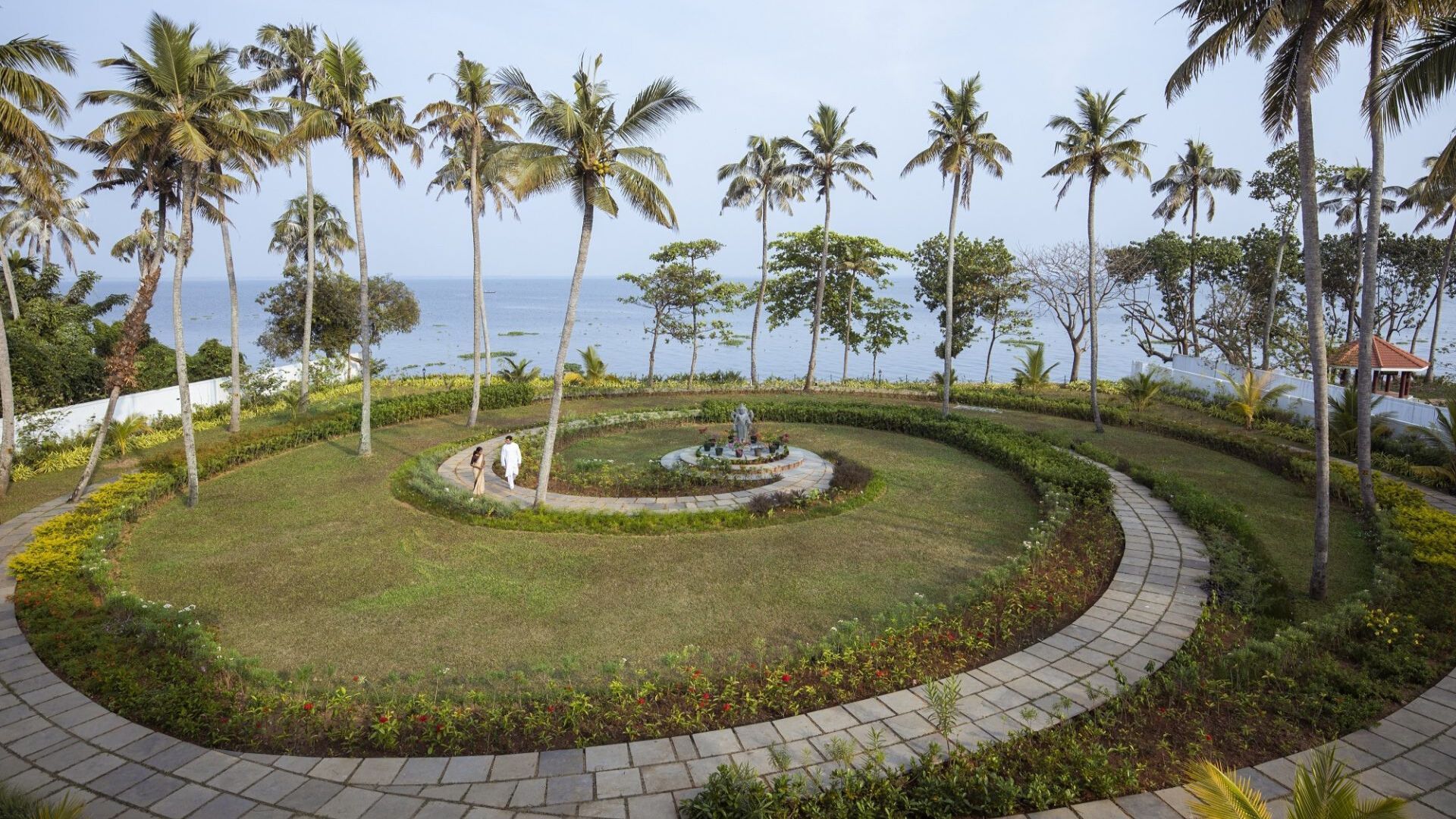 With my consultations done, the next few days came replete with therapies, treatments, and a crash course on the ancient medicine. Despite having a no-phone policy set in place at the resort's outdoor spaces, the resort had plenty activities to keep me preoccupied. Mornings started with agnihothram (a purifying Vedic fire ceremony), guided yoga sessions and sun salutations with Dr. Atul Vivek, the resort's naturopathy physician and yoga consultant; while days ended with meditation sessions and deepam (a traditional oil lamp ritual to bring positivity). Through the day, I'd get doused in soothing therapeutic oils for various massage treatments; enlightened about Kashayapura (Ayurvedic design) and medications at the in-house apothecary; acquainted with medicinal plants at the Nakshatra Vanam, an herbal garden home to 27 species of trees representing Indian astrology; or accompanied by an Ayurvedic expert while strolling along the Dhanwanthari walkway or spiral walkway and learning more about the ancient school of wisdom. By dusk, I'd retire to my cosy room watching the sun melt into the glistening, calm waters.
Amal Tamara has 19 rooms in three accommodation types: Astha, Ekta, and Idha. As Amal Yatris ordinarily stay for longer durations, each room guarantees homely comforts. Each space is done up in elegant hardwood furniture and earthy-toned furnishings, and has private balconies overlooking the backwaters.
Healing at Amal Tamara, however, is not just about treatments. The food one consumes is just as important. Putting the spotlight on light food, each meal at the resort is individualised based on daily consultations and dietician recommendations. These portion-controlled meals—all vegetarian, leaning towards vegan—are crafted using organic ingredients. Every day, the team has a 'detox water of the day' with various herbal infusions in warm water. The fenugreek water obliterated the nasty cough I had been battling for days!
Months later, I find myself subconsciously boiling cups of detox water every time I feel under the weather. Walks, too, have become a part of my wellness routine. I might have left Amal Tamara, but the Amal Yatri life lingers on. And as far as clarity is concerned? Turns out it was hidden within me all along.
Food & Dining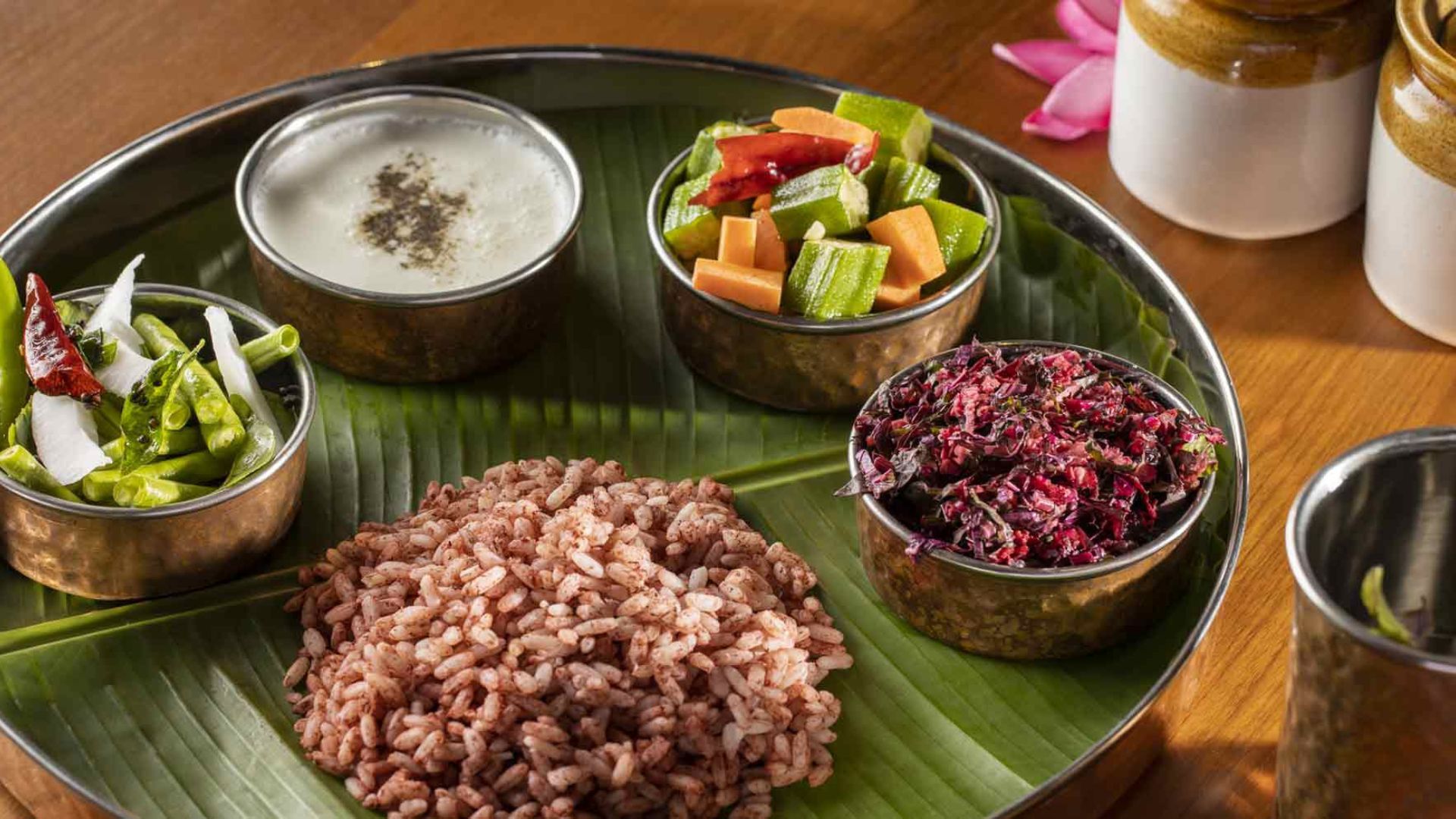 The spotlight on Ayurvedic healing and philosophies finds a spot on the dining table, too. Understanding that a key aspect of maintaining a healthy body is a balanced diet, every meal at Amal Tamara is individualised with inputs from an expert Ayurvedic physician. The chefs takes note of these personalised wellness menus, and then crafts meals basis body type, health conditions, and personal tastes.
All served at the in-house restaurant — which looks over to the blue waters and verdant greens — the menu here in entirely vegetarian, tipping towards vegan. Being an Ayurvedic retreat, all the recipes here are devoid of sea salt, refined sugar, preservatives, and refined flour. All ingredients are either grown in-house or sourced from local markets nearby. With regards to taste — delicious!
What to visit nearby
Dhanwanthari Temple
Bay Island Driftwood Museum
Kumarakom Bird Sanctuary
Alleppey Lighthouse
International Coir Museum
Nearby restaurants
Hunger Cafe
Grill X Restaurant
Thoppil Kitchen Restaurant
Hotel Grand Malabar
How to reach?
Cochin International Airport, roughly 75 kilometres, is the closest airport from Amal Tamara. All major airlines offer non-stop and connecting flights from major Indian cities.
Activities to do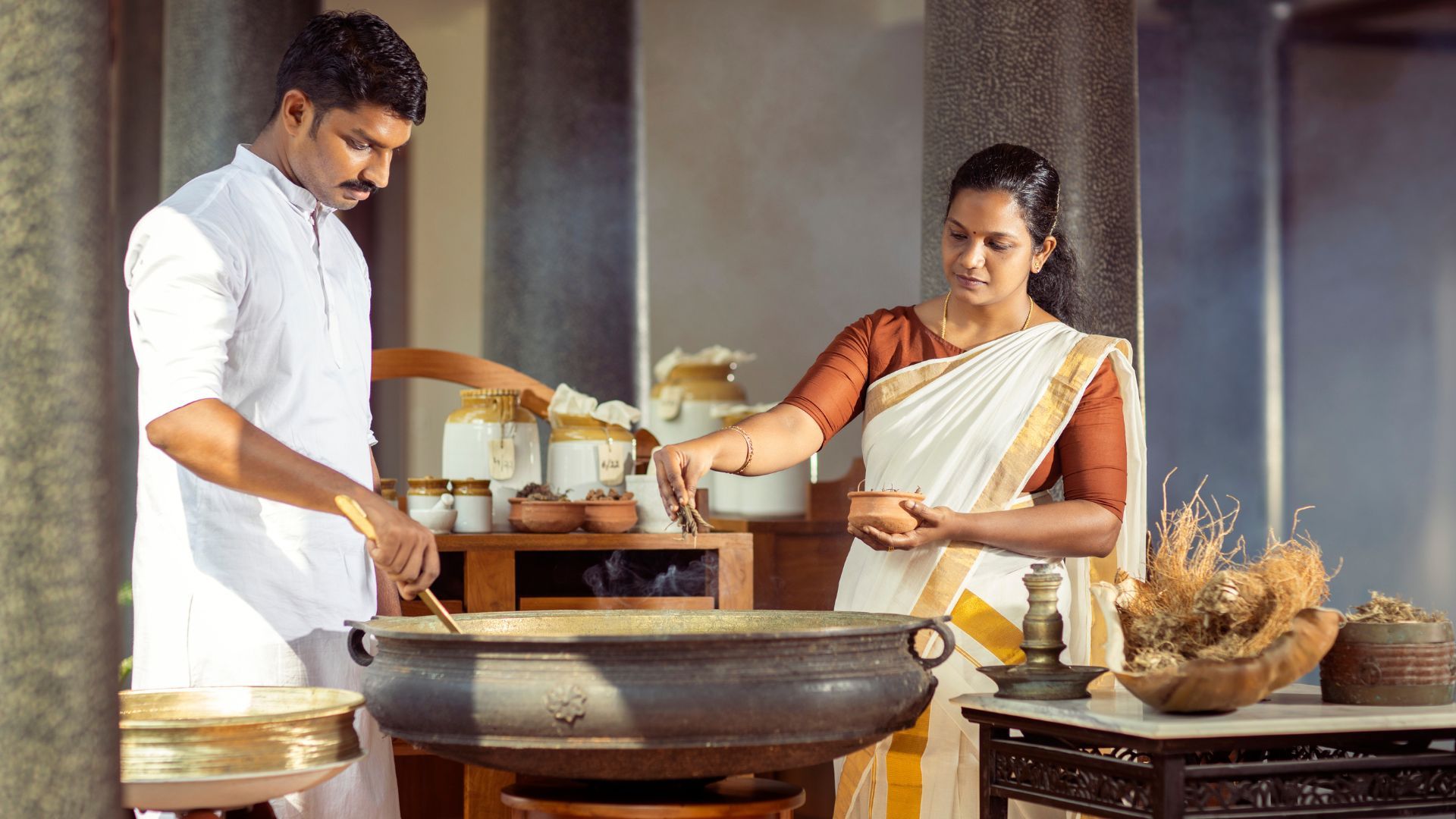 When not immersing in Ayurvedic treatments, you'll find a host of wellness activities and sessions to keep you company. Start your days with the Agnihotram ritual at 06:30 am. Typically conducted before guided yoga sessions, this Vedic fire ceremony is meant to help purify air and kickstart the day on a positive note. The Kashayapura Experiences gives you a crash-course on how herbal medicines and concoctions are prepared in Ayurveda, including the opportunity to make your own herbal medicine. Walk through the Nakshatra Vanam to learn about medicinal plants and Indian astrology. Alternatively, stroll along the Dhanwanthari walkway or spiral walkway with an Ayurvedic expert while also learning more about the ancient school of wisdom. For those musically inclined, the Raga Therapy harnesses the healing power of Indian classical music to soothe the mind. Singing bowl meditation, too, takes a similar route, courtesy of the Himalayan singing bowl. The team also organises culinary sessions for those hoping to dig deeper into vegetarian wellness cuisine.
Wellness activities aside, Amal Tamara also offers cultural experiences. Think Kathakali performances, Kalaripayattu displays, coir-making sessions, or Veena and Mridangam recitals. Longer-stay guests can even head out for a backwater cruise and village tour or take a trip to the Dhanwanthari temple.
Free cancellation
If cancelled 14 days prior to the arrival date, Amal Tamara processes a full refund. However, five percent cancellation charges will be levied in case the payment had been made via a payment gateway/credit/debit card.
Any cancellation or postponement made within 14 days to check in, 100 percent of the bill value will be charged. Similarly, no-show or early checkout will also be subject to a 100 percent charge.
Packages
Programmes start from Rs 1,55,000 for a minimum seven nights. It is inclusive of accommodation, meals, Ayurveda programmes and complimentary experiences during the stay.
Related: TL Finds: 36 Palms Beach Resort, A Seaside Retreat in Cherai, Kerala
Frequently Asked Questions (FAQs)
Question: Is free parking available at Amal Tamara?
Answer: Yes, Amal Tamara has parking available on premises.
Question: Can I extend my stay at Amal Tamara at a lower price?
Answer: Amal Tamara only offers curative packages that range from seven, 14, 21, or 28 days.
Question: Is early check-in- or check-out available at Amal Tamara??
Answer: Check-in is at 01:00 pm, while check-out is at 11:00 am. Early arrival or a late departure will be charged additionally.
Question: Can I book Amal Tamara on an hourly basis?
Answer: No. Amal Tamara only offers curative packages that range from seven, 14, 21, or 28 days.
Question: Can I pay while check-in at Amal Tamara?
Answer: No. 100 percent advance shall be paid 14 days prior to the arrival date for the confirmation.
Question: Is using the pool free at Amal Tamara?
Answer: Access to the swimming pool is allowed only after an assessment of your condition by doctors. Healing is given priority.
Question: Is breakfast served in the room at Amal Tamara?
Answer: All wellness meals as per body constitution are included in the package. In-room dining service is available only on doctors' recommendation after certain treatments.
Question: Is late-night food available at Amal Tamara?
Answer: No. Maximum benefit of each Ayurveda programme can be obtained only by following the recommended programme, medications, diet and regime during the programme and post therapy period.