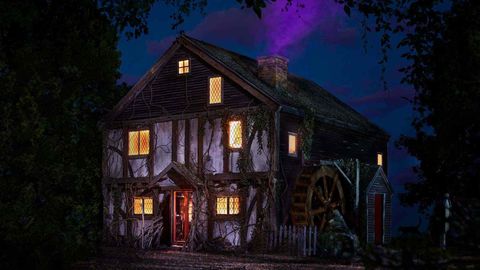 Airbnb wants to help you have a spellbinding Halloween at (a recreated version of) the Sanderson Sisters' cottage, of Hocus Pocus fame. By Stacey Leasca
The Sanderson Sisters' cottage, located in the remote woods of Salem, Massachusetts, has been thoughtfully recreated, as though it, too, has been frozen in time for 300 years, and is now available for a very special rental. Of course, the rental is just in time for the siblings' return in "Hocus Pocus 2," which comes out September 30.
A look inside the Hocus Pocus cottage "We all know that the Sanderson Sisters' story might not have ended when we turned to dust, nor did our shenanigans," Kathy Najimy, who plays Mary Sanderson in the beloved films, shared in a statement provided to Travel + Leisure. "What better way to celebrate the season than to host guests at the trio's historic haunt for a night they'll remember for years to come?"
The cottage will be available for an exclusive (and spooky) stay on October 20 for two guests for just USD 31 (INR 2,530) in celebration of the new movie and, of course, Halloween. Inside, guests can walk along the creaky wooden floorboards and find cupboards filled with curious tinctures, like the blood of an owl and herb that's red (and even a hair from Winifred's head). Guests can also try their hands at bringing to life the enchantments inscribed in the ancient spell book, explore the rich history of Salem with visits to some of the town's most haunted sites, and view a special screening of "Hocus Pocus 2" in the house (if they dare).
The Sanderson sisters may have a deep dislike of children, but luckily, Airbnb does not. To support the next generation of the historic city, following this activation, Airbnb will make a one-time donation to the Boys & Girls Club of Greater Salem, which aims to ensure that success is within reach of every young person who walks through their doors.
Those looking for an extra special and eerie Halloween experience can request to book this stay beginning Wednesday, October 12 at 1 pm ET (October 12 at 10:30 pm) here, so you can wake up and shout, "Oh, look. Another glorious morning. Makes me sick!"
This story first appeared on www.travelandleisure.com
Main and Feature Image Credit: Helynn Ospina
Related: Cricket Icon Yuvraj Singh Lists His Home In Goa To Turn Airbnb Host And We Have All The Details
Written By