The recently launched JOALI BEING in the Maldives promises an immersive nature retreat, with special focus on your social, mental, and physical well-being. By Bayar Jain
Located on Bodufushi island on Raa Atoll, JOALI BEING—opened in November 2021—takes pride in being committed to nature-oriented and responsible travel, all while simultaneously bringing wellness into the picture as well. Thrown into this 'green' mix is respect for the local landscape, culture, and communities.
Local Landscape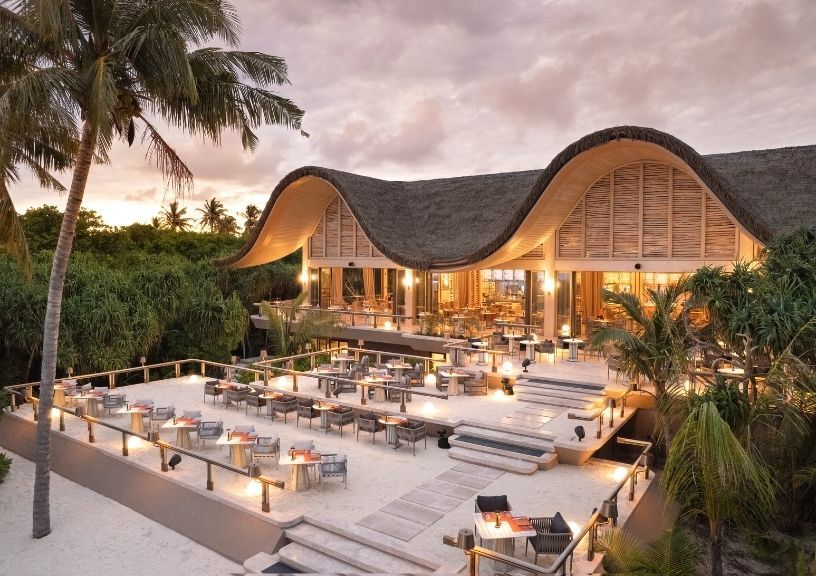 "JOALI BEING is a wellbeing retreat unlike any other in the world; it is a transformative destination aimed to inspire and ignite the very deepest of mindful connections to one's self, one another, and one's environment by enhancing our relationship with the surrounding natural world, our bodies and our minds," says General Manager Özgür Cengīz.
Perched on the secluded island of Bodufushi in Raa Atoll, JOALI BEING is located a 40-minute seaplane flight from Malé International Airport, with an option of a private transfer to the quiet retreat.
The paradisiacal retreat is surrounded by crystalline lagoons, pristine beaches, strikingly blue waters and a lush landscape. 68 private beach and water villas offer creature comforts. To further pamper its guests, the retreat has a robust culinary arts program which comprises of four earth-to-table dining destinations; individualised immersion programs; a series of educational workshops and experiential classes guided by wellbeing experts, culinary maestros, and herbalists; and transformational spaces built using Biophilic design principles—all bow-tied together with the philosophy of conservation and sustainability.
The resort is built using Biophilic design principles, a scientific system of integrating architecture and design with nature with the goal of achieving harmony by eliminating negative vibrations and enhancing the energy flow of the island. In doing so, the island's wild forest also remains untouched.
Immersive Wellbeing
JOALI BEING invites wellness seekers to discover true 'weightlessness'. Centred around four pillars, the retreat leads the way to well-being to build a community of sojourners, culinarians and thinkers who then take the knowledge and experiences from the retreat into their daily lives. These offerings draw from a melange of modern science and long-honoured traditions, with an expert team of naturopaths, therapists and movement experts.
The four pillars, designed in conjunction with a professor at Oxford, are mind, skin, microbiome, and energy. Mind, to cultivate peace of mind through sound therapy, and mind and body practices. Skin, which is rejuvenated with timeless rituals and advanced research. Microbiome, to form a deeper understanding of the connection between body, mind and nutrition while building eating habits around the body's circadian rhythm. And energy, that is rebalanced and optimised through intelligent movement practices and restorative therapies.
Personalised Programmes
Ranging from five nights to three weeks, JOALI BEING offers personalised Immersion Programs. Customised journeys following an Intelligent Movement Analysis and an Integrative Health Assessment have been designed. To assure positive results, these immersion programs can be tailored towards each individual's goals. Think programs focused on strength and vitality, mental clarity and wellbeing, hormonal balance, women's health, digestive and weight rebalance, restorative sleep, as well as movement and alignment for good health and immunity.
Transformational Spaces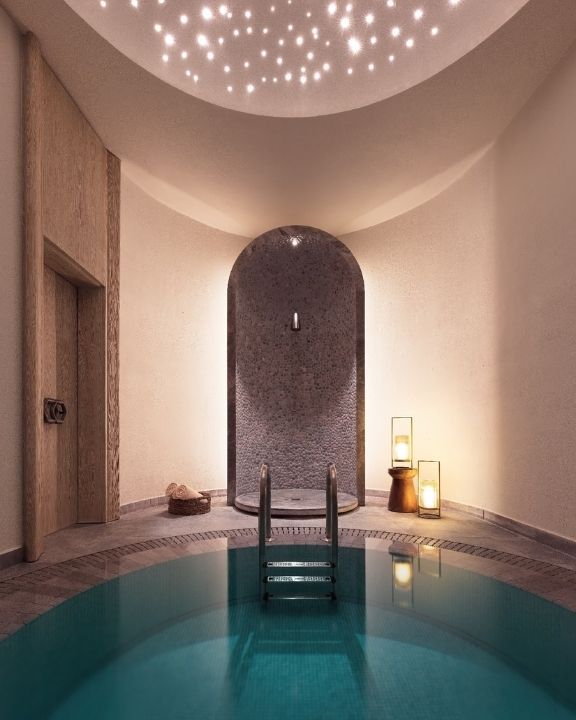 A collection of transformational spaces help these immersion programs come to life. JOALI BEING has 39 elevated treatment rooms spread across the island, each of which are inventive and inspired by nature. For example, Areka is home to beneficial scientific therapies and diagnostic services, learning programs, specialised therapeutic and alternative healing treatments, as well as expansive fitness facilities and an over-water meditation deck. On the other hand, CORE, the movement and fitness spaces, offer extensive mind and body facilities, including diagnostic rooms, private training rooms, multipurpose studio, fitness room and Ocean Sala. KAASHI is the hydrotherapy hall, SEDA is dedicated to sound, and The Discovery Sound Path is an on-site, outdoor sound therapy oasis that resonates with the natural rhythms of the island. The retreat also has an herbology center, AKTAR, where a resident herbalist specialises in preparing natural remedies using herbs, spices and essential oils. This space also has a curated library and organises interactive workshops.
Eat Fresh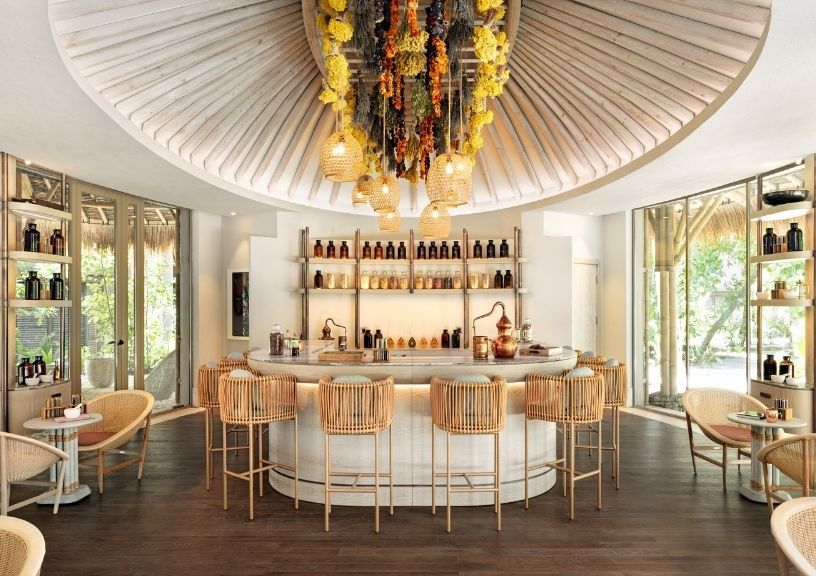 The culinary arts, too, are a central focus at JOALI BEING. Incorporating an earth-to-table initiative, the culinary offerings here promise guests ingredients that are fresh, locally harvested, and sourced sustainably. To assure a rounded experience, each of the culinary offerings are in sync with the retreat's nutrition experts, providing a vibrant assortment of flavours and cuisines with both healthy and indulgent options. Choose to savour these offerings on a private sandbank, jungle spaces, or an inviting Turtle Treehouse. Or opt for personalised nutrition sessions, co-created menu recommendations, and interactive nutritional cooking classes at the Culinary Learning Center.
JOALI BEING's open-plan interactive dining space, FLOW, comes complete with three signature kitchens: Plantae, for vegetarian and vegan dishes; Su, for ocean-to-table pescatarian fare; and B'Well, for a signature JOALI BEING menu, including a selection of Earth-to-Table meals.
At Mojo, the retreat's three-layered sundeck, enjoy lunch as the sun melts into the horizon. This tropical beach sanctuary is also home to SAI tea lounge where a range of brews, tea ceremonies, and learning sessions hosted by the resident tea sommelier await.
Sit Back And Relax Being an island-resort allows JOALI BEING to offer you an exciting array of water adventures to choose from. These include chartered yacht or dhoni excursions, meeting local Maldivian communities through immersive experiences, outdoor fitness routines and invigorating workouts in the surrounding lush environment, tennis courts and more. They even offer a series of educational workshops and experiential classes, including learning sessions, at The Learning Centre. The well-stocked library on the island provides visitors with the opportunity to spend time with stories or expand one's knowledge while in seclusion and solitude.
Stay Amid Nature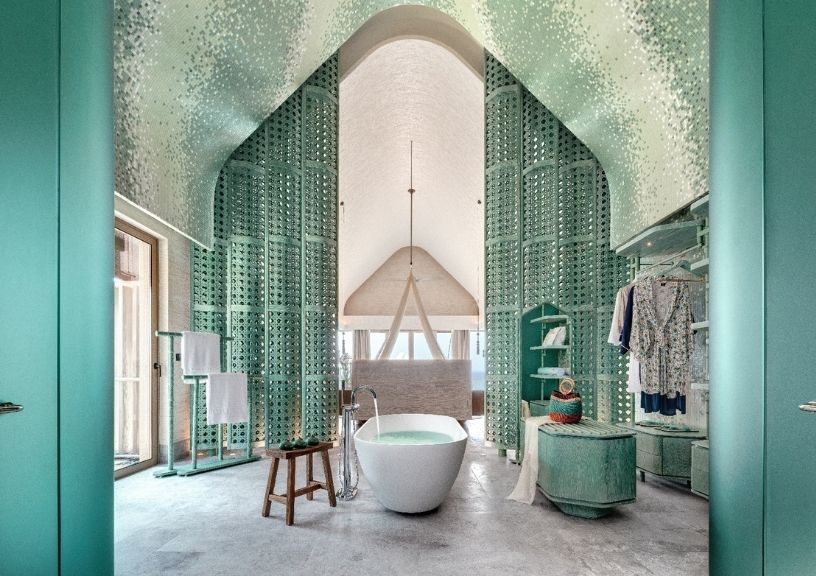 When at JOALI BEING, choose from 68 elegant and expansive accommodations, split between 33 beach villas, and 35 over-water villas. Each of the 13 different villa categories—spread between one-, two-, three, and four-bedroom options—come paired with a personal jadugar (meaning 'skilled magician' in Dhivehi). The distinct interiors of the guest villas are designed in collaboration with the natural surroundings, as a way to enhance the wellbeing experiences at the retreat, while maintaining the beauty and balance of the existing natural habitat. Drawing inspiration from the shorelines, sea waves, shells and green textures, the spacious accommodations feature relaxed, flowing lines that serve as an extension of the Indian Ocean.
Sustainability and Conservation
With sustainability and conservation at the core, JOALI BEING has rolled out several initiatives and partnerships for the same. The retreat will be home to one of the three turtle conservation sanctuaries in the Maldives, as well as a Reef Restoration Project and coral nursery.
The brand, as a whole, is also collaborating with EarthCheck, the world's leading scientific benchmarking, certification and advisory group for travel and tourism, on impactful long-term sustainability initiatives.
Infrastructurally, the retreat includes desalinating water bottling plant, a rainwater harvesting and grey-water recycling system, a glass crusher and recycler, a 1750 food waste composter, and plant waste shredder for fertilising, and a biological wastewater treatment plant for safe discharge.
To get your dose of wellbeing amid nature at JOALI BEING, go here!
Related: All You Should Know About The Disappearing Manta Rays In Maldives