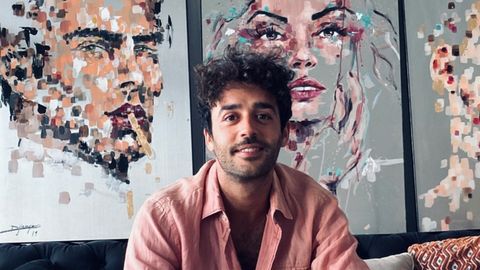 At a time when the selfie rules supreme, the Hotel Métropole Monte-Carlo has decided to buck the trend with painted portraits. The hotel is offering its guests the opportunity to commission a portrait of themselves, or their loved ones, by French artist David Djiango. By Travel + Leisure
Here's how you can get your portrait painted in Monte Carlo
This original initiative is part of the hotel's "Just for You" program of bespoke activities. The program offers guests of the Monégasque hotel many unusual activities, including a private tour of the Francis Bacon Foundation, a guided tour retracing the footsteps of Grace Kelly, and an underwater wedding ceremony. Another option is getting their portrait painted by David Djiango, an artist dubbed 'the architect of the portrait.' This nickname refers to the architectural studies that the painter followed in his youth, which greatly inspired his artistic practice. "By decomposing his portraits animated by the verticality of the lines and repeated touches of colour, the artist offers us poetic and dynamic realisations and a way of deconstructing the faces," reads the Métropole Monte-Carlo hotel website, describing the artist. Unlike most portrait artists, David Djiango paints his models on a sheet of aluminium, rather than on a canvas.
He sculpts acrylic or oil paint with a brush and a knife to build up the faces he portrays. Guests of the Hotel Métropole Monte-Carlo who wish to try the experience will be required to sit for David Djiango during their stay, so that he can create a sketch of their portrait. Once the sketch is approved, they will have to wait a few weeks before the final result is delivered directly to their home.
All this, for the modest sum of USD 2,700 (INR 2,21,386), according to Artnet News. For David Djiango, this initiative allows him to be part of a centuries-old pictorial tradition. "Back in the day, you had to be a famous person to get your portrait painted. But today it's a bit more democratised," the artist told the specialist publication. "It's a way of having a souvenir of yourself immortalized in an original way." Move over vacation selfies!
This story was published via AFP Relaxnews
Main and Feature Image Credit: Photography Courtesy of Hôtel Métropole Monte Carlo©
Related: 10 Of The Best Luxury Coastal Vacations Around The World
Written By