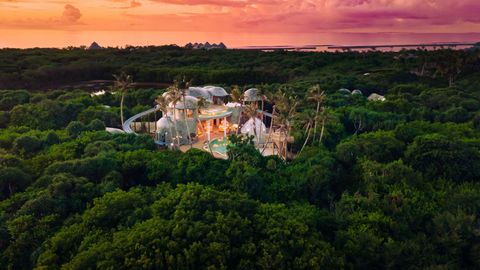 From zip-lining through a waterfall to playing DJ, endless adventures and unforgettable experiences await at Soneva Jani's new den, the largest children's zone in the Maldives. By Bayar Jain
Inspired by childhood wonderment, the two-storeyed new Den at Soneva Jani is more than a child's playground; it's a space sprawling with imagination, packed with activities, and loaded with experiences designed for young travellers. Covering more than 1,500 square metres, the Den boasts of being one of the largest children's club in the Maldives and South Asia.
Exploring The Den at Soneva Jani Featuring dedicated toddler and teenage areas, the Den at Soneva Jani is bound to entice all guests, irrespective of age. The state-of-the-art technology-free zone comes equipped with a soothing sensory room for toddlers, dress-up and creativity areas for pre-schoolers, and hidden hangout spots—replete with mocktails and music to set the scene—for teens. Children can glide through a cascading waterfall via a zip-line, plunge into a vast pool from the curving waterslide, dance along a musical piano floor, converse with whales, explore global oceanic themes in a 4D perspective, identify and measure the height of various fish, engage in friendly duels at the games room, or play a round of tenpins at the bowling alley. A Lego and crafts room, as well as a library, help young travellers unleash their imagination. Upstairs, a dedicated roof deck for teens is complete with a music room, telescope deck, pool and foosball tables, pinball machines, table tennis set above a reflecting pond, and a dry slide. The weekly rosters here are tailored to both young children and teens, each of which assure exciting, educational, and engaging opportunities at the barefoot hideaway. While parents enjoy me-time amid Soneva Jani's many amenities and offerings, they can be assured of a safe and secure environment for their younger ones, courtesy of the Den's experienced childminders. Infants under the age of four are also welcome to join, provided they are accompanied by a parent or a babysitter.
A Haven for Families
Family vacations are made easier at Soneva Jani. With the Ultimate Family Offer, these holidays become even more alluring. When booking a minimum stay of four nights, children up to the age of 15 years receive complimentary full board dining, when sharing with two adults.
Related: Indulge In Extravagant Hospitality At Maldives' Soneva Jani Chapter Two
Written By