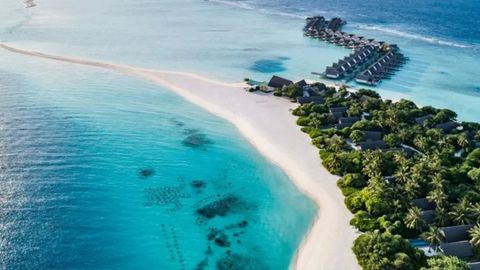 Straight out of an island dream, Four Seasons Resorts Maldives at Kuda Huraa and Landaa Giravaaru tick all the right boxes to create memorable holidays for guests of all ages. By Bayar Jain
When in Maldives, white sands, blue seas, and clear skies are a given. With Four Seasons Resorts Maldives — Kuda Huraa and Landaa Giraavaru —family-focused fun gets fused into the mix as well.
While Kuda Huraa's homely village vibe, with everything close at hand, tends to lure younger laidback families, Landaa Giraavaru's remote island wilderness is perfect for those with older children in search of adventure. At Kuda Huraa, guests as young as six can learn to surf in the crystal lagoon and – thanks to a special dispensation from PADI. Those aged eight and above can take their first underwater breaths among the fish, without having to learn to dive in the swimming pool first (as is usually the case). Landaa Giraavaru's exclusive one-to-one Trainee Marine Biologist modules are designed as a serious foundation for scientifically minded teens or those considering a career in marine biology, while Landaa's age-appropriate Passport to Adventure programs guide youngsters around the island on a series of challenges and quests. The resort has also recently launched the Maldives' first Hologram Room : an interactive opportunity for the whole family to swim with whales, spot sea horses and explore the life-size underwater environment via a range of experiences and games.
Both the properties provide complimentary meals for children under six, subsidised menus for kids aged six to 12, a dedicated Kids' Club, and round-the-clock babysitting services. Along with caring for the guests the property also cares for the planet through various initiatives at both the idyllic spaces. Lying in the Maldives' first UNESCO World Biosphere Reserve, Four Seasons Resort Maldives at Landaa Giraavaru provides a sense of freedom, space and tranquility—a feeling that might not easily be seen in sync with family resorts. Armando Kraenzlin, Regional Vice President and General Manager of Four Seasons Landaa Giraavaru makes an observation. "We've noticed a real move towards multigenerational families choosing adventures that inspire everyone." Kraenzlin adds, "Globally, we're coming out of these challenging years with a renewed sense of what's important and both our island-based resorts allow guests to get hands-on with conservation initiatives, as well as enjoy meaningful experiences that create connection."
The indoor-outdoor living accommodations of Four Seasons Resort Maldives at Landaa Giraavaru feature direct beach or lagoon access. Open-air living and dining spaces with huge pools allow multigenerational groups to kick back and savour luxurious island living, while the wellbeing haven, AyurMa—guided by a team of Ayurvedic doctors, naturopaths and yoga therapists—offers transformational treatments and shared Planetary Wellbeing experiences for parents and children. Sandy paths serve as great spaces for afternoon cycle trips together while a Jungle Pavilion is the perfect spot for a 'flying' fun AntiGravity® yoga class. Older children will also enjoy inspiring water sports, from learning to kite surf to skimming over the waves with four pioneering hydro-foil experiences. The crowning glory of experiences, however, celebrate the underwater world. At Four Seasons Resort Maldives at Landaa Giraavaru, families can snorkel with the area's seasonal manta rays—the world's largest-known population. Other ocean thrills include cruising alongside wave-riding dolphins, caring for injured turtles in the on-site Rehabilitation Centre, and planting your own coral reef with the Resort's Reefscapers team. New for 2022, Landaa's six one-day Trainee Marine Biologist modules immerse conservation-minded young adults aged 15 to 19 in ground-breaking conservation and research—from using Artificial Intelligence to tracking cetaceans around the islands. Children as young as eight can also embark on a PADI diving course at the resort's tranquil lagoon. At Landaa Giraavaru's sister property, Four Seasons Resort Maldives at Kuda Huraa in North Malé Atoll, a sense of ease and calm permeates the space—a vibe often elusive when travelling with kids.
To ensure guests are comfortable and relaxed, the intimate resort has an incredible team of friendly, long-term staff on hand to ensure guests of all ages feel immediately at home. The spacious rooms, suites, restaurants, and facilities arranged village-style around a central garden promenade add to the relaxed vibe of the place as well as provide peace of mind and ease of access for parents. Experiences are all devised with families in mind — from family surfing and tennis lessons to private, scrumptious beach BBQ dinners; side-by-side spa treatments to family shark snorkel safaris; sunset fishing using the Maldivian handline technique to lagoon-taught diving classes for guests aged eight and above. The surrounding blue waters also pave the way for multiple oceanic adventures. Whether it is embracing superhero-style water sports like Jetblades or parasailing, snorkelling with turtles and rays in colourful coral gardens, meeting baby turtles at the Marine Discovery Centre's Hatchling Pools or assisting with pioneering coral reef-scaping projects as a lesson on ocean conservation—the underwater world is your oyster!
To book a family retreat at Four Seasons Resorts Maldives, contact the Central Reservations department at (960) 66 00 888, email: reservations.mal@fourseasons.com, or visit their official website here.
Related: Check Out Two Stunning Four Seasons Properties In Maldives For Your Wedding Vows!
Written By