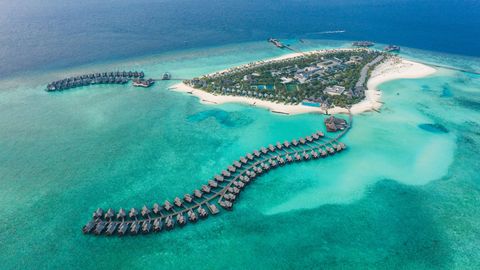 Make your quintessential Maldivian vacation more surreal with Heritance Aarah. By Bayar Jain
Famous for endless blues of the ocean and sky, palm-fringed beaches, soft white sands, and offering a break from monotony, the Maldives ticks all the right boxes for a surreal vacation with loved ones. Add to this the offerings of Heritance Aarah, and a luxuriously memorable holiday is guaranteed.
Underwater Marvels The 150 villa property sits snug in the idyllic waters of Raa Atoll, just a 40-minute picturesque seaplane ride from Velana International Airport. Raa Atoll is known for a high density of thilas or underwater caves scattered around its lagoon. Heritance Aarah lies close to these thilas, in turn rendering the resort a promising launchpad for underwater adventures. Guests staying at the resort can embark upon the quintessential Maldivian diving experience, without the crowds and an assurance of definite sightings of abundant reef fish, manta rays, whale sharks and mesmerising corals.
Diving aside, guests staying at Heritance Aarah can even enjoy guided or independent snorkelling in the surrounding waters. Other water-based activities here include wind surfing, fly-boarding, water skiing, kite surfing, catamaran sailing and parasailing. Those who prefer to take it slow can try canoeing, standup peddling and the likes.
Overwater Allures The overwater adventures at Heritance Aarah begin right from the rooms. Guests can opt from a range of villas — beach villas for ocean lovers, overwater villas for diving enthusiasts, or an exclusive adults-only wing with overwater ocean suites and duplex villas with private pools. The Ocean Residence, the resort's crown jewel, is ideal for group travellers or families looking for a private home away from home familiarity.
Dubbed as a premium all inclusive resort, Heritance Aarah promises a memorable stay for its guests, courtesy of the butler service that packages personalised experiences for each guest. The seven restaurants and five bars further enhance the experience. The culinary journeys here include street food, fine dining, seafood, and even Mediterranean. The resort also boasts of the Maldives' first medi spa, presenting a host of wellness treatments along with bespoke packages. Heritance Aarah is also home to a unique Maldivian village that showcases the culture and heritage of the Maldives.
So, what are you waiting for? Click here to book your stay at Heritance Aarah and get planning for your next Maldivian vacation.
Related: Heritance Aarah: Where Traditions Meet Wonders In Holy Union For Your Wedding
Written By