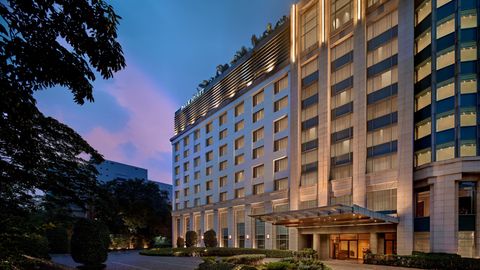 Embrace the extraordinary and the art of hospitality with Park Hyatt Chennai — a luxurious haven where rich heritage meets contemporary allure.
Nestled just 15 minutes away from the Chennai International Airport, Park Hyatt Chennai stands tall as an oasis of serenity in the vibrant capital city. With up to 200 guest rooms, including 20 lavish suites, ready to serve you views of the city and Guindy National Park, this extraordinary newly-renovated hotel is your best bet for a comfortable stay not far from the airport. Not only does it have some of the city's largest rooms and suites on offer, but these accommodations also delight you with their comfort, personalised luxury, and top-notch facilities.
Experience the Park Hyatt Chennai
Culinary Journey
From authentic South Indian delicacies that celebrate rich flavours to Singaporean delicacies prepared by master chefs, every dining experience at Park Hyatt Chennai is a celebration of culinary art. Discover an undiscovered gastronomic journey at The Flying Elephant Restaurant and Bar where diverse dishes transport you on a trip around the world. In this fun dining setting, you can enjoy a menu that brings together ideas, ingredients, music, beverages and global techniques from around the world. Head to Mr Ong- The Flavours of Singapore to indulge in authentic Singaporean dishes inspired by street-style food. While here, leave some room for sampling flavours of Malaysia and Indonesia, each of which consists of locally sourced ingredients.
If you are looking for a more casual space, The Dining Room is for you. This all-day dining outlet offers views of the lily pond as you savour home-style dishes. You can even drop in a request for a customised dish beyond the à la carte menu and live counter buffets.
Beyond Bites
For those seeking rejuvenation and relaxation, indulge in bespoke spa experiences at the hotel's award-winning Antahpura Spa. Perfect to connect with your inner self, this calming space also has a rooftop infinity pool, steam, sauna, hot and cold plunge pools, and strength training machines at the in-house gym.
Should celebrations be on the cards, The Apartment is great! This sophisticated and residential-style venue caters to diverse needs — from hosting business meetings, and birthdays to wedding celebrations.
Paws at The Park
At Park Hyatt Chennai, the concept of hospitality extends beyond luxurious accommodations and dining experiences for humans. It also includes a range of pet-friendly amenities tailored to cater to the needs of your furry friends via the Paws at the Park initiative. This initiative offers dedicated rooms and amenities for guests travelling with their dogs.
Related: Get The Best Of Chennai's Old-World Charm At These 11 Iconic Vintage Restaurants
Written By